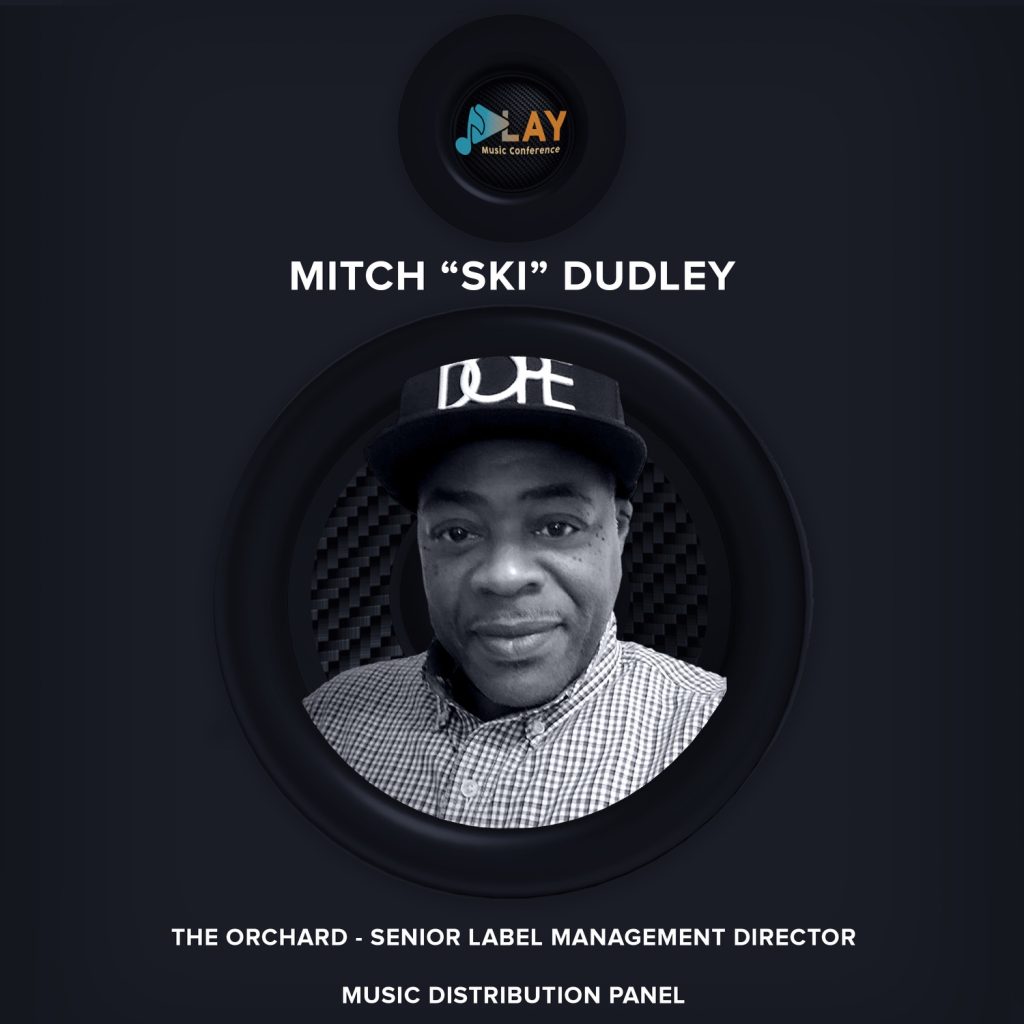 Meet Mitch "Ski" Dudley, Senior Label Management Director at The Orchard. He was listed by Billboard Magazine as "2020 Billboard R&B/Hip-Hop Power Player". Mitch will be a part of our "Properly Distributing Your Music" panel.
---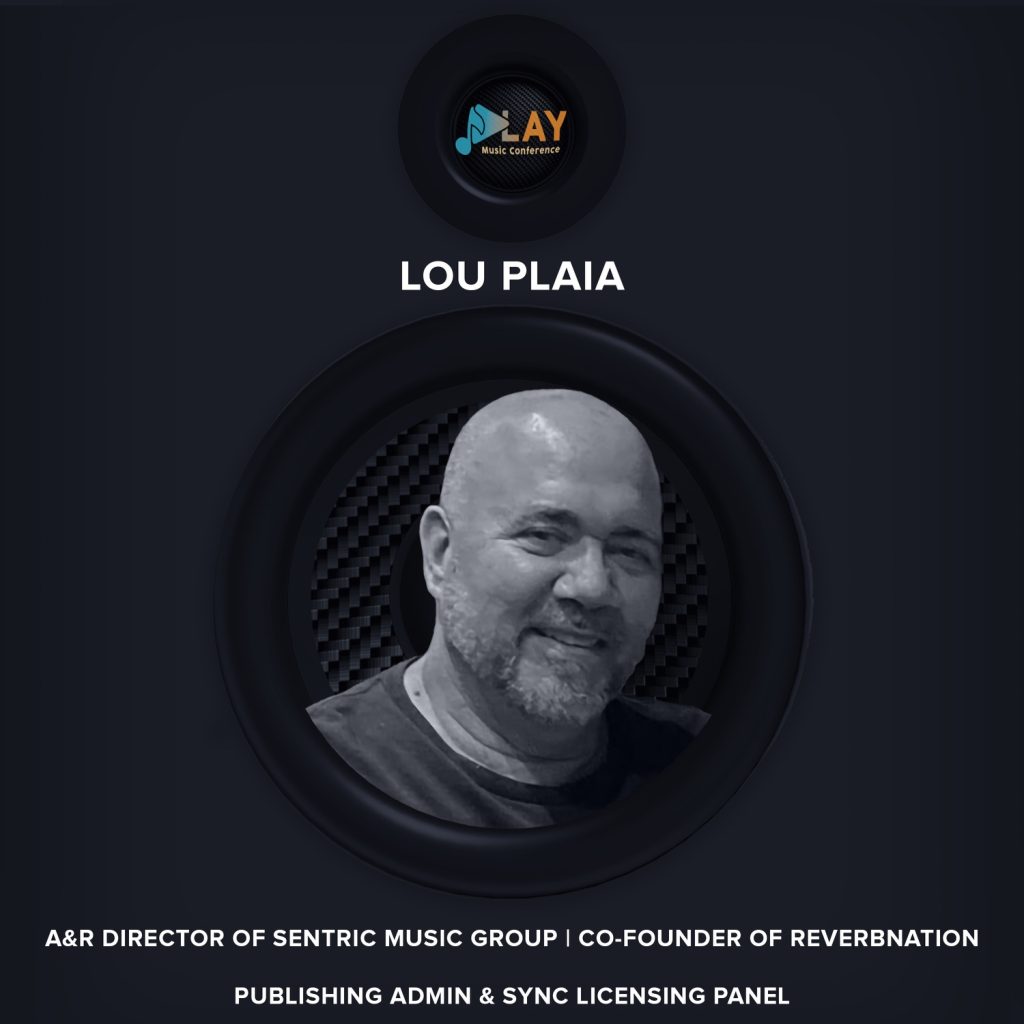 Meet Lou Plaia, the A&R Director of Sentric Music Group and Founder/CEO of Hot Rats Records and Management.
In early 2022, Lou Plaia joined Sentric Music Group, a global, award-winning independent music publisher, as its A&R Director, North America. Plaia's main role is to add to Sentric's roster via new signings, business opportunities, partnerships and acquisitions. Sentric offers rights management services to over 400,000 songwriters and represents more than 3.8 million works globally either directly or via partners, including music publishers, independent labels, management companies and distributors that benefit from Sentric's publishing administration, co-publishing and creative services. Sentric proudly represents songwriters ranging from those writing their first ever songs to RIAA Platinum certified artists.
Plaia also launched Hot Rats Entertainment in January 2022. Hot Rats Entertainment consists of Hot Rats Records, Hot Rats Management, and Hot Rats Presents.
In 2006, Plaia co-founded ReverbNation and "disrupted" the music business by equaling the playing field when they began to offer ALL artists the promotional tools, distribution, publishing administration, and opportunities previously only available to artists who were signed to record labels. Within a few years it became the largest DIY Artist Services Platform for musicians in the world, with more than 5 million artists/bands using the platform. Plaia and his partners sold the company in November 2021.
From 2002-2005, Plaia was the Head of Marketing and Artist Development for Atlantic Records imprint, Lava Records. And from 1990-2002, Plaia was VP of Strategic Marketing at Atlantic Records. In those roles, he worked in some capacity with Kid Rock, Jewel, Hootie & the Blowfish, Stone Temple Pilots, Simple Plan, Brandy, Lil' Kim, Trans-Siberian Orchestra, O.A.R., Blue Man Group, Nonpoint, Skindred, Collective Soul, George Carlin, Mike Stern and many others.
Plaia has been a guest speaker at SXSW, CMJ, Canadian Music Week, Music Biz (f/k/a NARM), Americana Music Conference, Launch Music Conference, The Future of Music Summit, New Music Seminar, Dubai Sound City, and dozens of other music conferences throughout the world.
Catch Lou on our "Publishing Admin & Sync Licensing Panel".
---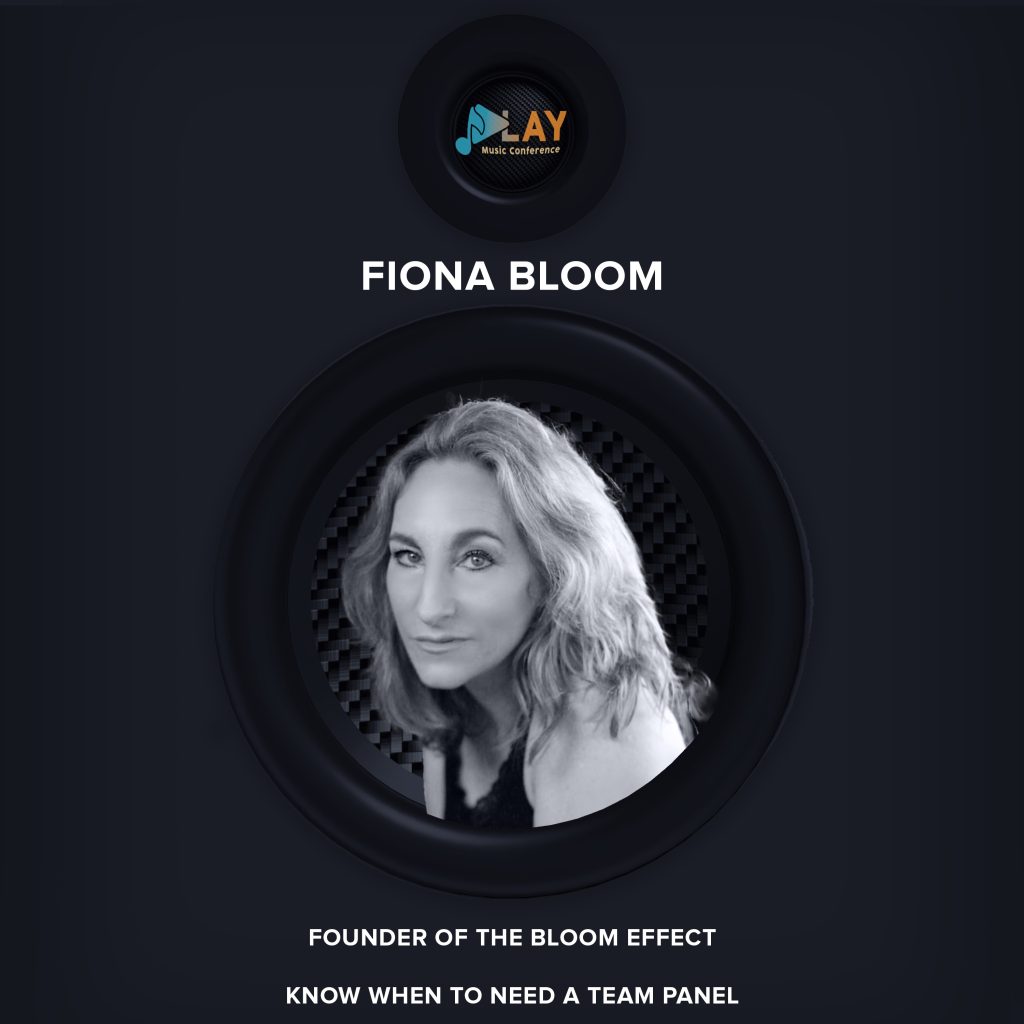 Meet Fiona Bloom, the Founder of The Bloom Effect. Prior to running her own company, Fiona was at EMI Records and ran marketing campaigns for Grammy Winning Digable Planets, Gang Starr, Shara Nelson, and more. Her current clients include The Zombies, Simple Minds, Blues Travelers, and many more. Fiona will be a part of our "Know When To Need A Team" Panel
---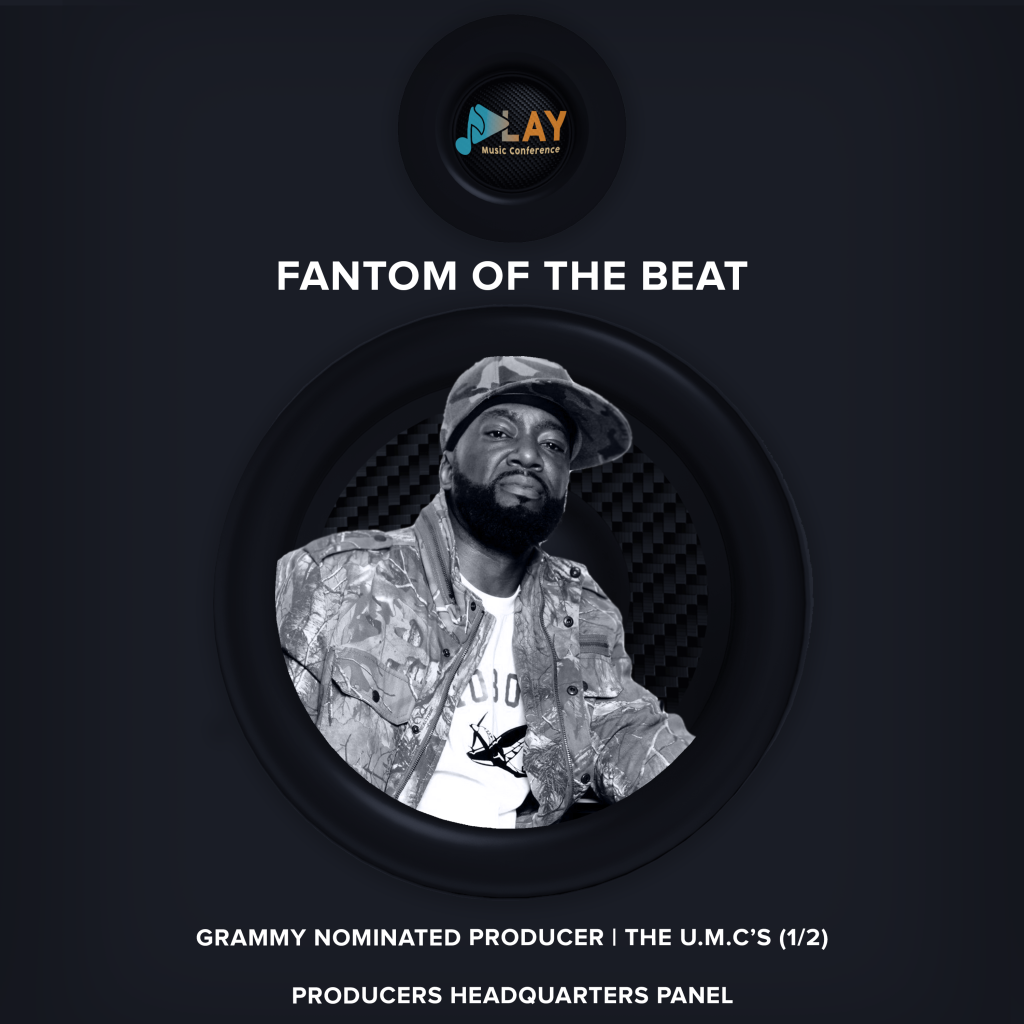 Meet Grammy Nominated producer Fantom of the Beat (formerly known as Haas G – 1/2 of the legendary hip hop group The UMC's). Fantom of the Beat produced the legendary hip-hop song "Magic Stick" by Lil Kim ft. 50 Cent as well as "Apollo Kids" by Wu-Tang's Ghostface Killah. He also produced Busta Rhymes, Inspectah Deck, Ms. Toi, Heather Hunter, Sadat X, and many more. As Haas G of The UMC's, he has appeared on Soul Train, Dance Party USA, and as a poster on the wall in the TV show "Martin". Recently he produced the track for "Pass The Torch" by Mikey D ft. Lush One which is featured in horror king Kevin Williamson (Scream/Vampire Diaries) new movie "Sick" (directed by Z-Nation/Black Summer's John Hyams).
---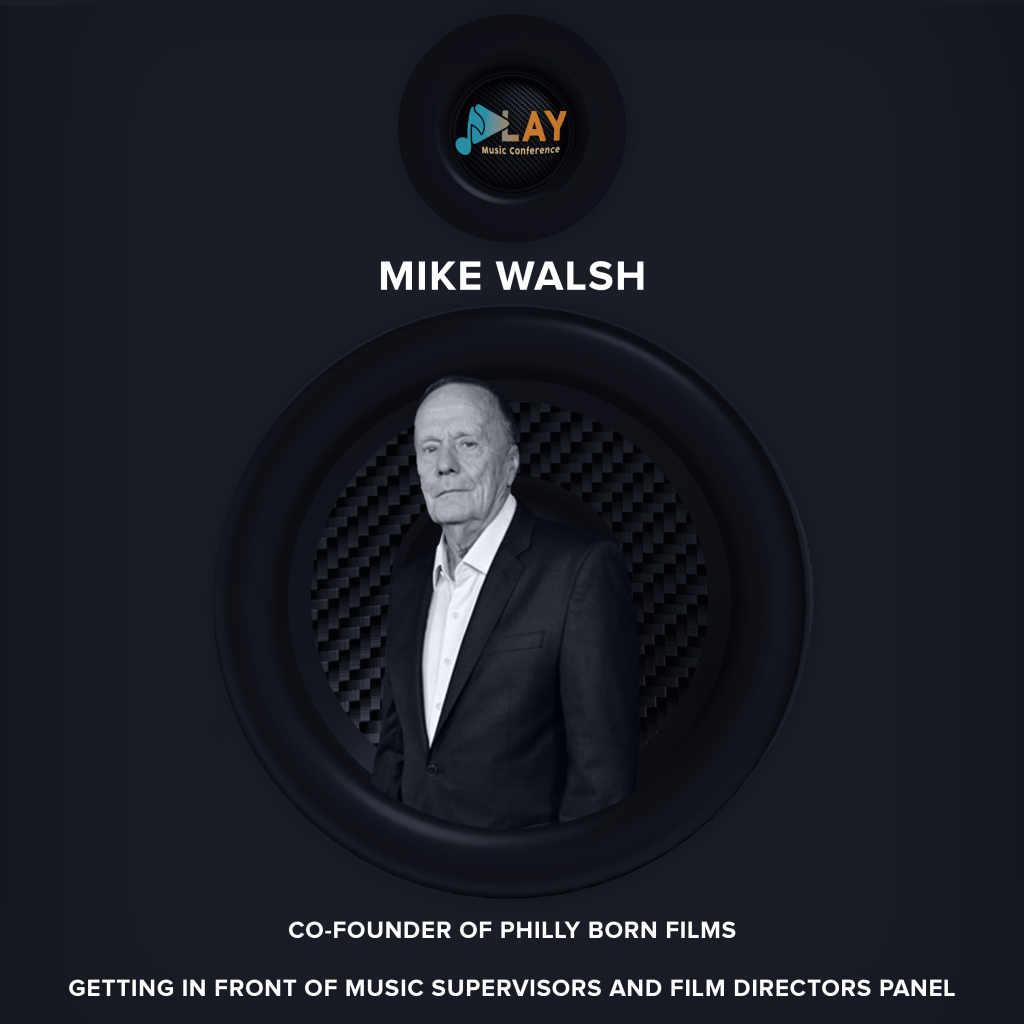 Meet Mike Walsh, co-founder of Philly Born Films. Mike produced the theatrical feature film "The Retaliators" featuring Marc Menchaca (Ozark), Joe Gatt (Game of Thrones), Tommy Lee (Motley Crue), Five Finger Death Punch, Papa Roach, and more. He also produced "7th Secret" featuring Stacey Dash and Natasha Henstridge. His current film "Once Upon A Philly Christmas" featuring Robert Clohessy is currently screening. Mike will be speaking at the "Getting in Front of Music Supervisors and Film Directors Panel".
---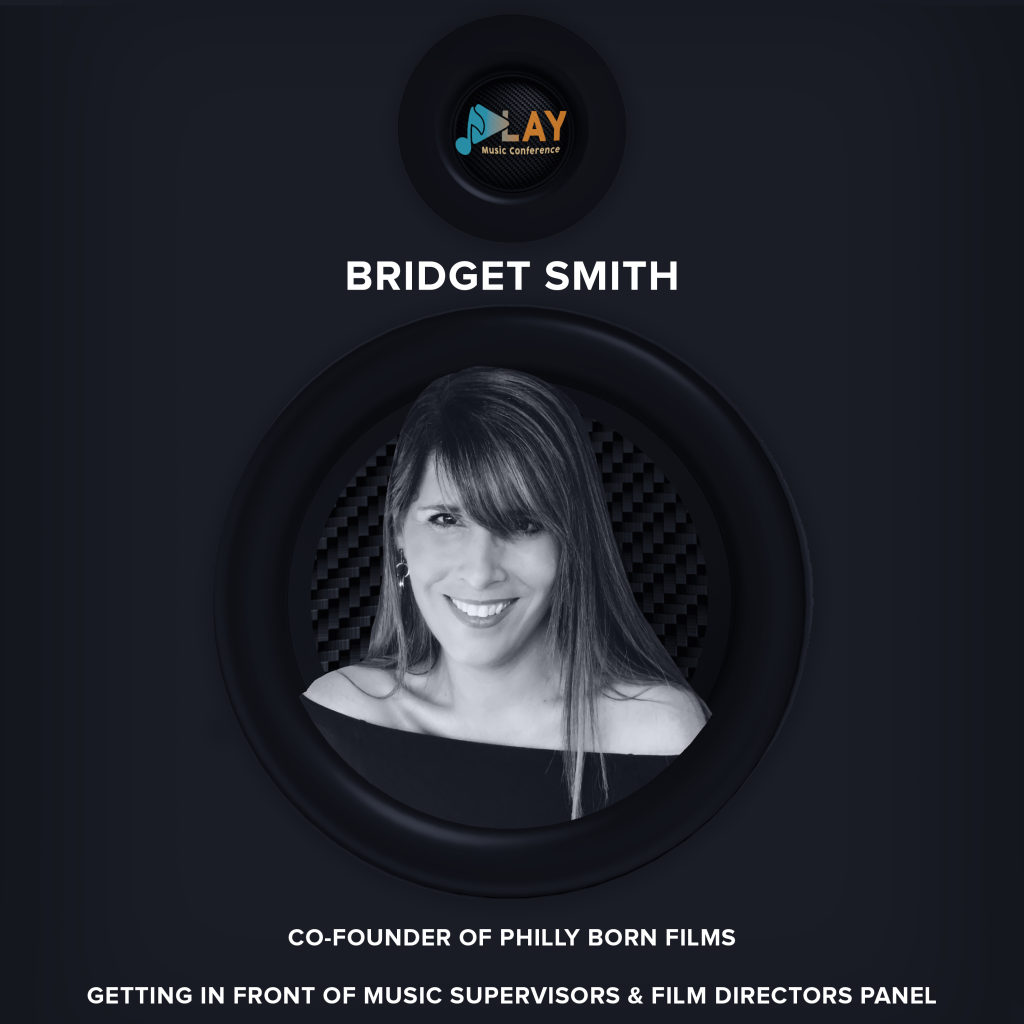 Meet Bridget Smith, film director and co-founder of Philly Born Films.  Bridget first joined forced with Mike Walsh on the gritty movie "Sno Babies" which was distributed by Better Noise Films.  She also directed six more features including "The Retaliators" which just opened in theaters in October 2022, "7th Secret", "Lucky Jack", Right Before Your Eyes" (where she was nominated for Best Editor at the Queen Palm Film Festival), and two feature films for MarVista Entertainment/Tubi including the recently released "A Party To Die For".
---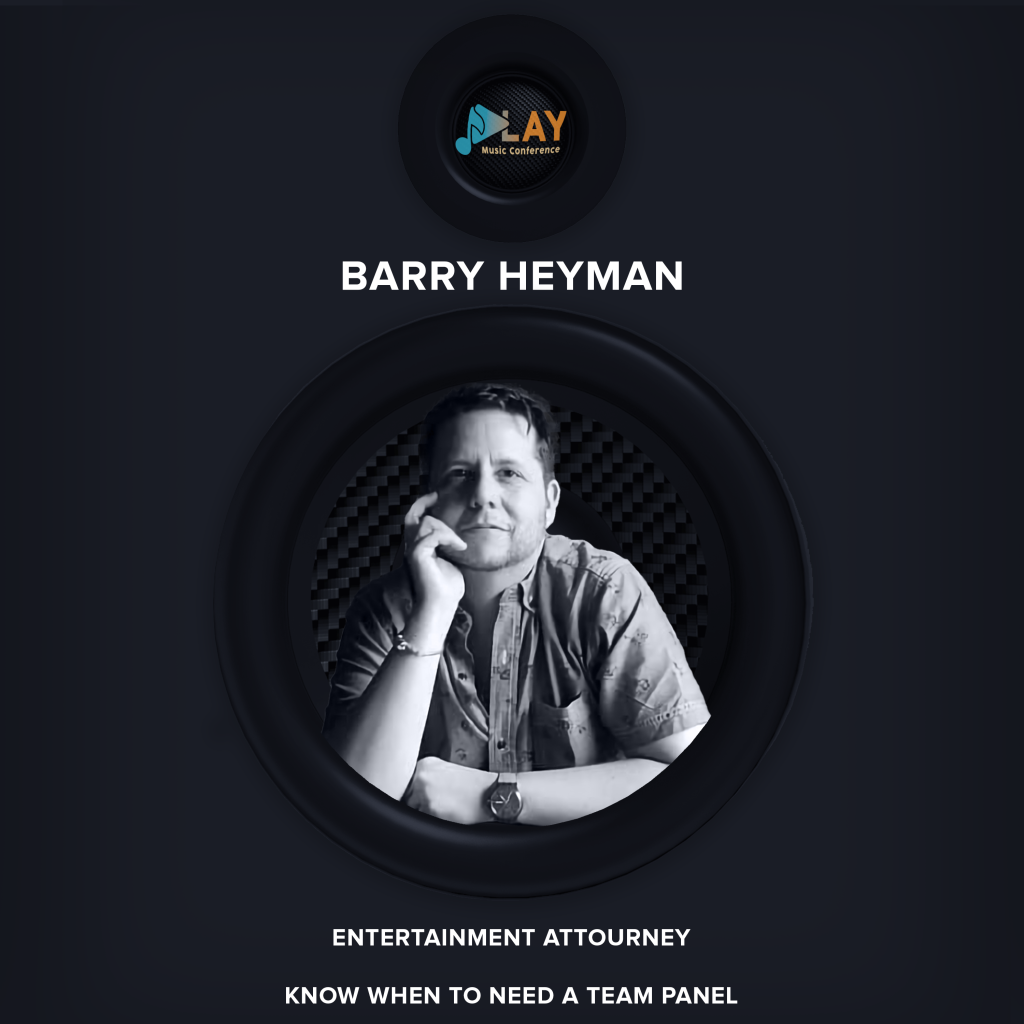 Meet Barry Heyman – bio coming soon!
---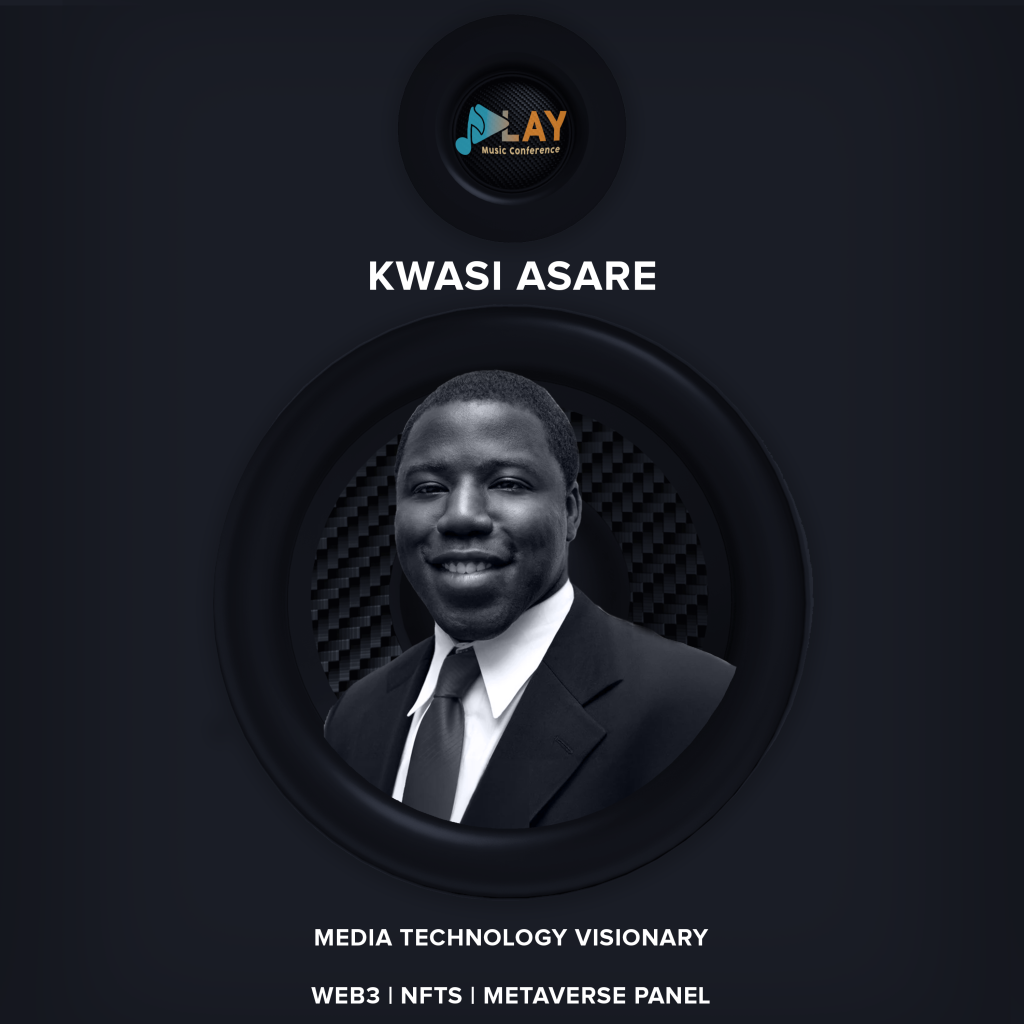 Meet Kwasi Asare – bio coming soon!
---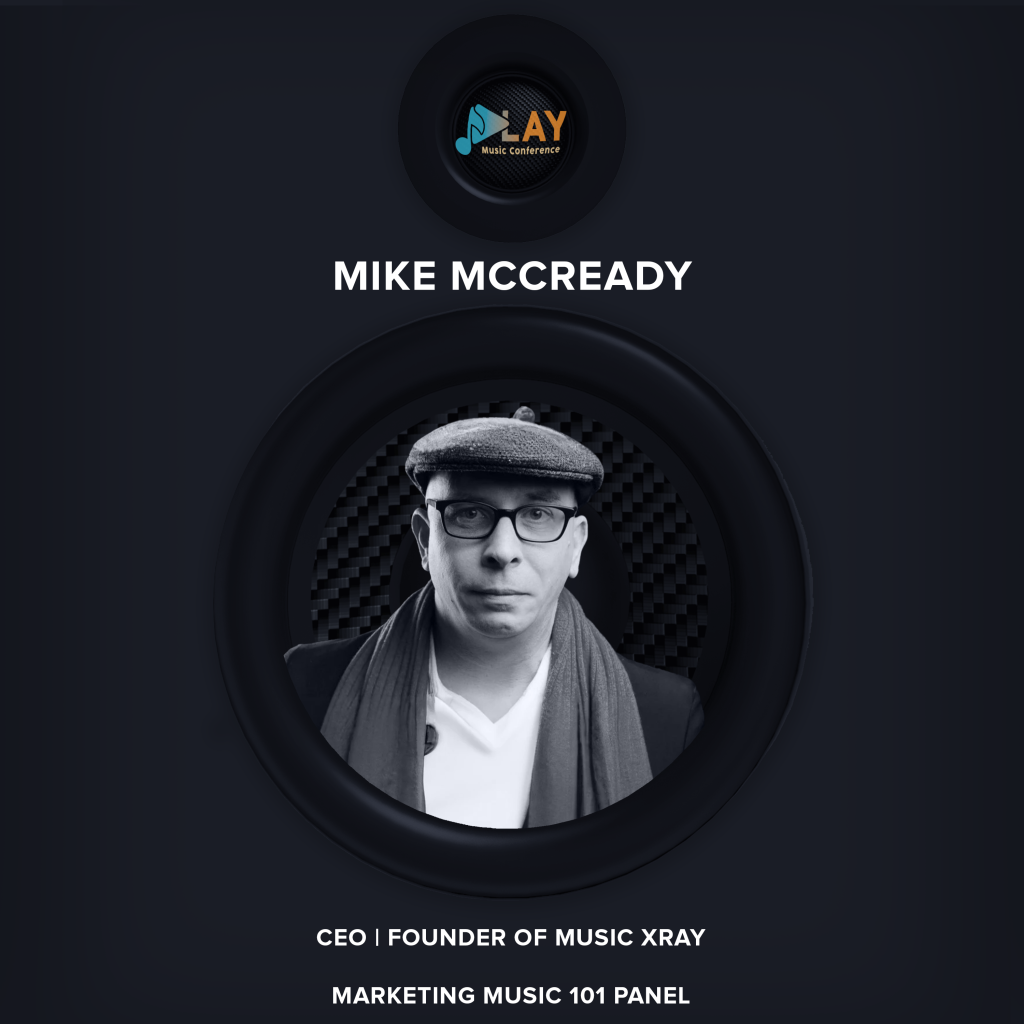 Mike McCready – bio coming soon!
---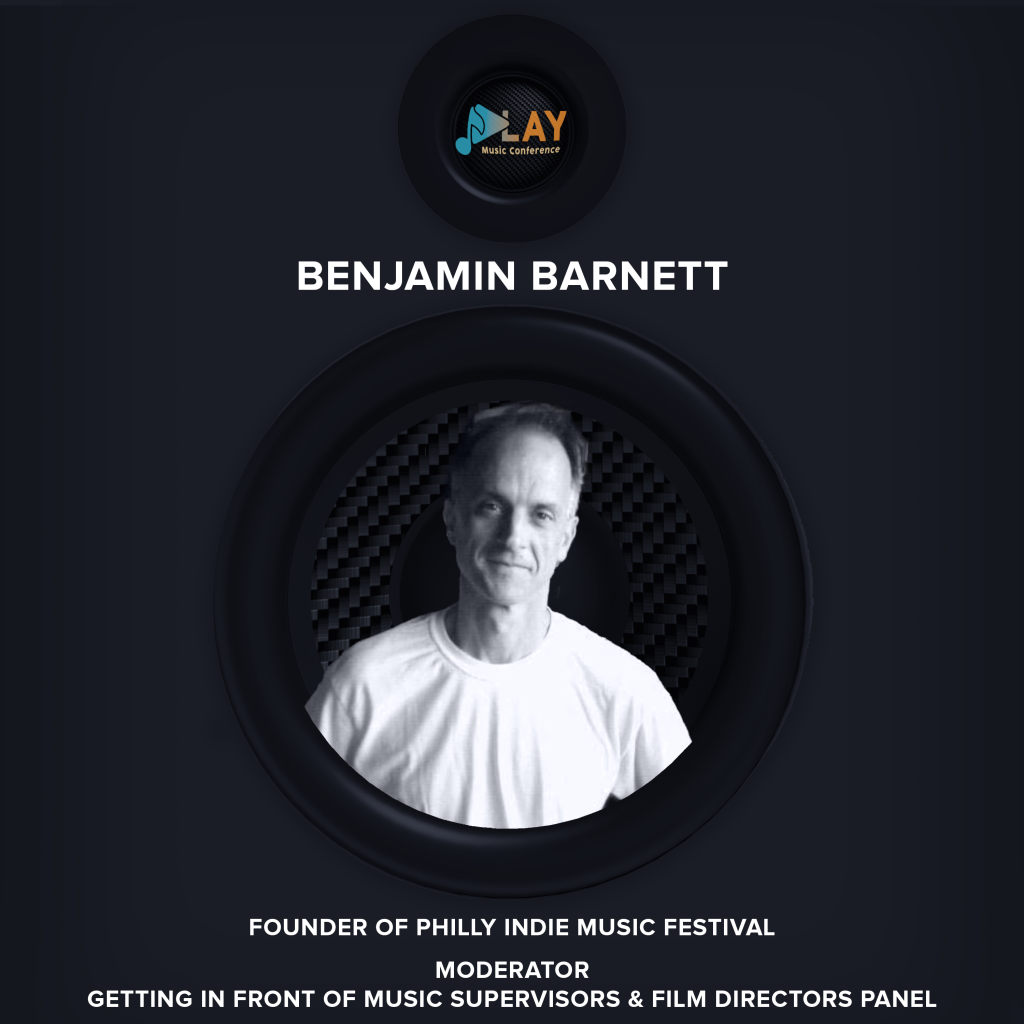 Meet Benjamin Barnett – bio coming soon!
---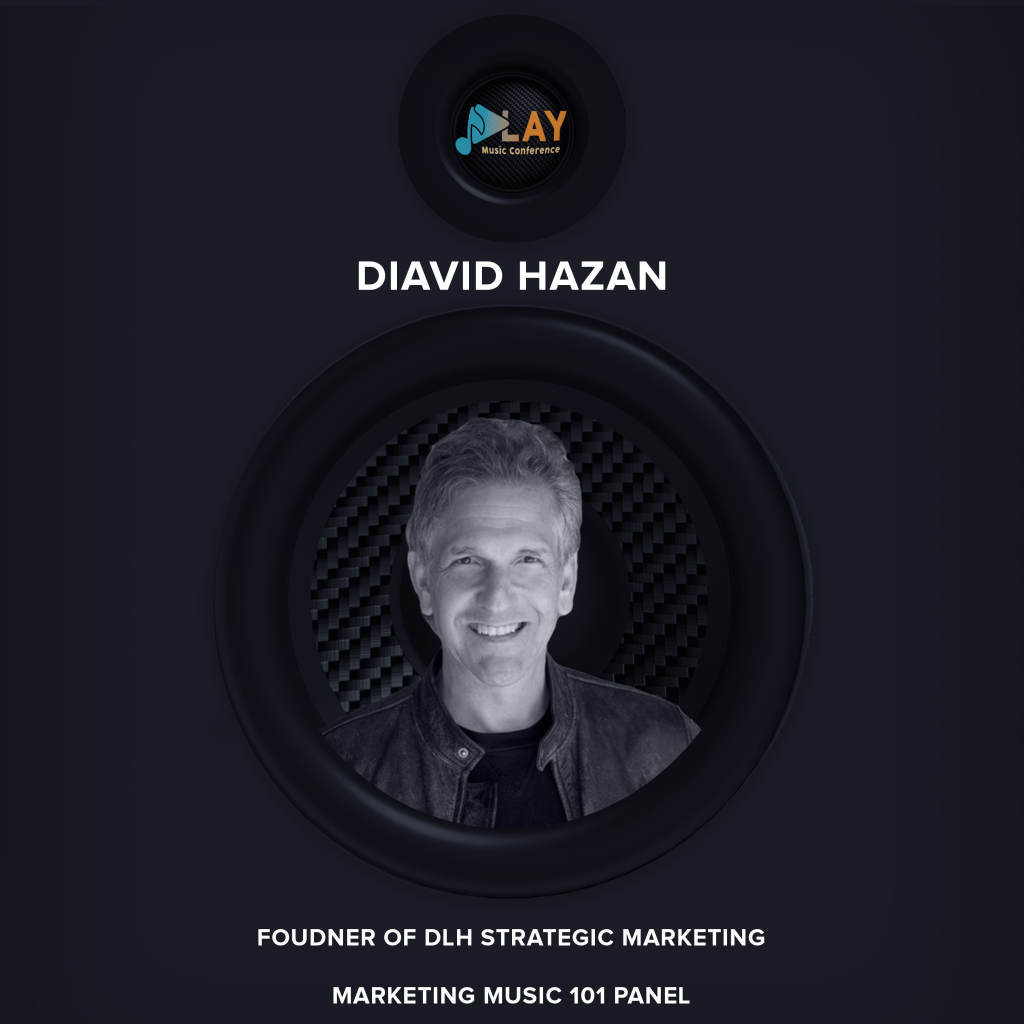 Meet David Hazan – bio coming soon!
---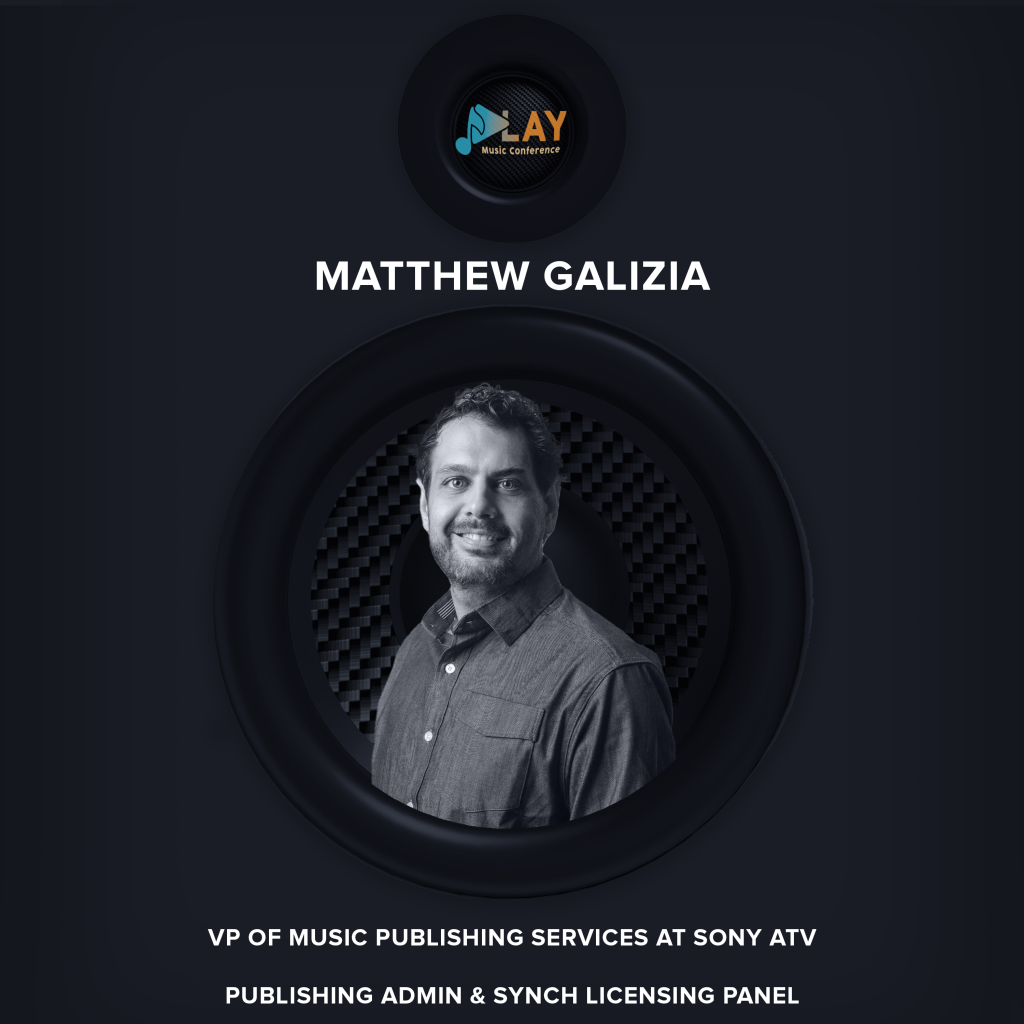 Meet Matthew Galizia – bio coming soon!
---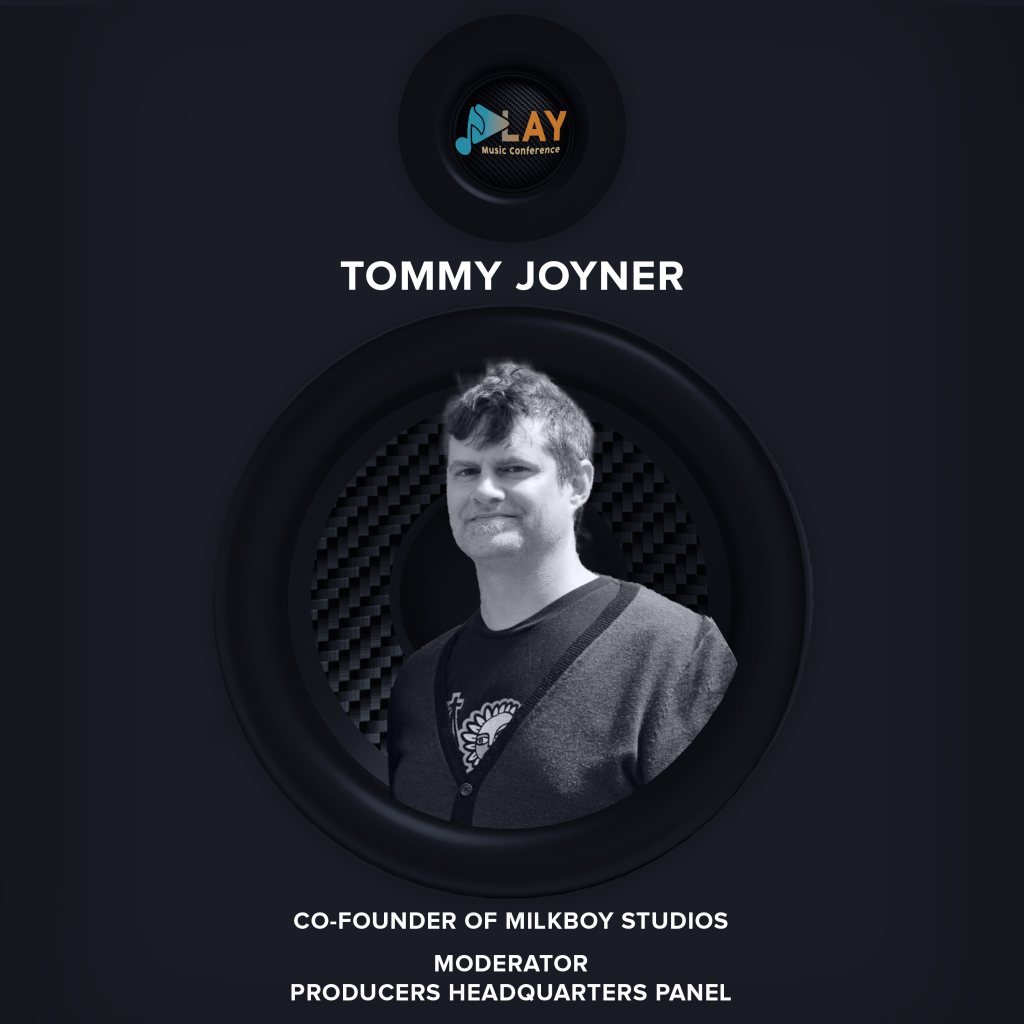 Meet Tommy Joyner – bio coming soon!
---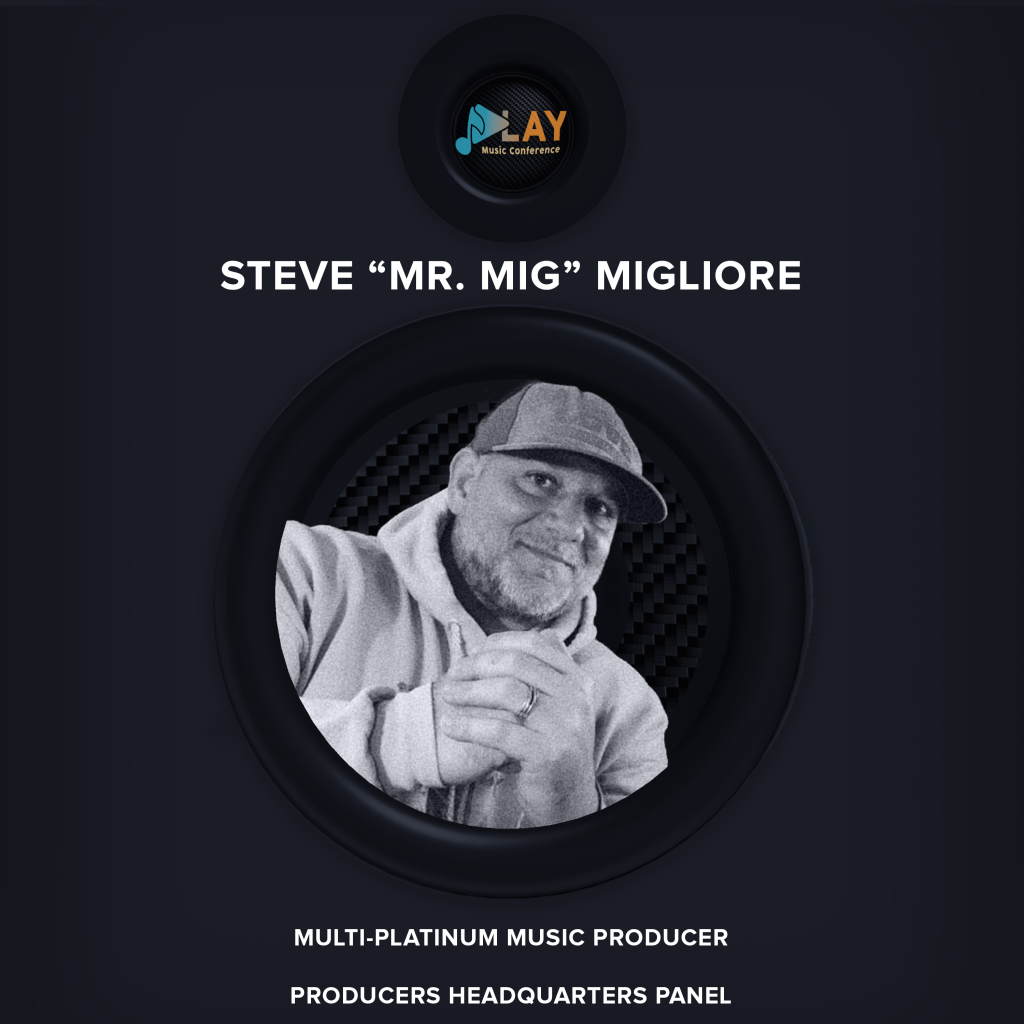 Meet Steve "Mr. Mig" Migliore – bio coming soon!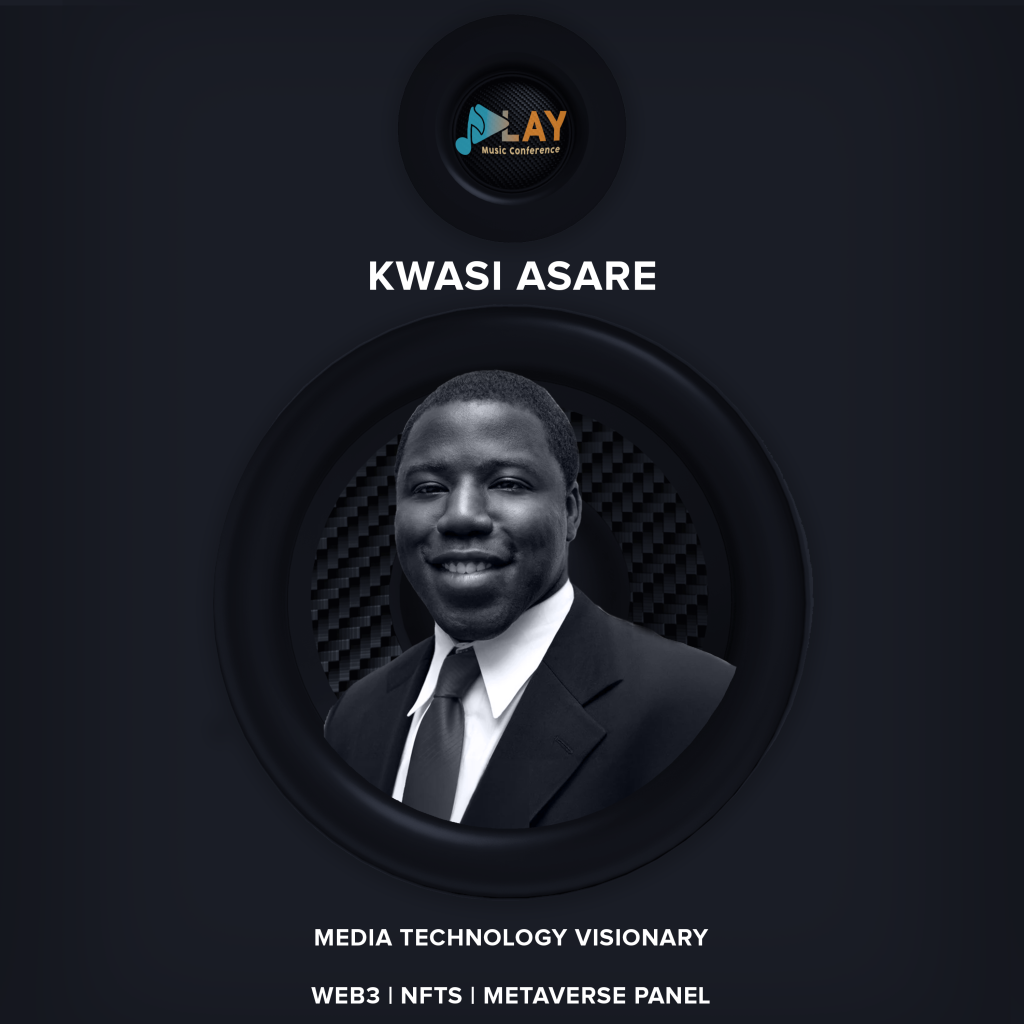 Meet Media Tech Visionary Kwasi Asare, CEO of FEEDIA, CoFounder of ESAIYO, Fast Company Exec Board, and Senior Advisor of ME Ventures.  He has marketed & monetized content releases that have generated approximately 20,000,000 record sales & album equivalents. He has worked with startups that have raised north of $50,000,000 in venture capital and angel investments. He has also worked as a marketer and business development executive on tens of millions in eCommerce sales. 
Mr. Asare was the New Media/Social Media Manager for Sean "Diddy" Combs' empire, overseeing digital marketing and social media platforms for Diddy's brands, including Ciroc, Sean John Fragrance, and Bad Boy Entertainment.
Throughout his storied career, he has envisioned and executed global marketing campaigns for artists and brands such as Newark Mayor Ras Baraka, Jerry Wonda, Ice Cube, Prince, Pharrell, Wu-Tang Clan, LL Cool J, Outkast, Gnarls Barkley, John Legend, Snoop Dogg, Mary J Blige, The Roots, The Fugees, Diageo, WMG, Sony Music, Estee Lauder etc.
Mr. Asare has been a founding member or early hire for numerous startups. He has advised numerous large companies and agencies including Startup America, Google, Facebook, Bit Torrent, The Consumer Technology Association, Microsoft, Universal Music, Apple, Monster Products, etc with a focus on monetization, marketing, business development strategy, and execution.  Mr. Asare also is a member of Fast Company's Executive Board.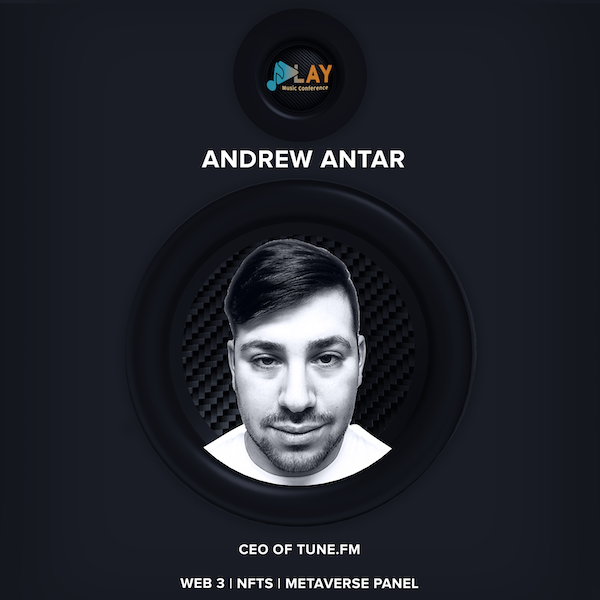 Meet Andrew Antar, CEO of Tune.FM.
Andrew is a web3 founder, designer, developer, investor, and artist. Tune.FM is revolutionizing the music industry with a groundbreaking new decentralized music streaming platform and music NFT marketplace Tune.FM. "When the music gets played, the artist gets paid."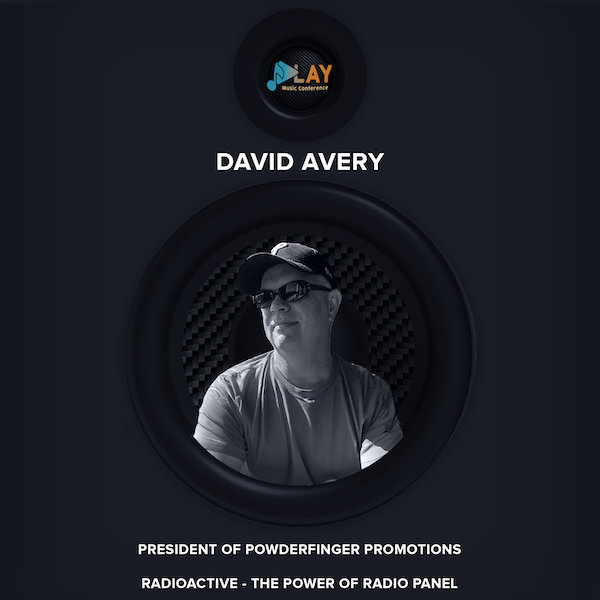 Meet David Avery, the President of Powderfinger Promotions.  
Since its launch in 1994, Powderfinger Promotions––named after founder David Avery's favorite Neil Young song––has been one of North America's most renowned indie radio promoters and PR firms, cultivating success for its artists via radio promotion, publicity and tour support via traditional and new media. The company has relationships with over 600 college, AAA, Americana, jazz and jam band stations, and hundreds of press contacts.
Under Avery's leadership, Powderfinger was voted the College Radio Promoter of the Year for two years in a row by CMJ New Music Report. The company also promoted the No. 1 jazz albums of the year at CMJ for three straight years, and has helped numerous artists chart in Relix/Jambands.com, CMJ, Americana Music Association, NACC, FMQB AAA and other influential charts. Though Powderfinger has promoted projects for high-profile artists like 311, Moe, Steve Winwood, String Cheese Incident and Robert Randolph, their "bread and butter" is indie and unsigned acts––including The Dresden Dolls, Charlie Hunter Trio, The Sterns, John Brown's Body and Michelle Shocked.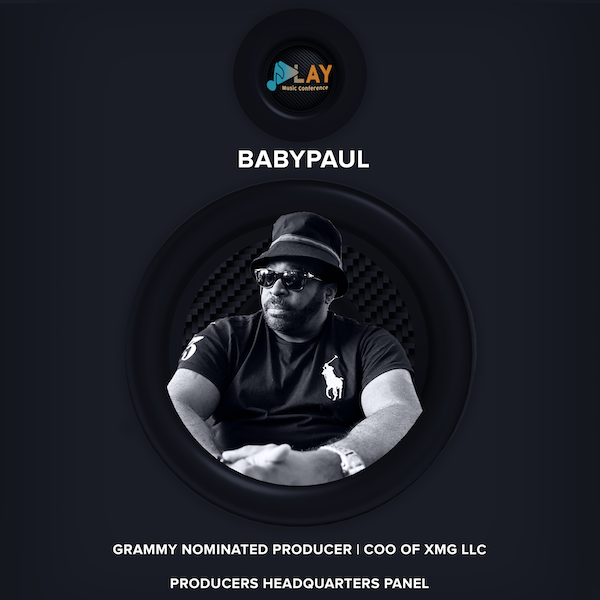 Meet Grammy Nominated Producer Baby Paul.
Baby Paul has a long and storied career in music. He was part of the legendary production team Da Beatminerz, & worked heavily with AZ and countless other legends. Paul's currently working with 300 entertainment artist Lil XXel, working on Monie Love's new album, & part of the group XrossRoads with Supa Emcee.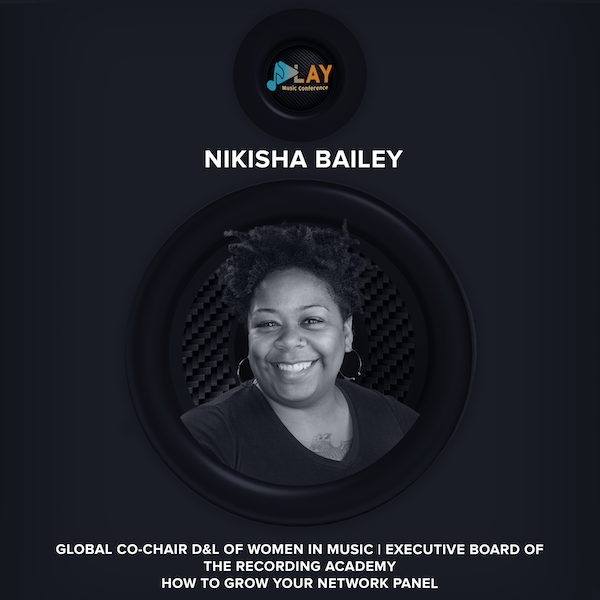 Meet Nikisha Bailey, Co-chair of Women in Music, Executive Board of the Recording Academy (NY Chapter), General Manager of NVAK Collective (Web3), Ambassador for the Academy's Black Music Collective, former A&R Admin Manager for Def Jam, and former Head of A&R Operations for APG (Atlantic)
She is the General Manager for the Nvak Collective – a next generation record label & artist advocacy collective that embraces web3 to drive change for creators and intellectual property. She also serves as Vice President for The Recording Academy's New York Chapter and is an Ambassador for the Academy's Black Music Collective (BMC).
She owns and operates one of Philadelphia's most renowned coffee institutions and community spaces, Win Win Coffee Bar. Nikisha also was a recipient of Urban SkinRX's Community Changemaker Award and listed on Forbes Next 1000 list for her entrepreneurial endeavors. 
In the music business, Nikisha has been named a Billboard R&B / Hip-Hop Power Player in 2020 and 2021 for her work as VP / Head of A&R Admin at APG (Artist Partner Group. She became A&R Admin Manager for Def Jam Recordings in 2015 and worked on chart-topping multi-platinum releases for the likes of YG, Jhene Aiko and Lil Durk, acting as a label liaison for producers, studios, engineers, and musicians. 2018 saw her return to Atlantic in the role of Head of A&R Operations and Production for APG, where she worked on key records for talent such as Kehlani, Lil Skies, Youngboy and many others. 
Continuing her influence throughout music, she also manages GRAMMY® Award-nominated artist, producer, and multi-instrumentalist Terrace Martin (who worked with Kendrick Lamar, Snoop Dogg, The Game, Stevie Wonder, and Raphael Saadiq) culminating on the GRAMMY® nominated Velvet Portraits in 2016. In addition to leadership roles within The Recording Academy and Women In Music, Nikisha is also a founding member of CHIEF, a network of women focused on supporting each other in executive capacities. She also organizes OurTable Dinners, which spotlights and celebrates music business thought leaders.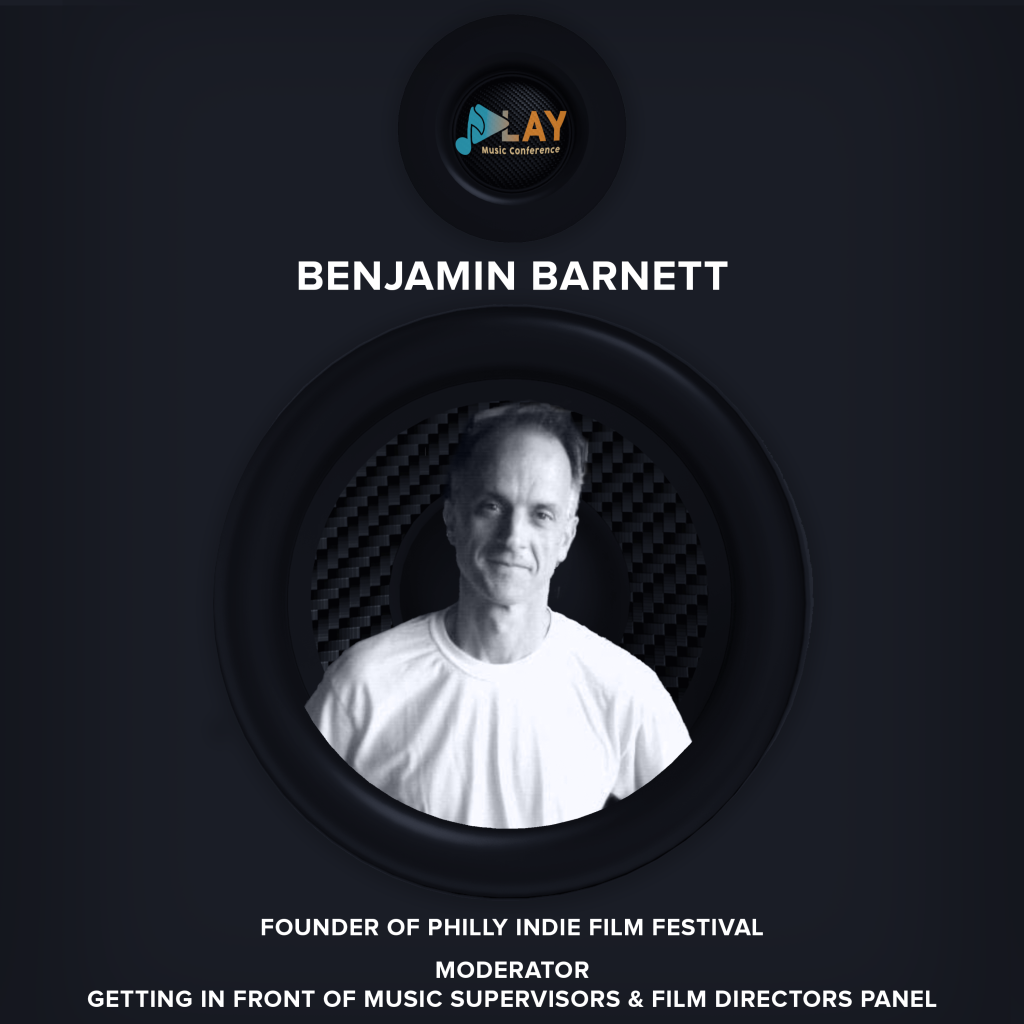 Meet Benjamin Barnett, Founder of the Philadelphia Independent Film Festival.  Benjamin will be moderating our "Getting in Front of Music Supervisors and Film Directors" panel.  
Benjamin is the founder (1997) of the Media Bureau Network (MBN), one of the first original content networks on the internet, where they produce original content and digital strategy for film, media, and politics. MBN has produced and programmed more than 1,000 events as a Producer, Creative Director, Director, Editor, DP, Technologist, and have played other business and creative roles on many independent films, music videos, and digital strategy campaigns since its founding.

In 2008, Benjamin founded the Philadelphia Independent Film Festival (#PIFF #PIFFfilms) to enable the crossroads of storytelling and technology and has been the Festival Director since its inception. The Philadelphia Independent Film Festival is a curated annual film and tech discussion (underground film forum) during Philadelphia Tech Week. The festival discovers independent cinema and discusses/innovates at the crossroads of art and filmmaking. The festival is currently located at piffFilms.tv and is celebrating its15th year anniversary in 2022.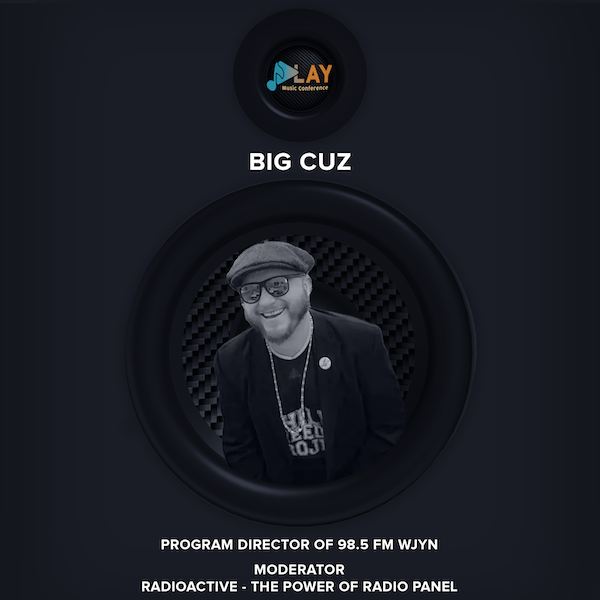 Meet Big Cuz.  Big Cuz is the Program director of 98.5 FM (Uptown Radio) since 2018 in Philadelphia, PA, the 8th biggest radio market in the US.
Working with a small group of motivated individuals, 98.5 FM has grown from 1 weekly show to 30 original programs and a shining beacon for North Philadelphia.
Michael started off in the music business since 2002 as an emcee then, host, event planner, and now a DJ.  Since 2006, Michael has been working with Philadelphia At Risk Youth professionally as a Social Worker.  Michael's work specialized in transitioning youth out of the system and into successful roles as adults
Michael is the founding member of the Philadelphia Freedom Project 501c3.  The Philadelphia Freedom Project teaches leadership training through community service.  Michael created Most Slept On Radio, a FM radio brand devoted to showcasing local and worldwide independent talent.    Michael created Travel Gang International, a travel brand that encourages people to travel outside their comfort zone.  Travel Gang Intl has partnered with groups in Puerto Rico to assist with hurricane relief efforts.  
Big Cuz will be moderating the RadioActive Panel.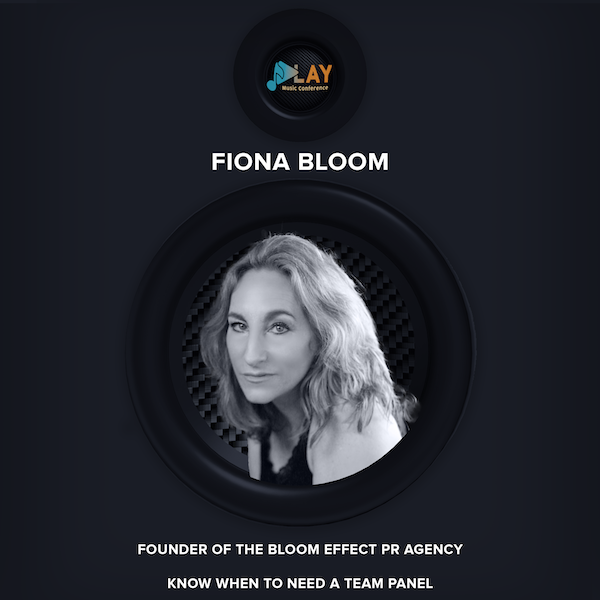 Meet Fiona Bloom, the Founder of The Bloom Effect. Prior to running her own company, Fiona was at EMI Records and ran marketing campaigns for Grammy Winning Digable Planets, Gang Starr, Shara Nelson, and more. Current clients include The Zombies, Simple Minds, Raul Midón (who is very well respected around the world with fans including Sting).
Fiona was also a radio personality, musician, and an A&R who worked with some of the biggest names in underground hip hop early in their careers including MF Doom, Atmosphere,  and Blackalicious.
She also worked at TVT where she headed up INtl Marketing and worked with Lil Jon, Ying Yang Twins, and Pitbull.  Fiona was also a talent buyer for a leading NYC venue Joe's Pub and on advisory board for MONDO and bring in their sponsorship, partnerships, and programming.
In addition to all the hats Fiona Bloom has worn throughout her successful 30+ year run, she also was the club booker for a NYC venue called Joe's Pub
Currently, she's also on the advisory board for Mondo a Music & Tech conference and responsible for bringing in partnerships, sponsors and special programs.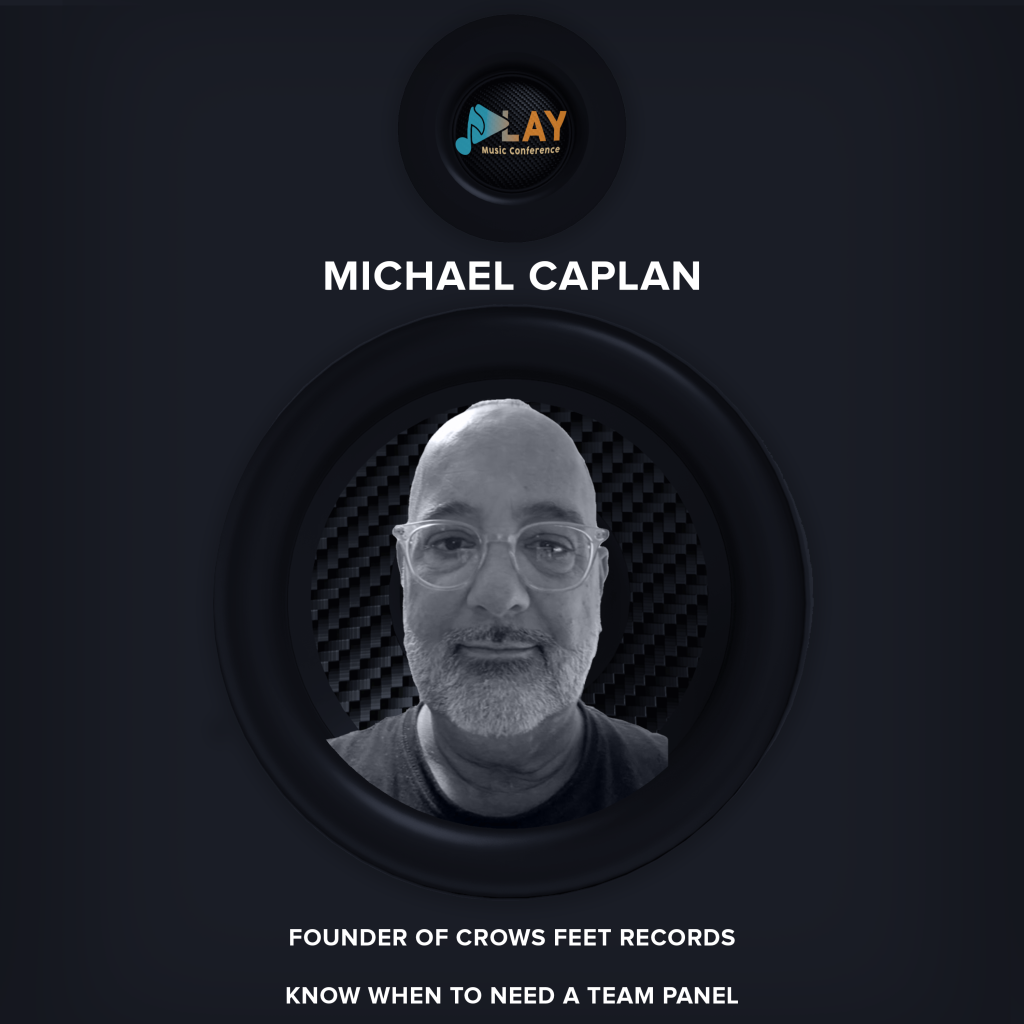 Meet Michael Caplan, founder and President of Crows Feet Records. 
Michael started at Strawberry Records in Boston and later switched to A&R at EPIC Records.  He advance to the lead of his department as Senior Vice-President of EPIC Records.  While at EPIC, Michael signed and developed iconic artists Living Colour, partnered with the legendary band The Allman Brothers, and signed Five-Time Grammy Award Winning Blues artist KEB' MO' amongst many other successes.
Michael rose through the ranks to become the head A&R at SONY Music, lending his expertise to may artist projects whether in the studio, marketing initiatives, and touring.  Having long been attracted to up-and-coming artists, Michael departed from SONY to create independent label signing and developing a host of artists to long-term success.
Currently, he is the founder and President of Crows Feet Records working with Blues guitarist JD Simo amongst other artists.  He is also the A&R Consultant who has lent his "ears" and expertise to many projects. Michael is known for his golden ears but is equally known for his quick wit, his acerbic delivery, and his sought-after "tell it like it is" experience.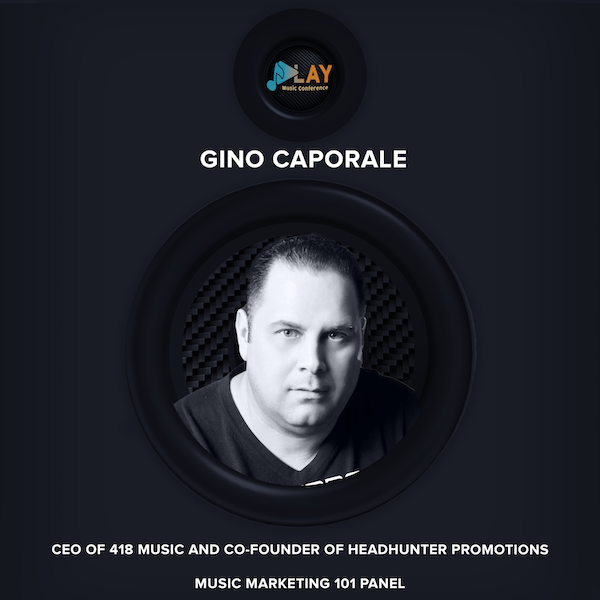 Gino Caporale launched 418 Music in 2013, released 12 tracks, and acquired international distribution through INgrooves Music Group.  Two years later, the label released "Synergy" by American Music Award-nominated artist Crystal Waters. With ten #1 hits including "Gypsy Woman", Crystal is one of the biggest dance artists of all time, according to Billboard. "Synergy" became the first #1 Billboard hit for the label. The label also released "Can't Be Stopped" by Grammy-Nominated ZHU. 
In 2018 Gino teamed up with multi-platinum producer Mr. Mig forming "Headhunter Promotions & Marketing" resulting in over 50 Billboard Dance charting tracks and numerous #1 iTunes Dance albums. 
Following their explosive success, 2019 began with top honors when Billboard released its annual rankings for 2018 and named 418 Music as the #1 Independent Dance Club Imprint label and the #7 overall Dance Club Imprint label over major labels Capitol Records (Katy Perry, Paul McCartney) and Republic Records (Taylor Swift, Arianna Grande, Nicki Minaj). 
Now in 2022, the label is well-established and esteemed by the global dance/House music community.  More well-known for their six #1 hits on the Billboard Dance Club chart and numerous #1's on iTunes.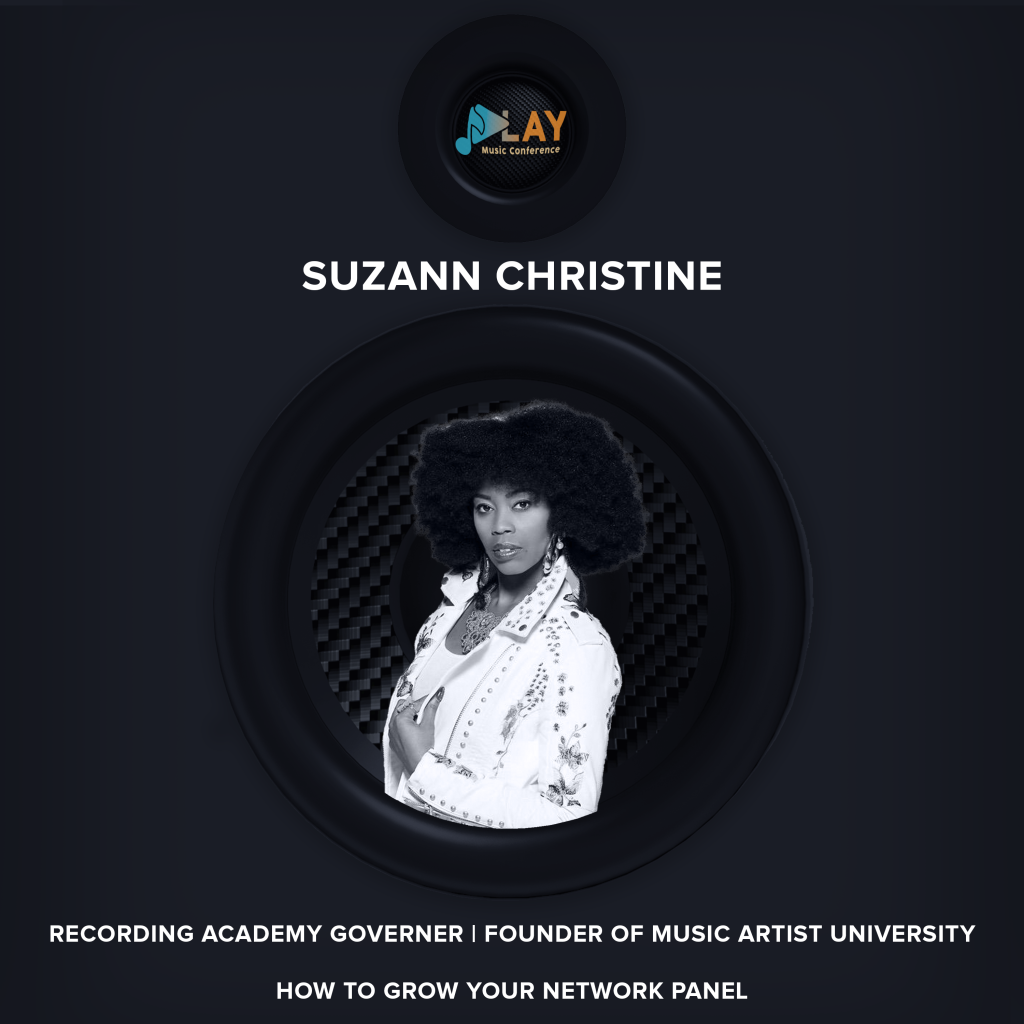 Meet Suzann Christine, The Grammy's Recording Academy Governer (Philly Chapter) and Founder of Music Artist University.  
Class, creativity, and raw talent are what the 3x award winner for "Best Female R&B/Pop Artist" Suzann Christine offers her many fans and followers with fun yet relatable R&B, Pop and Soul music she is known for. She has built her following through collaborations with hip hop artists, YouTube covers and performances nationally and internationally sharing stages with some of your favorite artist such as Mary J Blige, BabyFace, Musiq SoulChild, The Roots, Micki Howard, Fat Joe, Dj Khalid and more.
Suzann has been introduced to the airwaves and social networks, winning the hearts and ears of thousands within her hometown of Philadelphia and throughout the country with her single "Falling Tears" which received national airplay on Sirius XM, Shade 45, Music Choice, BET Jams, Hot 97 and more. Falling Tears also landed number 3 on the Italy R&B charts. 
Suzann's vocals were also heard singing background for the legendary Patti Labelle during the 50th Anniversary of Essence Music Festival in 2020. 
She's also gives back to her community through her performing arts nonprofit founded in 2010, SCH Creative & Performing Arts. Suzann also sits on the board for The Philadelphia Recording Academy as Governor helping to educate, uplift and advocate for music artist.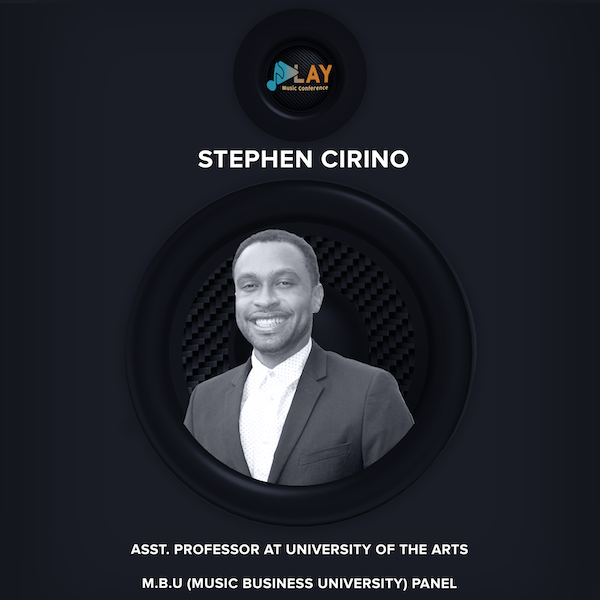 Meet Stephen Cirino, Asst. Professor at University of the Arts
After graduating from Indiana State University in 2006, Stephen Cirino started his professional career in the music business. Stephen worked for Sony Music Entertainment/Red Distribution for over 7 years releasing platinum and gold bands such as Alabama Shakes, Awolnation, and Mumford & Sons.
In 2013, Stephen Cirino went full time with his own management and distribution company called Future Management where he collaboratively released to-date, 8 Billboard charting albums. Stephen Cirino is currently a Music Business Professor and Music Business Contributor.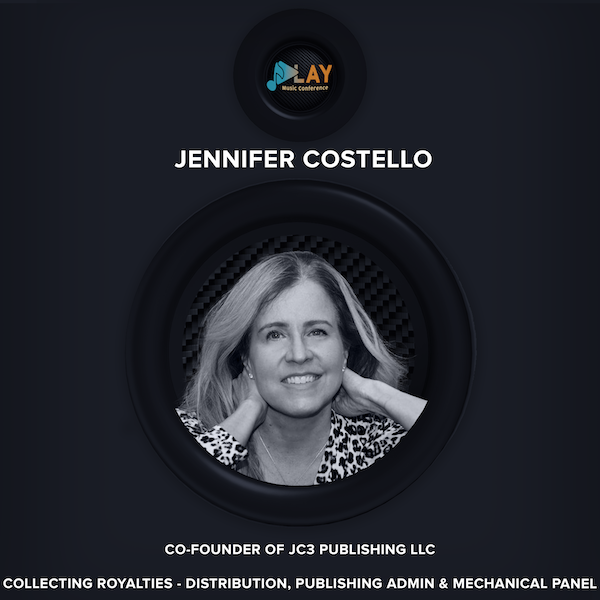 Meet Jennifer Costello, Director of Music Licensing & Clearance for JC3 Publishing LLC.  Jennifer earned her music degree from Butler University, Jordan College of Fine Arts, in 1992. Throughout college, she played piano for a multitude of shows and accompanied various artists for public and private performances, including working with the Indianapolis Opera Company and Community Theater among others. After college, she relocated to the Southwest and opened a private piano studio. Jennifer became immersed in the legal aspect of the music business and has gained in depth knowledge related to publishing and synch. She and her partner, John, co-founded JC3 Publishing LLC in 2015. Since that time, their brand, JC3 Media Music, has become a go to source for one-stop indie music.  Jennifer is always on the lookout for fresh new artists and amazing songs for potential sync opportunities. 
Select placements include end credits in Kings of Napa (OWN) and For Life (ABC), trailer and film My Fake Boyfriend (Lionsgate), opening title card in The Sex Lives Of College Girls (HBO Max), syncs in Darby And The Dead (Hulu), House Party (Warner Bros.), P-Valley (Starz!), Claws (TNT), The Impact Atlanta (BET+), and many more.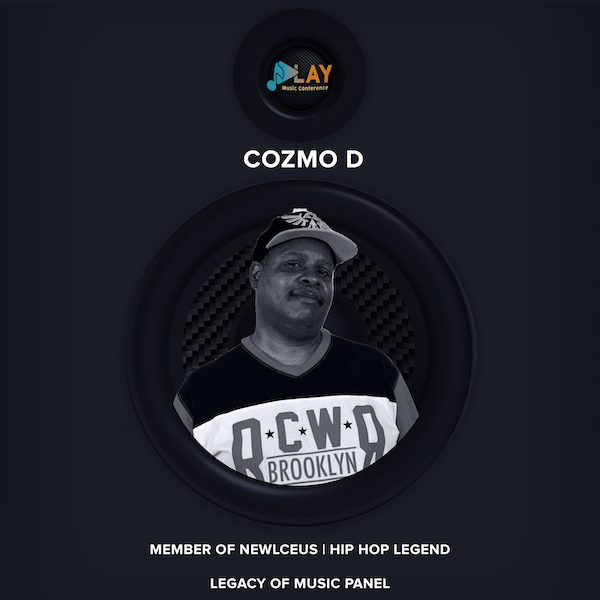 Meet hip hip/electo legend Cozmo D from the group Newcleus.  Newcleus is known for their classic songs "Jam On It", "Jam On Revenge", "Push The Button", and more. 
In 1976, Ben took on the moniker Cozmo Disco and started DJing in his native Brooklyn NY. The following summer of 1977, Ben shortened his name to Cozmo D and fully immersed himself into the burgeoning culture of Hip Hop that was sweeping New York City. Together with his cousin and his best friend, Cozmo started the DJ collective Jam-On Productions and began rocking parks and block parties throughout the city.
In 1979 Cozmo bought his 1st synthesizer and drum machine and stepped into the world of electronic music. This endeavor culminated in 1983 with the emergence of Newcleus and the following year with the release of an all time Hip-Hop anthem, "Jam On It"
After Newcleus' 2nd album in 1985, Cozmo turned to production and started his first label Bainbridge Street Records in 1987. It was during this period that that he discovered and released the first record by PM Dawn, starting their career. Cozmo then turned to pioneering the NYC Deep House scene with still sought out classics by Sha-Lor, Push/Pull and Dream 2 Science.
Cozmo continues to work as an independent producer, artist and label, as well as touring and DJing throughout the world.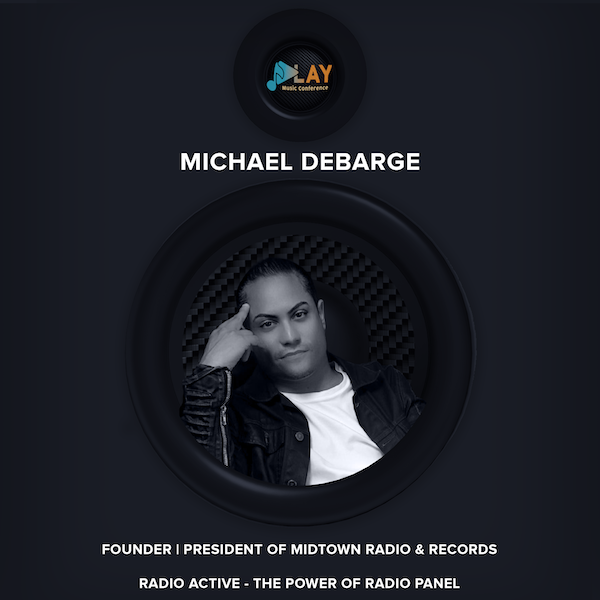 Meet Michael Debarge, Founder and President of Midtown Radio & Records.  
Michael DeBarge is a Billboard chart topping Record Producer, Radio Promoter & Music Publisher. Best known for his work in the music department of the Golden Globe award winning TV series "Jane the Virgin" (CBS/The CW). Michael DeBarge has secured major endorsement deals for rock and roll legends; most notably Chubby Checker. He is also the co-publishing administrator for acts such as David Ruffin Jr., Doc Ice (Whodini/UTFO, Joeski Love and more…. In 2009 Michael, orchestrated the return of 2x Grammy nominee Skee-Lo to the music business with the EP "Overdose". In 2014 Michael DeBarge joined the Corey Feldman management team. As a producer, radio promoter and publishing administrator of Corey Feldman's "Angelic 2 the Core" LP Michael DeBarge secured the album its 3 Cashbox top 40 singles and Feldman's first ever Billboard charting record; Go 4 It (Feat. Snoop Dogg).
Michael will be on our RadioActive Panel.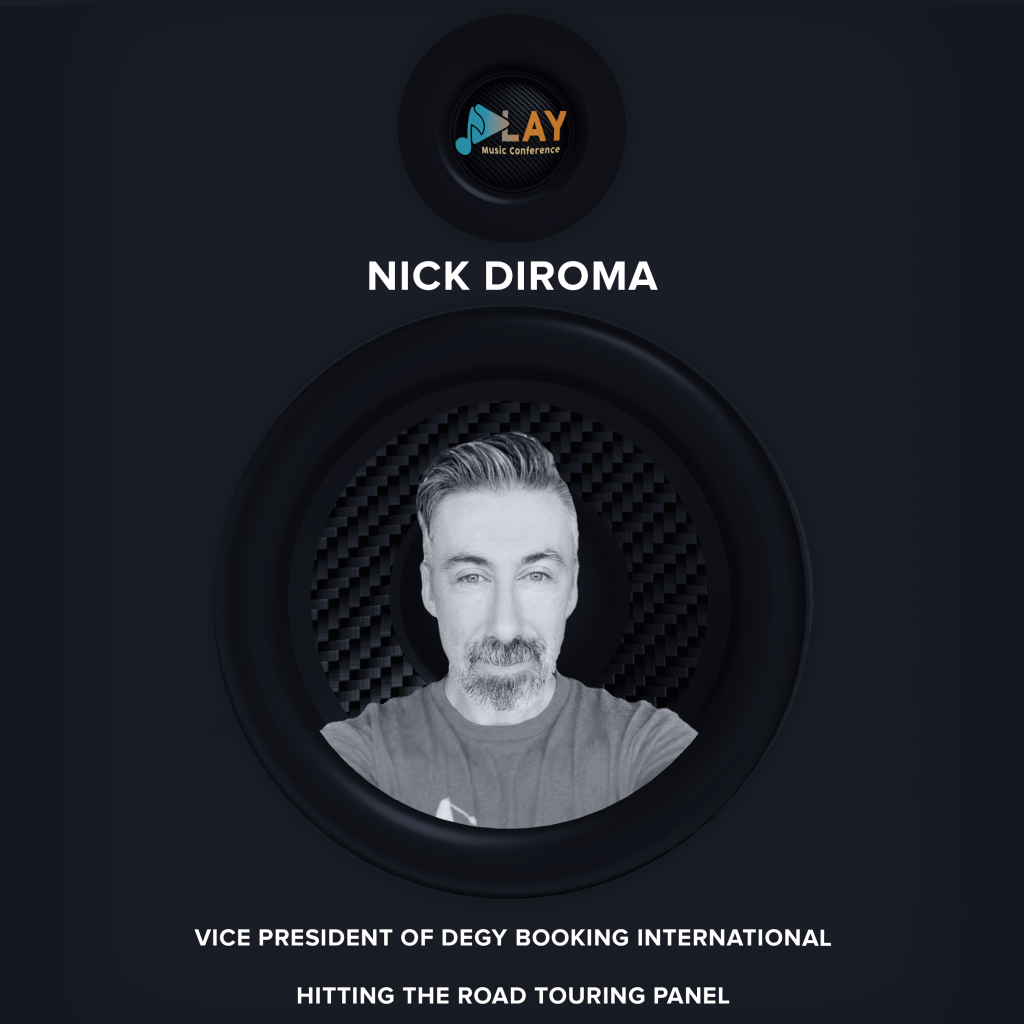 Meet Nick DiRoma, the Vice-President of DEGY Booking International. 
In 2007, Nick started Impact Entertainment, an agency focused on providing entertainment  for Colleges and Festivals.  A recession and an inexperienced, unknown talent roster brought the agency to the brink of closure within a few years.  In an effort to survive in an already saturated market, Impact was re – branded in 2010 to become Impact Colleges, an agency primarily focused on talent buying for the College & University market.  From there, the agency thrived and grew from 1 client to 50, primarily from referrals.  Nick's motto was simple – Every client is the most important client.  Impact Colleges was acquired by Degy Entertainment in April, 2015 which provided Nick a global reach and the resources to better – service clients.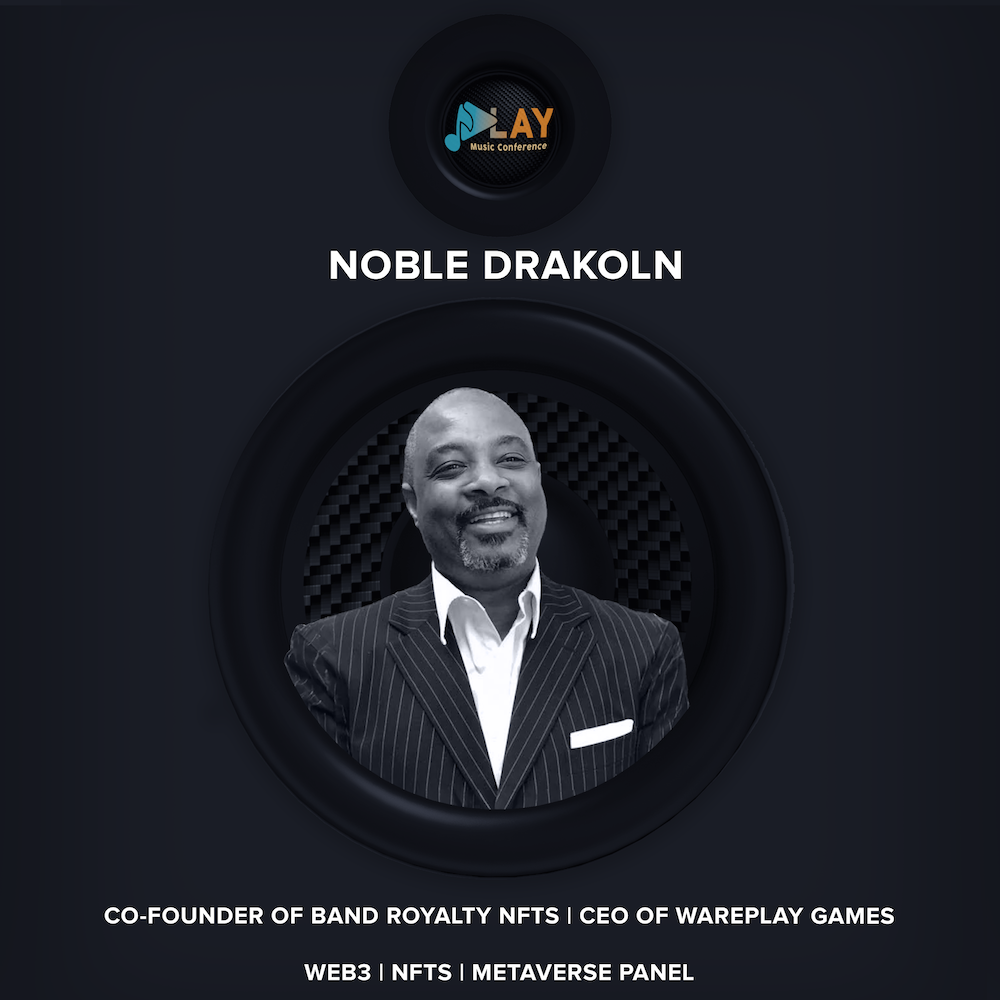 Meet Noble DraKoln, co-founder of Band Royalty NFTs and CEO of Wareplay Games.
Noble has been an avid music royalty investor for decades.  He is also CEO of WarePlay Games, Inc., a mobile AR/XR game design and development studio. Having started out as a futures and commodities broker at the age of nineteen trading the E-mini S&P, gold futures contracts, and treasury bond strips, he went to author the Wiley & Sons published best-selling books "Winning the Trading Game" and "Trade Like a Pro". Along with being a tech investor, financial author, and sought after speaker, Noble has been a contributing writer to Forbes, Futures Magazine, and a radio and T.V. financial commentator on Bloomberg and Fox Business News.
Band Royalty, the parent company of Band NFT's, made about $1,500,000 on their initial NFT launch.  They currently have NFTs of lost recording of Taylor Hawkins, Youtube star Andie Case, and many other.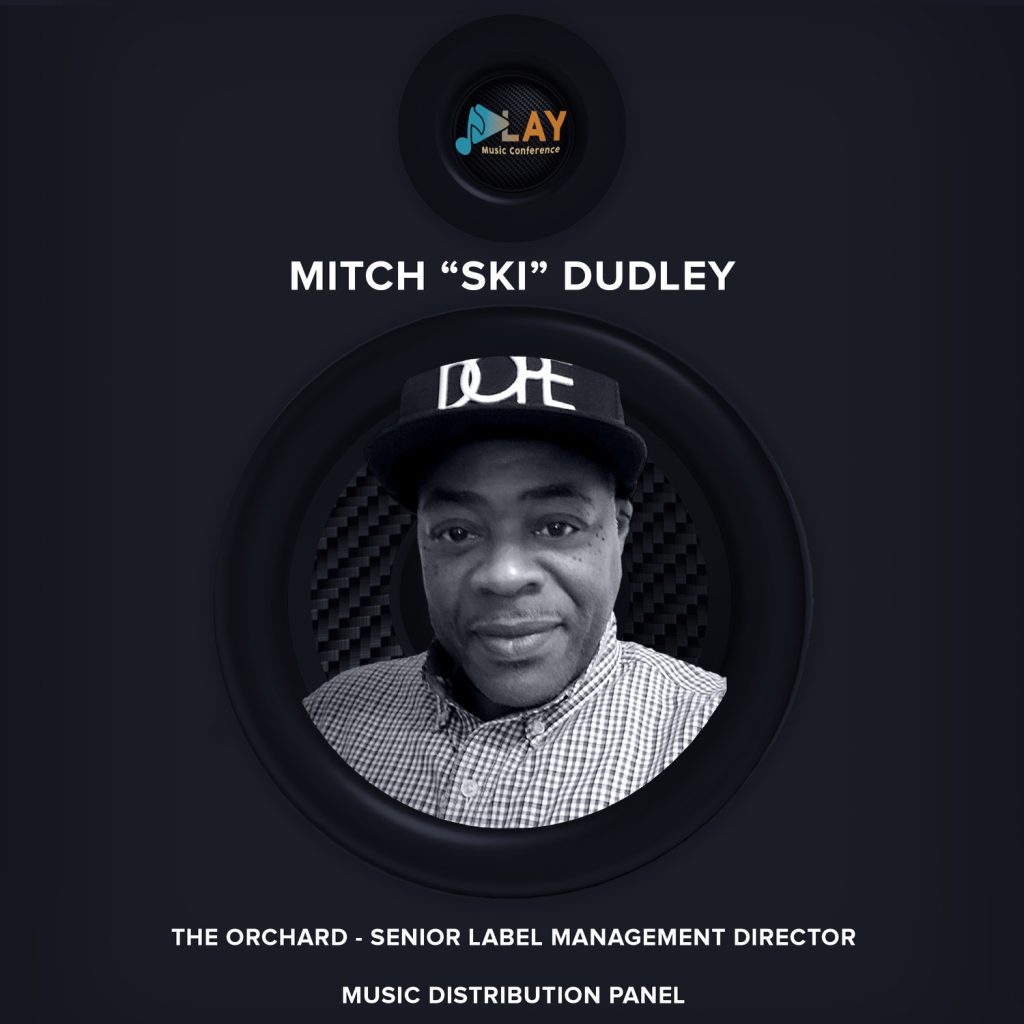 Meet Mitch "Ski" Dudley, Senior Label Management Director at The Orchard. He was listed by Billboard Magazine as "2020 Billboard R&B/Hip-Hop Power Player". Mitch will be a part of our "Properly Distributing Your Music" panel.
Mitch Dudley, Label Management Director at The Orchard, has worked closely with G Herbo (Machine Entertainment Group), whose single "PTSD" went platinum, selling 60k in the first week and debuting in the Billboard Top 10. The one word that comes to mind when Mitch thinks of R&B / Hip-Hop culture, he says, is "Trendsetting: That's who we are – 'trendsetters.' That's what we do – 'set trends'! Whether it's the shoes on your feet, or that new place to eat, your decision to consume was probably triggered by a line you heard in a Rap or R&B song."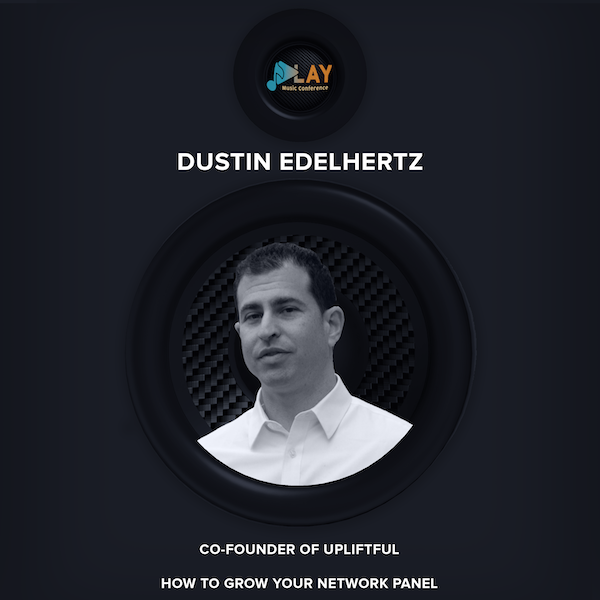 Meet Dustin Edelhertz, Co-Founder of Upliftful – a new mentorship app for music entrepreneurs.
For 20+ years, Dustin has specialized in brand strategy and product management for entertainment and technology companies, consulting for global brands such as Samsung and Harman International. A multi-disciplinary entrepreneur, Dustin earned his first multi-platinum album credit at age 23 for Sean Paul's 'Dutty Rock,' shortly after beginning his career promoting music with labels like VP Records, Capitol, Universal Music Latino and others. In 2005, working with mobile radio startup mSpot (acquired by Samsung), he became the first person to stream DJ mixshows on cell phones, later syndicating with major mobile carriers and auto manufacturers attracting millions of listeners. He has since gone on to independently sign record deals, manage talent, create and launch mobile apps, and advise over 30 startups and entrepreneurs in a variety of industries on how to ideate, develop, and launch new products.
Currently, as co-founder of Upliftful, Dustin and his team are leveling the playing field for the next generation of music entrepreneurs by granting easy, affordable access to industry experts for advice and collaboration.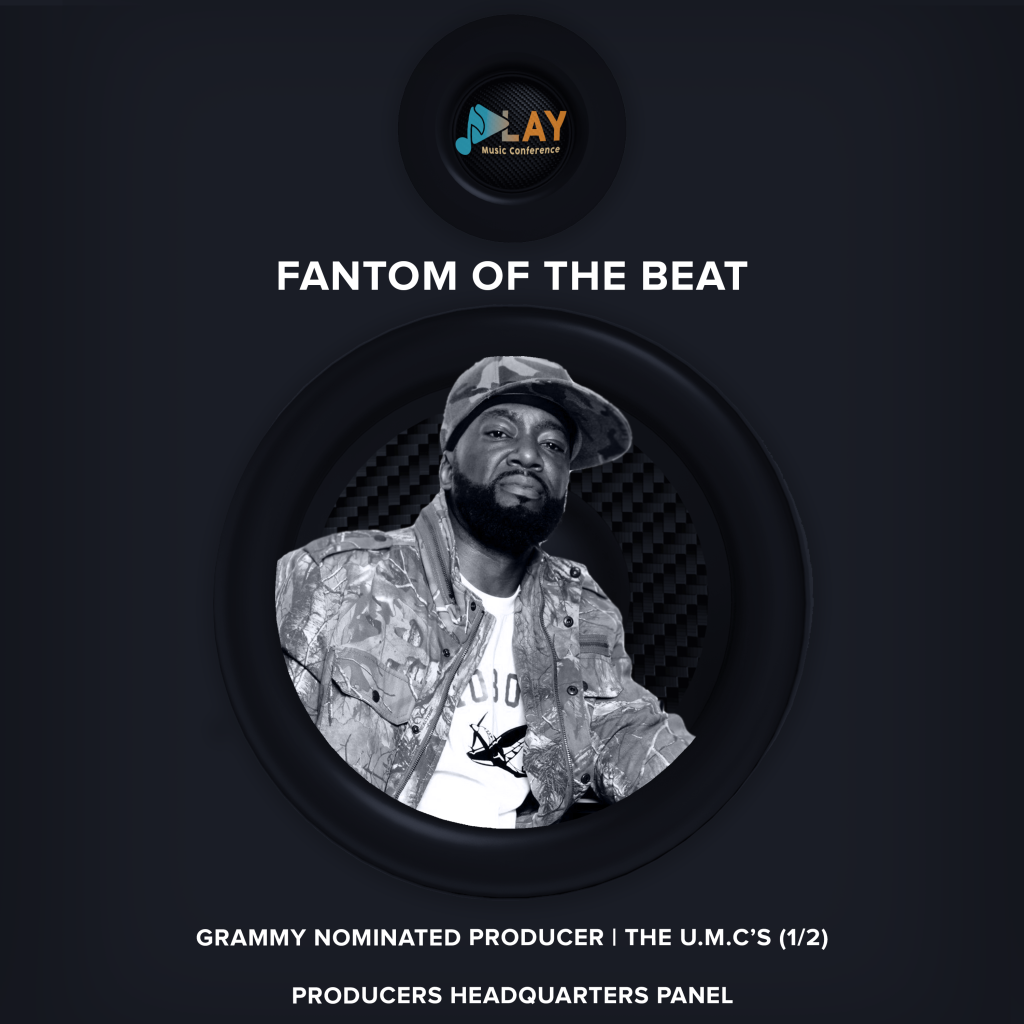 Meet Grammy Nominated producer Fantom of the Beat (formerly known as Haas G – 1/2 of the legendary hip hop group The UMC's).
Fantom of the Beat produced the legendary hip-hop song "Magic Stick" by Lil Kim ft. 50 Cent as well as "Apollo Kids" by Wu-Tang's Ghostface Killah. He also produced Busta Rhymes, Inspectah Deck, Ms. Toi, Heather Hunter, Sadat X, and many more. As Haas G of The UMC's, he has appeared on Soul Train, Dance Party USA, and as a poster on the wall in the TV show "Martin". Recently he produced the track for "Pass The Torch" by Mikey D ft. Lush One which is featured in horror king Kevin Williamson (Scream/Vampire Diaries) new movie "Sick" (directed by Z-Nation/Black Summer's John Hyams).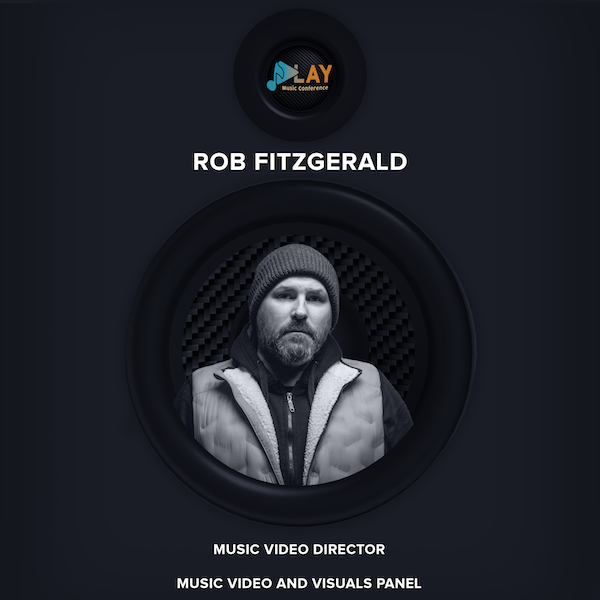 Meet Rob Fitzgerald, music video director.  
Rob has spent a career surrounded by music videos of all types and has had his work featured on BET, MTV, Music Choice, & more. After moving from behind the editing deck to behind the camera, he's a believer in creativity over cost, and that any artist can have a top notch music video with the right vision and the right people. There's no side of the music video world he hasn't touched, making him a powerful voice in this side of the music industry.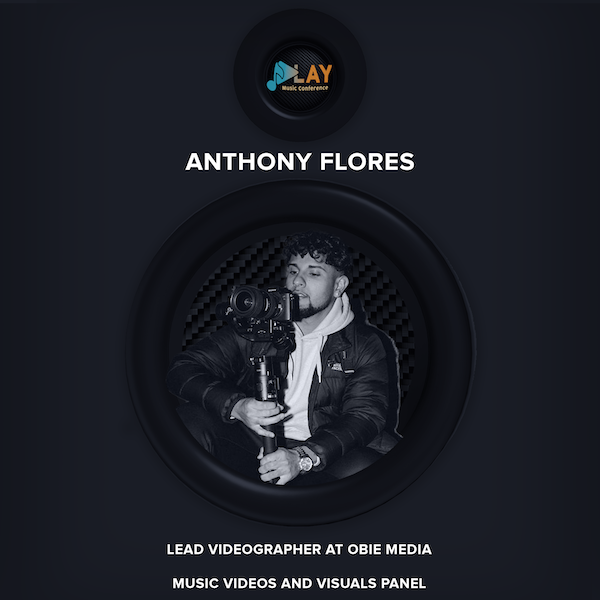 Meet Anthony Flore, videographer at OBIE Media
Anthony started his career as a videographer in 2019 by creating music videos for up and coming artists in his hometown Millville, New Jersey. He has directed, shot, and edited hundreds of music videos since then and continues to do so. He is extremely passionate about creating an outlet for local artists to showcase their music through high quality music videos.
Most recently, Anthony joined the team at Obie Media and Obie Records to create professional content for artists in Philadelphia.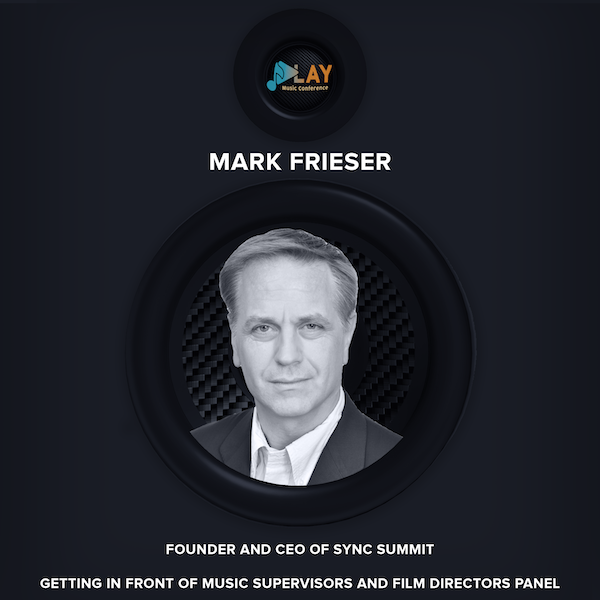 Meet Mark Frieser, Founder and CEO of SYNCSUMMIT.
At SYNCSUMMIT, Mark brings together thousands of people annually to share ideas, knowledge, and to make deals between buyers and sellers in the music for visual, interactive, and branded media market.
As founder and CEO of The Music Licensing Agency Disconic ,Mr. Frieser works closely with the world's largest music labels, publishers, artists, and management companies to sell their music for usage in television, film, video games, advertising, internet video, and mobile projects, content and applications. 
In addition to Frieser's current leadership roles at SYNCSUMMIT and SYNC EXCHANGE, he has served as a SVP of Marketing and Content at TELCO's IDT's Internet Group, the SVP of Marketing and Product Development and Jerusalem Venture Partner's CityPulse, General Manager of Nielsen Mobile and CEO of Mobile Market Consultancy, Consect.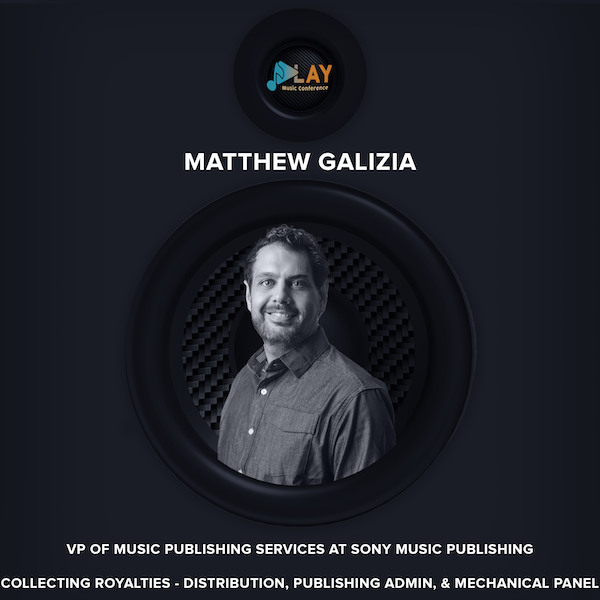 Meet Matthew Galizia, VP of Music Publishing Services at The Orchard.  
In 2020, Matt Galizia negotiated and spearheaded a partnership between The Orchard and Sony Music Publishing to launch The Orchard's Publishing business unit. Under Matt's leadership and industry expertise, the publishing team has amassed a roster of over 150 label and artist clients including, Black 17 Media, legendary Hip Hop producer, Harry Fraud and WHO?MAG Multimedia. With a catalog of over 35,000 songs and a roster of 2,500 songwriters from across 32 countries, including Latin Billboard's Best New Artist of 2022, Ivan Cornejo, 2022 BET-nominated Best New Artist, Benny The Butcher, and Grammy nominated production duo, Christian Rich, The Orchard has quickly become Sony Music Publishing's largest North American client by volume and continues to grow aggressively.

Matt also oversees mechanical licensing and royalty administration for approximately 4 million sound recordings across 1,500+ Orchard distributed independent record labels.

During his 10-year tenure at The Orchard, Matt has had the opportunity to wear many hats, gaining experience and expertise across key industry verticals such as retail marketing, contract administration, content rights dispute resolution and synchronization licensing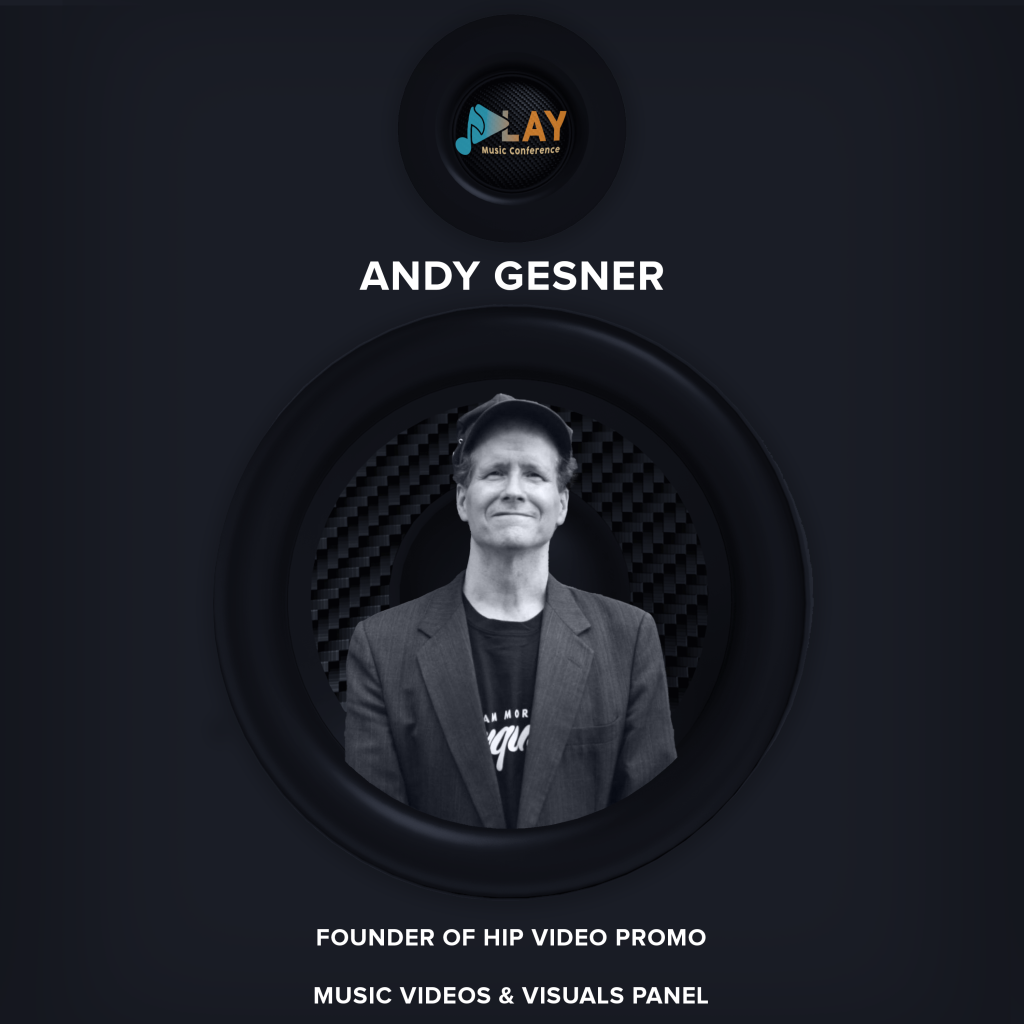 Meet Andy Gesner – founder of HIP Video Promo.  Andy will be speaking on the Music Video and Visual Panel.  
HIP Video Promo was founded in the year 2000 by its current owner Andy Gesner, and over the past 22 years, he and his team have promoted over 4300 music videos from some of the best of the best amongst indie nation, as well as some of the most well-known artists on the music industry landscape. As a full service music promotion company, HIP Video Promo also assists clients with Spotify playlist pitching, Social Media Marketing, YouTube playlist pitching and creating compelling visual content. Everybody who works at HIP Video Promo are musicians themselves, and are fully cognizant of what it's like to be in the trenches fighting the good fight in this severely overcrowded music industry. We know what it takes to get the attention and exposure any new compelling band or artist is worthy of, and fight tenaciously on our client's behalf.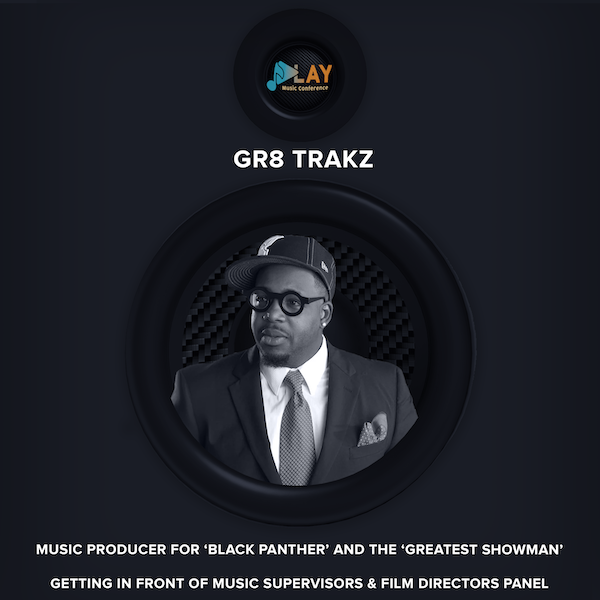 Meet music producer Gr8 Trakz.  Kevin Lamar, also known as GR8 TRAKZ, is a Grammy Nominated, Billboard recipient, two times Georgia Producer of the Year. He has continuously imprinted his stamp on the music and movie scene for over 2 decades.
While providing an esteemed quality in the art of production and scoring, GR8 TRAKZ has helped create career-defining hits for an extensive list of artists including Tye Tribbett, M.O.D.A., Asher Roth, T-Pain, Stereomonster, and many others. Trakz is known as a musical influence that crosses cultural confines.
Always endeavoring to enhance his musical career, Gr8 Trakz facilitated his way into the movie arena. Starting with small scoring for Indie Films, then later moving on to creating scores for B movies, and ultimately advancing to more sought-after iconic films. Every score he created helped him to elevate his innovative sense of style and creativity. This elevation eventually afforded him the opportunity to display his talents  in renowned movies, such as Black Panther, The Greatest Showman, and additional worldwide Academy award acclaimed movies.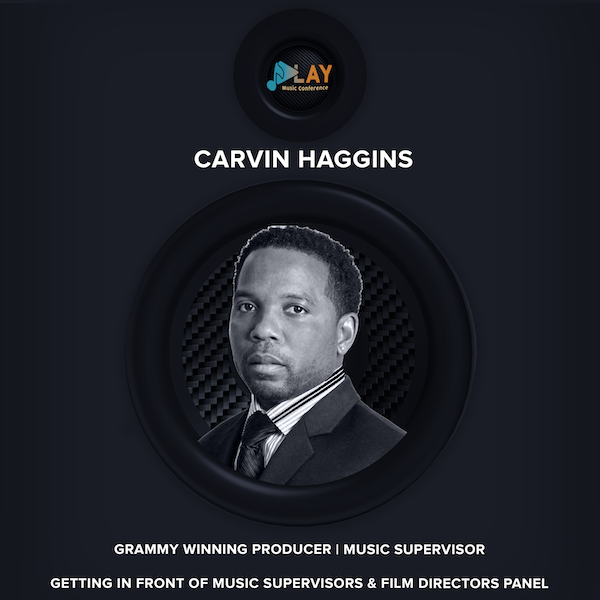 Meet Carvin Haggins.
Carvin Haggins is a Grammy Award Winning and Multi-Platinum Selling Song Writer, Producer, Engineer, Co-Founder of Karma Productions, Co-Creator of Forever Music Inc., and the creator of Ethical Music Entertainment.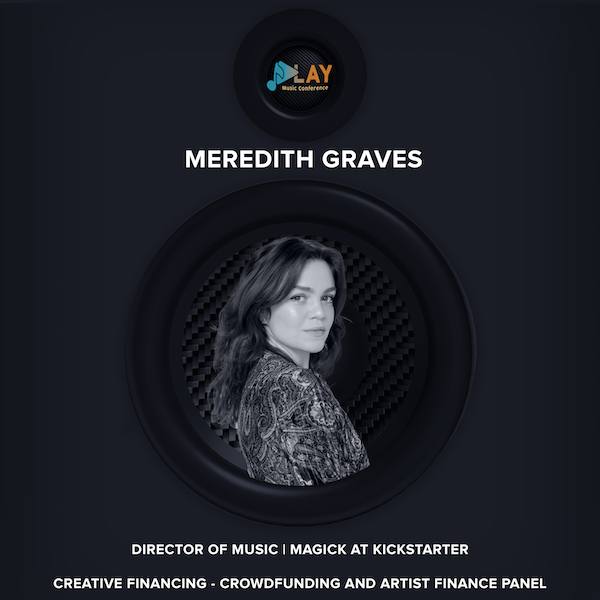 Meet Meredith Graves, Director of Music for Kickstarter
Meredith is a member of Kickstarter's outreach team, where she serves as Director of Music and oversees several smaller emergent communities, helping creators from all backgrounds find funding to bring their creative projects to life. Meredith believes in the right of musicians to make and release their work regardless of whether or not it appeals to the current multimedia content creation industrial complex.
In addition to 20+ years spent playing in bands and running labels and venues, Graves has, in the past, written for publications ranging from Pitchfork and Stererogum to the Village Voice, Guardian and New York Times, as well as taking a two year televised stint as host of MTV News.
She currently shares a home in Brooklyn with two rescue chihuahuas and a spectacular occult library.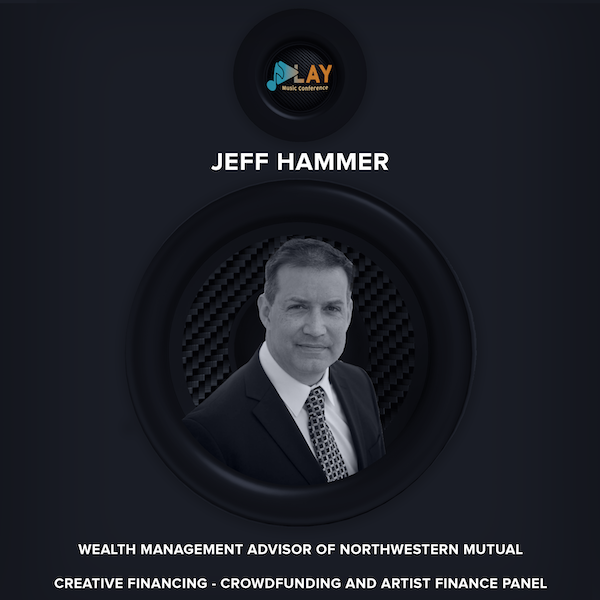 Meet Jeff Hammer, CFP®, ChFC®, MBA
Jeff is a wealth management advisor with Northwestern Mutual, managing a national practice that spans over 60 industries with a focus on creatives. Jeff is also CEO of Hammer Forte Consulting, a firm specializing in business transitions, intellectual property, and philanthropy planning. Between both businesses, Jeff spends much of his time in the music and entertainment space, helping artists, producers, writers, labels, and other industry professionals navigate the unique complexities of the industry.
Jeff has worked with various organizations – Women in Music, Music Entrepreneur Conference/ME Ventures, Artist Partner Group/Artist Publishing Group, World Artists United, The International Association for Artists & Rightsholders, I'll Fly Away Foundation, International Bluegrass Music Association, ProMusicDB, along with several individuals/groups in the industry, and has presented at many of their conferences, as well as at Music Managers Forum, and Millennium Music Conference.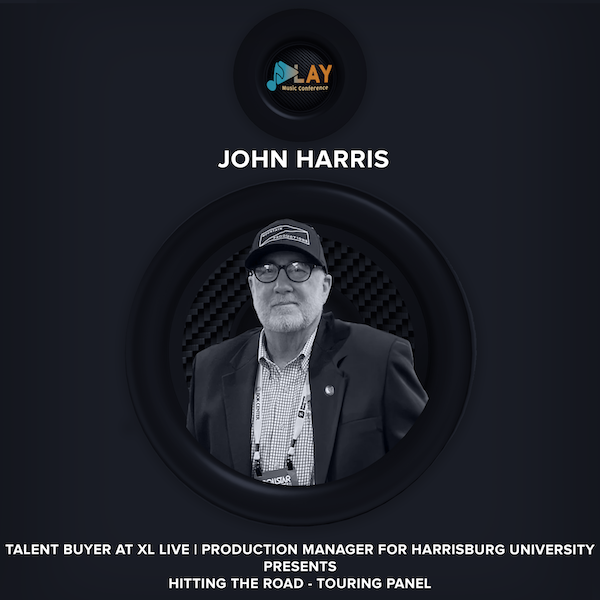 Meet John Harris, talent Buyer at XL Live
John is the CEO of The John Harris Group which is a Consultancy to the Entertainment, Sports and Hospitality Industry. They create, develop and maintain professional relationships while building market share for clients. Currently John Harris is the Talent Buyer for Halsky Entertainment, LLC at XL Live Harrisburg, PA.
John is also the Executive director of the Millennium Music Conference based in Harrisburg, PA for the past 25 years.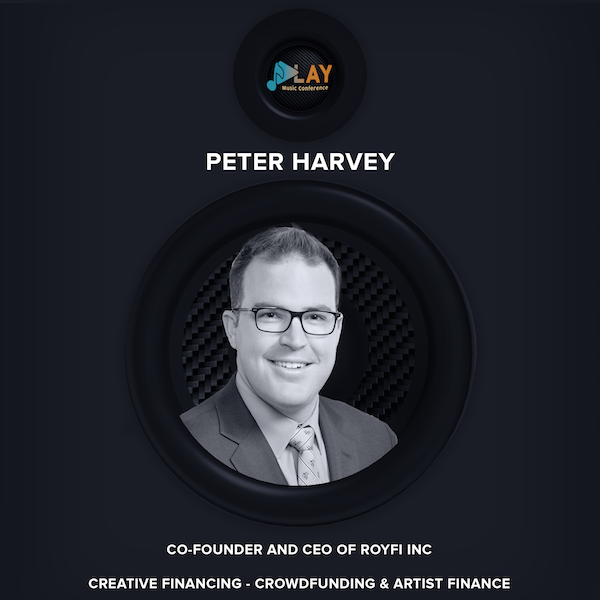 Meet Peter Harvey , Co-Founder and CEO of RoyFi, Inc. (short for royalty finance).
Peter is a lifelong music enthusiast who is passionate about democratizing access to capital in the music industry and disrupting the incumbent payday lenders in the advance market. 
Prior to Co-Founding RoyFi,  Mr. Harvey was a Consultant and Head of Research at Capital Cities, LLC, of Indianapolis, Indiana, where he led all research efforts for the firm's $30 billion of assets under advisement.  
Prior to joining Capital Cities, Mr. Harvey was a Portfolio Manager and Investment Analyst for a >$5 billion single family office where he developed their global-macro-multi-asset allocation, and led all investment manager searches, due diligence, and monitoring. 
Mr. Harvey earned his A.B. Economics; M.B.A. with concentrations in Finance and Marketing, from Rollins College. In his spare time, Mr. Harvey is an avid cyclist, golfer, and philanthropist; raising money to support First Descents through his annual participation in the Leadville Trail 100 Mountain Bike Race.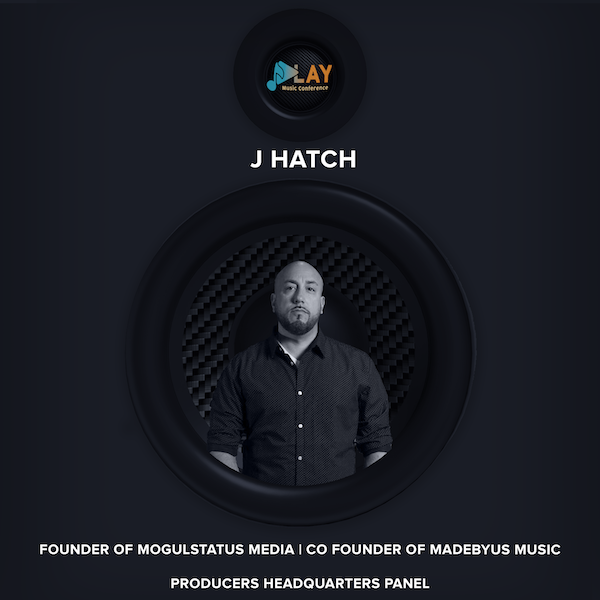 Meet Jason 'J Hatch' Hadshian, the Founder of Mogulstatus Media, and MGLSTS Clothing, and Co Founder of MadeByUs Music.
Previous mgmt clients include 2x Grammy winning producer Focus… (Dr. Dre, Eminem, Kendrick Lamar & More), Multi Platinum producer Denaun Porter [Eminem, 50 Cent, Snoop Dogg, Royce Da 5'9] and Grammy winning songwriter Kaydence [Ariana Grande, Beyonce, Brandy, Cassie].
 J Hatch has also placed records with 50 Cent, Trey Songz, Souljah Boy, Rick Ross, Diddy, Jadakiss, MTV, 'Power', ESPN on Starz.  
J Hatch has also consulted for major labels such as BadBoy records, the highly successful music platform tracklib.comand acted as project manager for various festivals such as SXSW, A3C and ASCAP Expo.
He also recently added author to his resume with his recent self published book 'How I Left My Job & Made It In The Music Industry'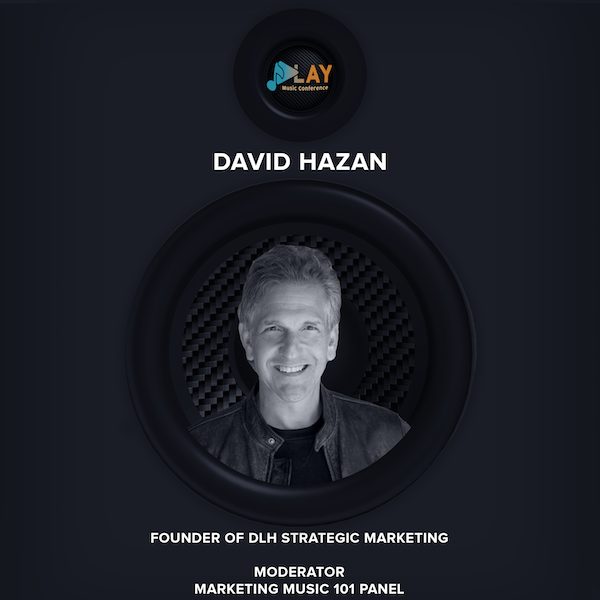 Meet music marketing guru David Hazan, CEO of DLH Strategic Marketing.  
David has lead strategic direction, business development, direct marketing and PR activities, produce branded content campaigns, and create partnerships/alliances with artists, tech, research and media/event companies for 30+ clients, including SoundExchange, ViewStub, Weav Music, SongVest, MDIIO, Audioshake, Canadian Music Week, Mondo NYC, Indie Week, Omnispace 360, Audible Reality, CloudBounce, Cirque Eloize, SoundOn, Qrates, Festicket, AEG Network Live, theBizmo, CID Entertainment, MKTG, Playster, Classic Rock Society of America, Dial Global, Escalate/Snap Marketing, Fest300, Festicket, The Found Group, GigSalad, GigsWiz, Jus College, LiveMusicStage, Lucha Libre USA, Muze, Microsoft / MSN, No Depression, Omnispace, RBC Ottawa Bluesfest, Shout! Factory, Musopia, uphoric.tv, UG Strategies, The Physical Network, Tomandandy, TuneStars, TVT Records, and Xlrator Media.
David was also the head of North America Midem, the world's largest and longest running global music business event in Paris, France.  David was also formerly the CMO of Mobil Backstage and theBizmo, and Head of Brand Entertainment of The Orchard.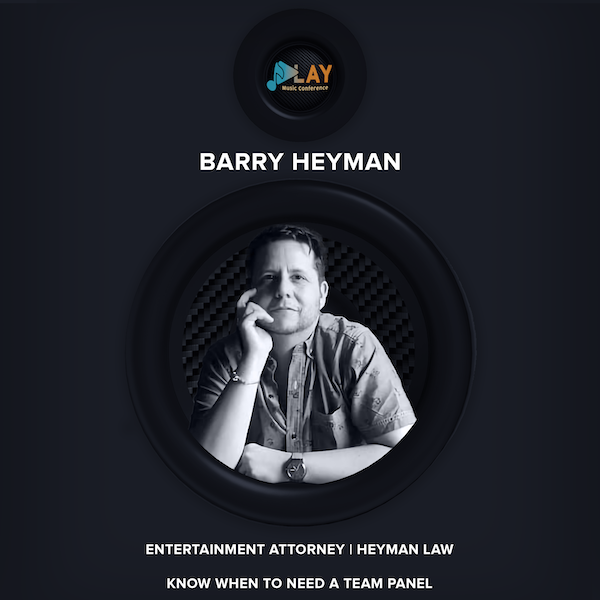 Meet entertainment attorney Barry Heyman, whose law practice focuses on the creation, production, distribution, exploitation, and protection of media, new media, music, television, film, photography, art, design, and fashion. Barry's clients include creative talent ranging from songwriters, recording and performing artists, musicians and DJs, to authors, actors, producers, and directors, as well as photographers, jewelry, fashion, graphic and web designers.  Other clients include entrepreneurs, startups, talent management companies, entertainment and media companies, events companies, marketing and public relations firms, and more.
Barry began his career in 1992 within the Copyright/Business Affairs department of PolyGram and Universal Records. He later became in-house counsel for Eagle Rock Entertainment and has consulted clients such as MTV, Razorfish, and TouchTunes. In addition, Barry has worked with the law firms of Proskauer Rose, LLP and Debevoise & Plimpton where he co-produced the television program The Digital Age with pre-eminent media and First Amendment attorney, James Goodale, Esq. 
Barry is widely regarded as a knowledge leader and regularly speaks on panels at music industry conferences. In addition to his law practice, Barry has held several teaching positions at academic institutions and currently serves as an adjunct professor at Five Towns College.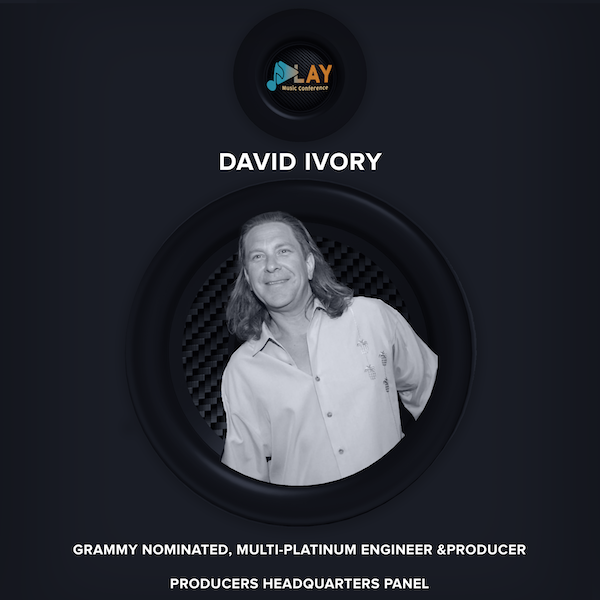 Meet David Ivory, a Grammy Nominated and Multi-Platinum Engineer and Producer.  
David Ivory, owner of Ivory Productions, has worked with some of music's biggest names in a variety of genres. During his prolific career, he has garnered numerous awards, including the Recording Industry Association of America's Triple Platinum award for Erykah Badu's Baduizm and Gold Record awards for The Roots' "Things Fall Apart," Patti LaBelle's "Gems," and Syleena Johnson's "Love and Fear." He also received a Grammy nomination for Hip Hop Album of the Year and a Grammy Awards Certificate for Best Duo Performance—among others.
Ivory served as President for two years and National Trustee for four years of the Recording Academy from 2010 to 2016. Most recently, he was appointed as Music Industry Engineer for the Philadelphia Music Industry Commission and as a member of the Philadelphia Music Industry Task Force.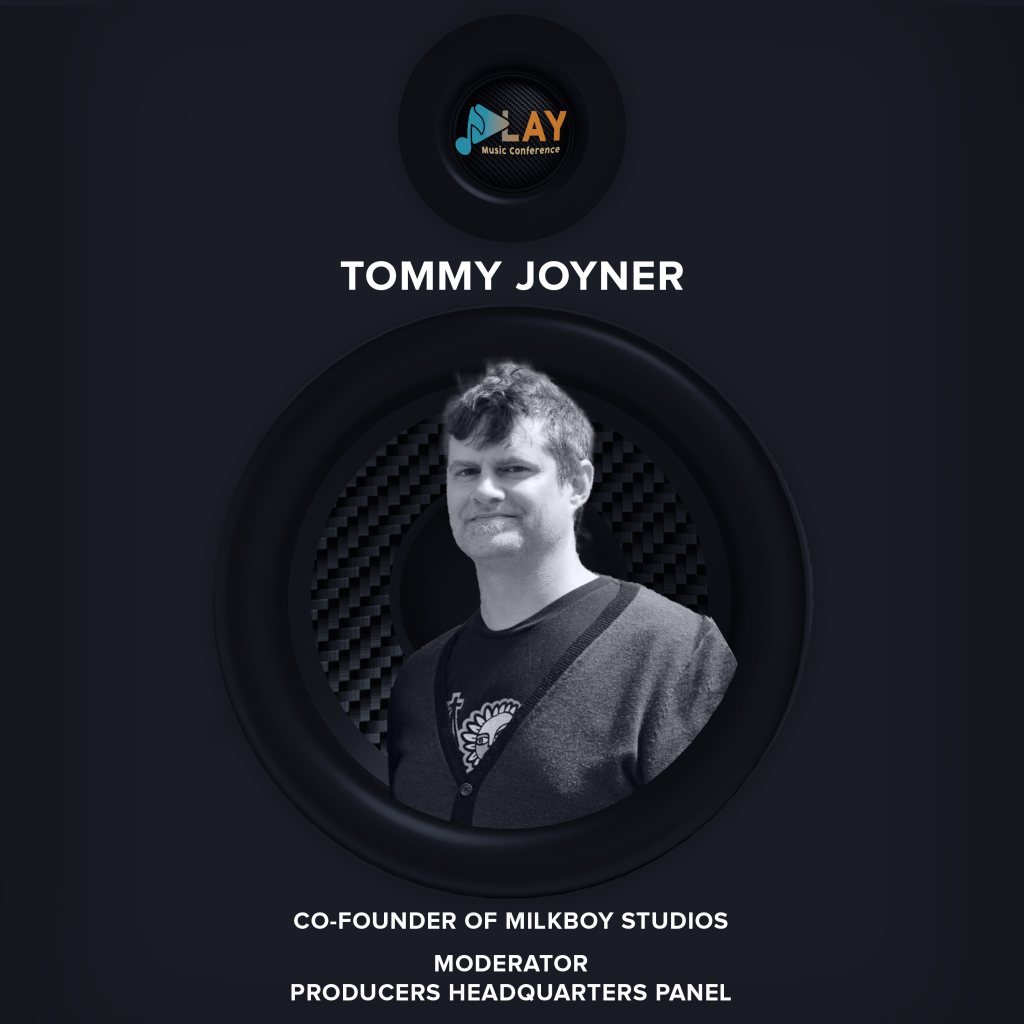 Meet Tommy Joyner, co-owner of MilkBoy Studio and Recordings.  Tommy started by recording James Taylor and played drums for Digable Planets. In 2006 the studio branched out to form its MilkBoy live music venue business.  2010 saw MilkBoy form a Movie Production company to develop, cast and shoot movies. The first offering, "Slow Learners," was acquired by IFC and released in theaters and OnDemand 8/19/15.
Tommy Joyner founded MilkBoy in 1994 as a rough-and-tumble punk and hip-hop recording studio in North Philadelphia. Over the last 20 years the MilkBoy brand has grown to include the MilkBoy venue, film production company BBCG Films, and SHAKE Audio Post. Today as head of MilkBoy the Studio's engineers, Joyner is responsible for production on over 100 records and demos each year, numerous composition jobs for film and television, and he continues to perform as a drummer and side-musician both live and in the studio. Joyner has played drums in Digable Planets and overseen recordings by James Taylor, Dave Matthews, Meek Mill and Miley Cyrus. Other artists to record at Milkboy include Silk Sonic, Jazmine Sullivan, Ariana Grande, Florence + the Machine, Trey Songz, Lil Uzi Vert, and many others.
Meet Corey "CL" Llewellyn, the President of Digiwaxx Media and Spinworld NFTs.  Full bio coming soon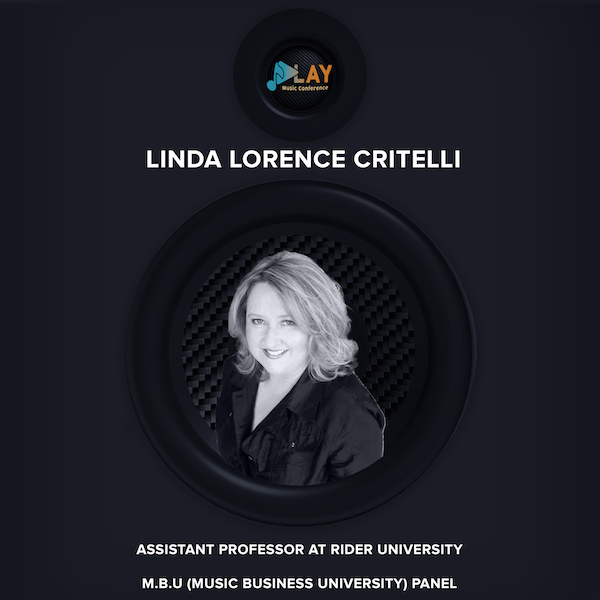 Meet Linda Lorence -Critelli, Assistant Professor II, Arts & Entertainment Industries Management at Rider University
Linda is an accomplished music executive with an extensive background working in New York City's music industry for nearly thirty years.  As Vice President, Writer/Publisher Relations, for the performing rights organization SESAC, she oversaw a vast roster of professional songwriting and music publishing talent, from the small independent artist/writer to some of today's most prominent names in pop music.  This led her to several dynamic leadership positions on top music industry boards.  She served as president of Women in Music, secretary of the Songwriters Hall of Fame, and as a longtime leader for The Recording Academy (The Grammy Awards), she was twice elected to serve as a national trustee and twice elected as the NY Chapter president.  She continues to stay involved with the Recording Academy on the advocacy committee fighting for creators' rights.  Ten years ago, she co-founded an independent music publishing networking organization called NYC3 (New York City Creative Community) where much of her focus was on educating on current issues in the business.  In 2018, she was asked to teach at NYU's famed Clive Davis Institute of Recorded Music which ushered her to a new career in higher education. 
In September 2019, Linda joined the faculty at Rider University full-time in a newly transformed program, Arts & Entertainment Industries Management (AEIM) in the College of Arts & Sciences.She was instrumental in developing and creating this program and is proud to be preparing and leading young students into today's music industry.  She was recently promoted to Assistant Professor II and has designed many new and relevant courses that give students a solid foundation and understanding of today's changing industry.   Her classes are dynamic and interactive, and often include industry guests from her expansive industry network.  She is proud to have her first "cohort" of students graduating this May where they will become the next generation of leaders in our industry.  www.rider.aeim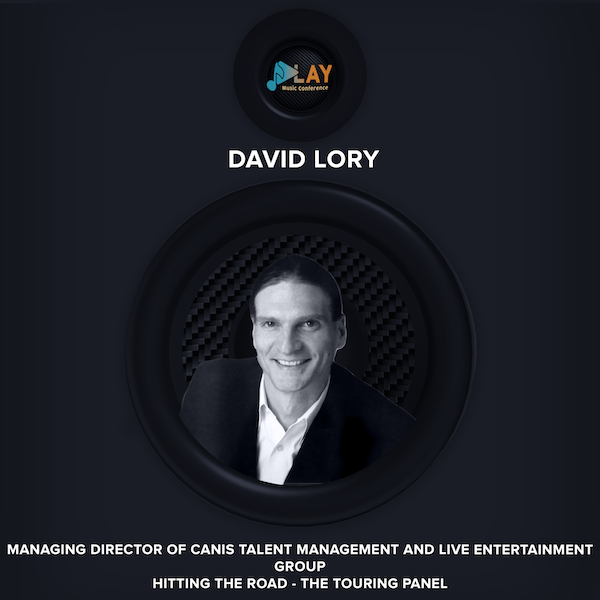 Meet Dave Lory, Managing Director of Canis Talent Management Group and CANIS Live Entertainment Group.
As an artist manager, David has worked with Jeff Buckley , The Allman Brothers Band, Gregg Allman, Courtney Love, Ronan Tynan, Duncan Sheik, Ronnie Spector, and was tour manager for Lady Gaga.  He is the Author of "Jeff Buckley: From Hallelujah to the Last Goodbye" (Post Hill Press/Simon and Schuster).
He was the Sr. VP of International & Artist Development, Mercury Records Group (#1 International Company each year during his tenure).  He oversaw a worldwide staff of several hundred employees while leading the company to be the #1 international record company in the world.  Successes included Shania Twain, Bon Jovi, Hanson, Mighty Mighty Bosstones, and Cake).
He has worked for record companies Mercury, Mercury Nashville, and Def Jam among others.  He was also the Sr. VP of  International & Artist Development for Artemis.  During the first two years the record company was named by Billboard Magazine "Independent Label of the Year" and Lory was voted personally "Artist Development Executive of the Year" by Pollstar Magazine two years in a row.  Label had 8 Grammy nominations during these first years with two winning Grammys (Baha Men -"Who Let the Dogs Out,", Rickie Lee Jones and blues artist Jimmie Vaughan).
As a producer, Dave worked for Festivals, awards dinners, concerts, brand and sponsorship management and marketing campaigns, including: Songwriters Hall of Fame Dinner, Grammy's Heroes Awards Dinner (NY), New Music Seminar music conference and festival (1986 – 2015), Escape from New York Music Festival, Grammy's National Unsigned Band Contest, VH-1's Idols and Icon TV show with Paul Simon and John Mayer hosted by Randy Jackson, and many others.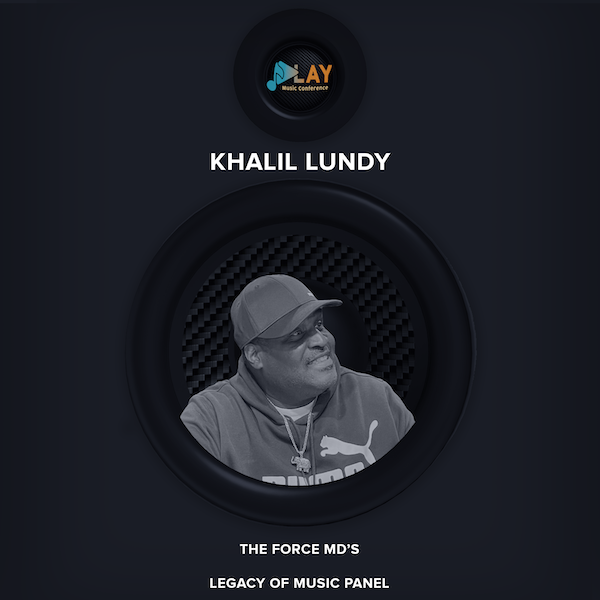 Meet Khalil Lundy, member of the legendary R&B group The Force MD's.
The Force M.D.'s are an American R&B and Hip Hop vocal group that was formed in 1981 in Staten Island, NY.  Although the group has old school hip hop roots, it is perhaps best known for two tunes that are widely considered 1980s quiet storm classics, "Tender Love" and "Love is a House". They are considered major forerunners of the New Jack Swing movement.
The group produced a collection of R&B hits throughout the 1980s, and received overwhelming commercial success from the Jimmy Jam & Terry Lewis penned love song "Tender Love" from their second album, 1985's "Chillin". The song was featured in the 1985 feature film and soundtrack Krush Groove, and proved to be a success, peaking at No. 10 in the Billboard Hot 100 chart, becoming an instant R&B classic after it stayed on the chart for 19 weeks. "Tender Love" was also one of the tracks that helped Jam & Lewis garner a Grammy Award for Producer of the Year. The song "Itchin' for a Scratch" was performed by the group in the 1985 feature film Rappin' and was also part of the soundtrack.  In 1987 they finally scored their first R&B #1 hit, "Love Is A House" from their third album, Touch & Go.
Khalil launched KL Promotion and Marketing in 2022.  Over 20 years' experience in the music industry has positioned itself to become the go-to place to advance and build their music career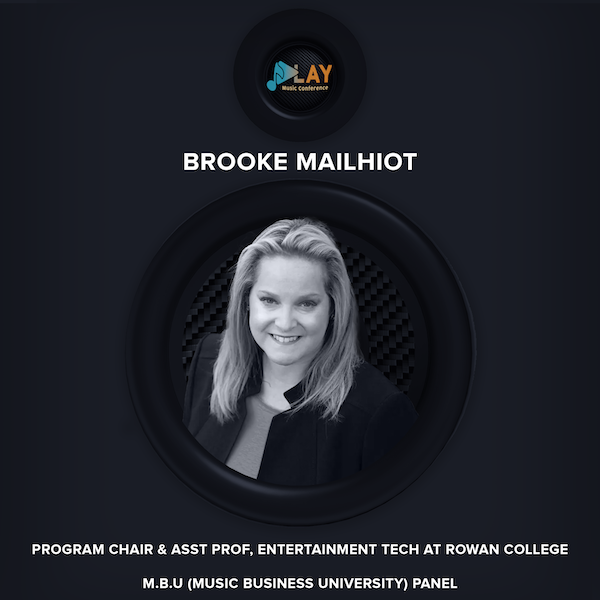 Meet Brooke Mailhoit.   A three-time Drexel Dragon Alumnus, Dr. Brooke Mailhiot holds a doctorate in Higher Education Leadership, specializing in E-Learning Technologies; an MS in Creativity and Innovation; and a BS in Film & Video Production with a minor in Judaic Studies. Technology, innovation, and cultural diversity are at the center of her philosophies on education and the future.
Dr. Mailhiot began as a cinematographer and video editor. After being "behind the scenes," she became an adjunct professor at Drexel University and several Philadelphia-area colleges, where she found her passion—providing all students the opportunity to flourish. She was a TEDx speaker; her dissertation and doctoral work focuses on experiential learning for Entertainment Technology students within the Film/Video Production and Sound Recording Engineering areas.
She is a tenured associate professor and program coordinator of the Entertainment Technologies Program at Rowan College at Burlington County (RCBC) in Mt. Laurel, where she teaches sociology, communication, and film courses. Her teaching philosophy is built on the foundations of the classroom-to-career education model, she has developed real-world, in-class laboratories and built partnerships with local studios for experiential learning.
Dr. Mailhiot's Women in Leadership certification from Cornell University, has served her as the appointed co-chair of the RCBC DEI: Women's Advocacy Group. She is the creator and host of The Baroness monthly podcast on RCBC's POD channel, where she interviews successful women who are making a difference in the Burlington County community.
Lindsey Major is the Head of Customer Experience for The Mechanical Licensing Collective (The MLC). In this role, Major is responsible for designing an effective customer experience strategy and leading a world-class customer experience team for The MLC.  The MLC administers the blanket mechanical licenses to eligible streaming and downloading services (DSPs) in the US.  The MLC then collects royalties due under those licenses from DSPs and pay songwriters, composers, lyricists, and music publishers.
Previously, Major helped respected companies such as Fairygodboss, SmileDirectClub and Lyft develop and enhance their customer experience operations, creating effective staff training programs, designing and improving processes, and building innovative support tools to improve quality interactions.
As Customer Experience Manager for SmileDirectClub, Major worked collaboratively with Marketing, Customer Care, Engineering, Finance and C- suite executives. At Lyft, Major served as People Team Innovation Project Manager and was later promoted to Process and Innovation Team Lead. During her tenure with the rideshare company, Major helped reduce support costs, designed an innovative support platform and spearheaded continuous improvement initiatives across lines of business.
Major earned a B.A. from the University of Iowa and an MBA from Belmont University and earned a Lean Six Sigma Black Belt from the Six Sigma Global Institute in 2018. She is an active volunteer with animal rescues in the Nashville area, including the Nashville Humane Association, and supports environmental and ocean conservation, gender equality and diversity and inclusion initiatives through volunteer events and philanthropy. She and her husband live in Nashville.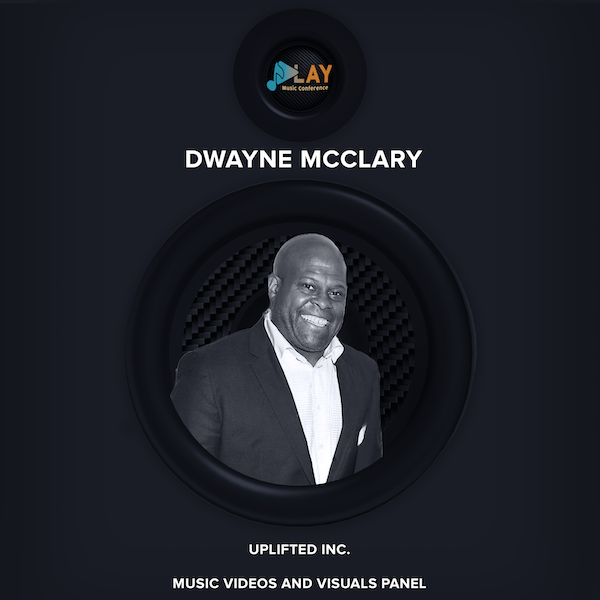 Meet Dwayne McClary, CEO of Uplifted Inc.  Dwayne specializes in music video placements, entertainment and sports marketing, promotions, music licensing, digital marketing, media relations, and more. His past and present clients includes Epic Records, Noble Talent Management, NBA Entertainment, and various Universal Music Group companies.
As former National Director of Visual Promotions and Universal Motown Records, Dwayne created promotions, contests, on-air artist branding with Viacom networks: MTV, BET, Vh1, Nickelodeon; Madison Square Garden/Cablevision owned: fuse; Music Choice, Comcast Video On Demand, and retail through television, digital, radio, user generated content, social media.  He worked closely by fully integrating all platforms including TV, radio, online, mobile, music licensing, digital, live events and logistics for appearances/performances on flagship programming including: VMAs, BET Awards, Vh1 Hip-Hop Honors, Storytellers, Behind The Music to expand artist profile, drive traffic to all respective sites, and increase sales.

Dwayne also identifies, locates, and secures talent for SAG, AFTRA, AEA sanctioned projects for TV, film, stage, commercials, voice over, and print. Scouted and recruited specialized talent that has appeared in multi-platform global advertisement campaigns for Fiat with Jennifer Lopez, Metro PCS, American Express, Budweiser, Jackson-Hewitt, Capital One.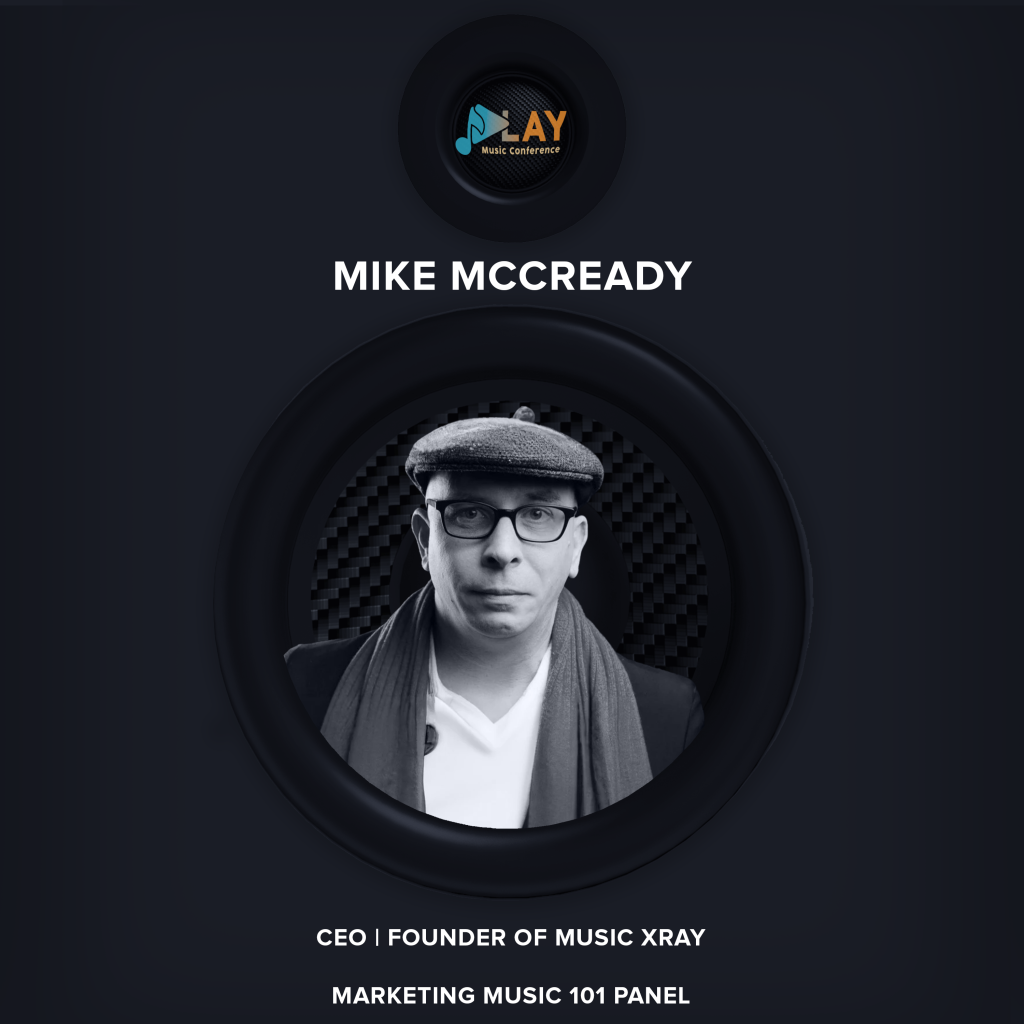 Meet Mike McCready, co-founder and CEO of Music Xray, which introduces new technologies that help the music industry identify top talent and high potential songs quickly and efficiently while opening the doors of opportunity to millions of musicians.  Music Xray has become the largest online community of music industry professionals in the world.
Mike is also the creator and host of the music industry's "The Hookblast Podcast" and the pioneer of Hit Song Science.  Mike is also the co-founder of "Future Music Forum" music conference in Barcelona, Spain.
As an entrepreneur, Mike's companies have been featured in Success Magazine, Businessweek, The New Yorker and other media as well as being the subject of a very popular case study at Harvard Business School.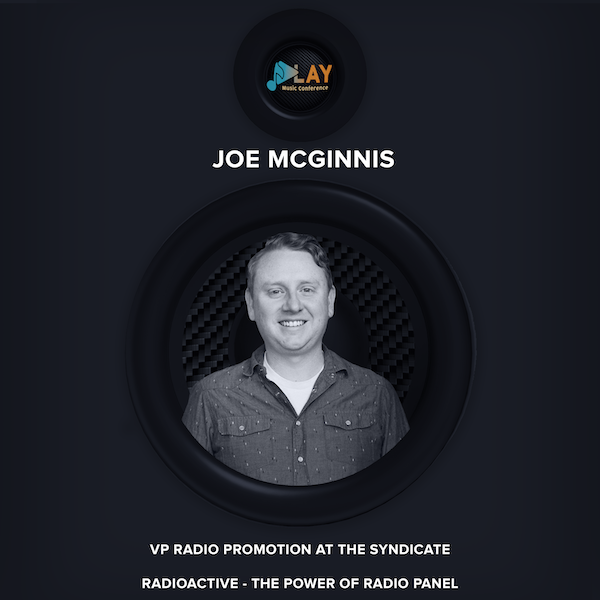 Meet Joe McGinnis, VP of Radio Promotion at The Syndicate.
The Syndicate creates full-scale marketing programs from ideation through execution that help artists and businesses connect with their community, while speaking their language. Starting as a radio promotion company 25 years ago, The Syndicate now offers promotion, publicity, digital and experiential marketing as well as other record label services.
In addition to running the day-to-day operations of a radio promotion team that has relationships with over 750 College, Alternative, Metal, Active Rock, Hip-Hop and Electronic radio stations,
Joe
handles the AAA format.
Joe
has worked with a wide array of artists including Spoon, The War On Drugs, St. Vincent, Parquet Courts, Alex G, Santigold, Clairo, Steve Lacy and more. Before joining The Syndicate,
Joe
attended Drexel University and interned at WXPN and worked in radio promotions at Charterhouse Music Group.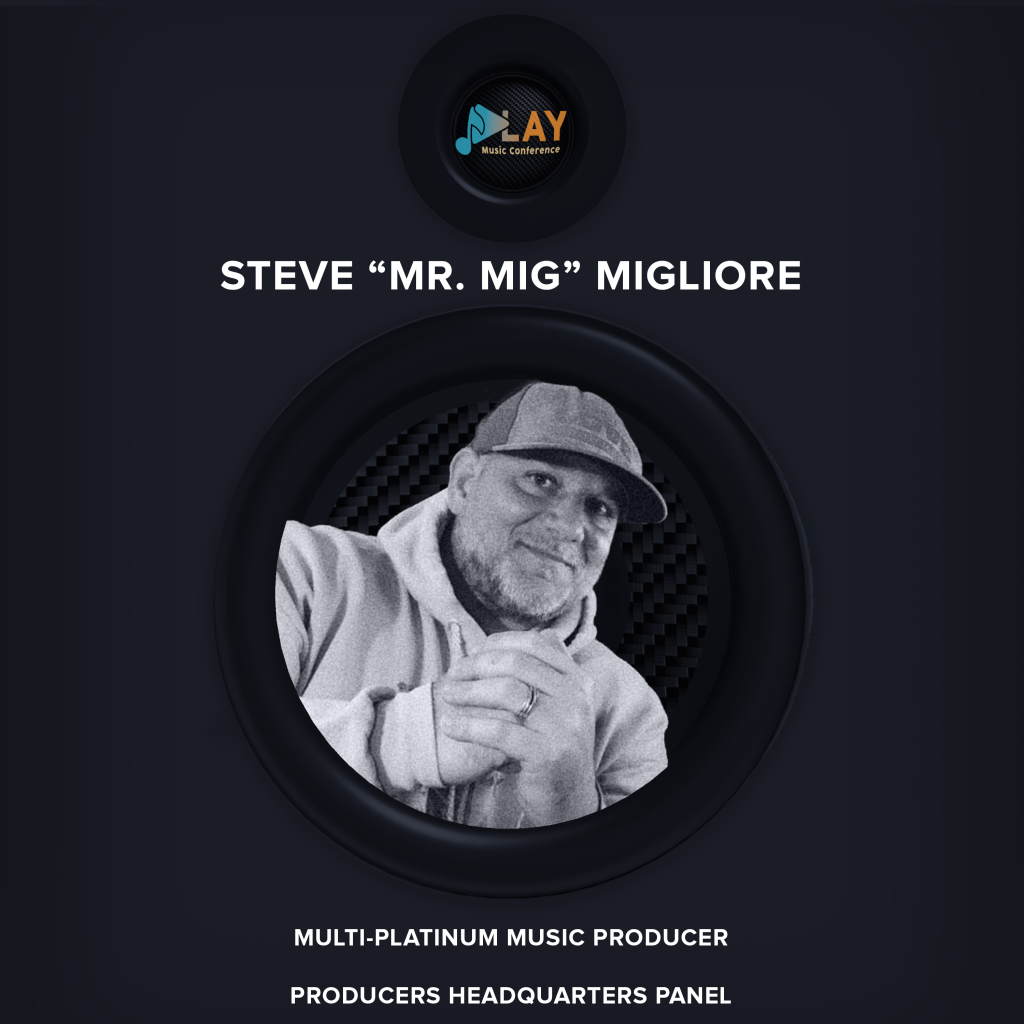 Meet 40x Multi-Platinum Billboard Chart Topping producer/remixer/writer Steve "Mr. Mig" Migliore. 
In his 25+ years of as an industry veteran, he has produced, remixed, made beats/written for, and mixed some of the world's biggest stars including Beyonce, Madonna, Taylor Swift, Justin Timberlake, Sam Smith, Usher, John Legend, Rugrats, Discovery & more.  He is the owner of AudioMaxx Recording Studio in New Jersey as well as the beat licensing site MaxxBeats.com. In 1998, he had his first 3,000,000 selling project with LeAnn Rimes' "How Do I Live" which became the First Remix in history to cross a country song into a #1 Billboard Chart Dance Record.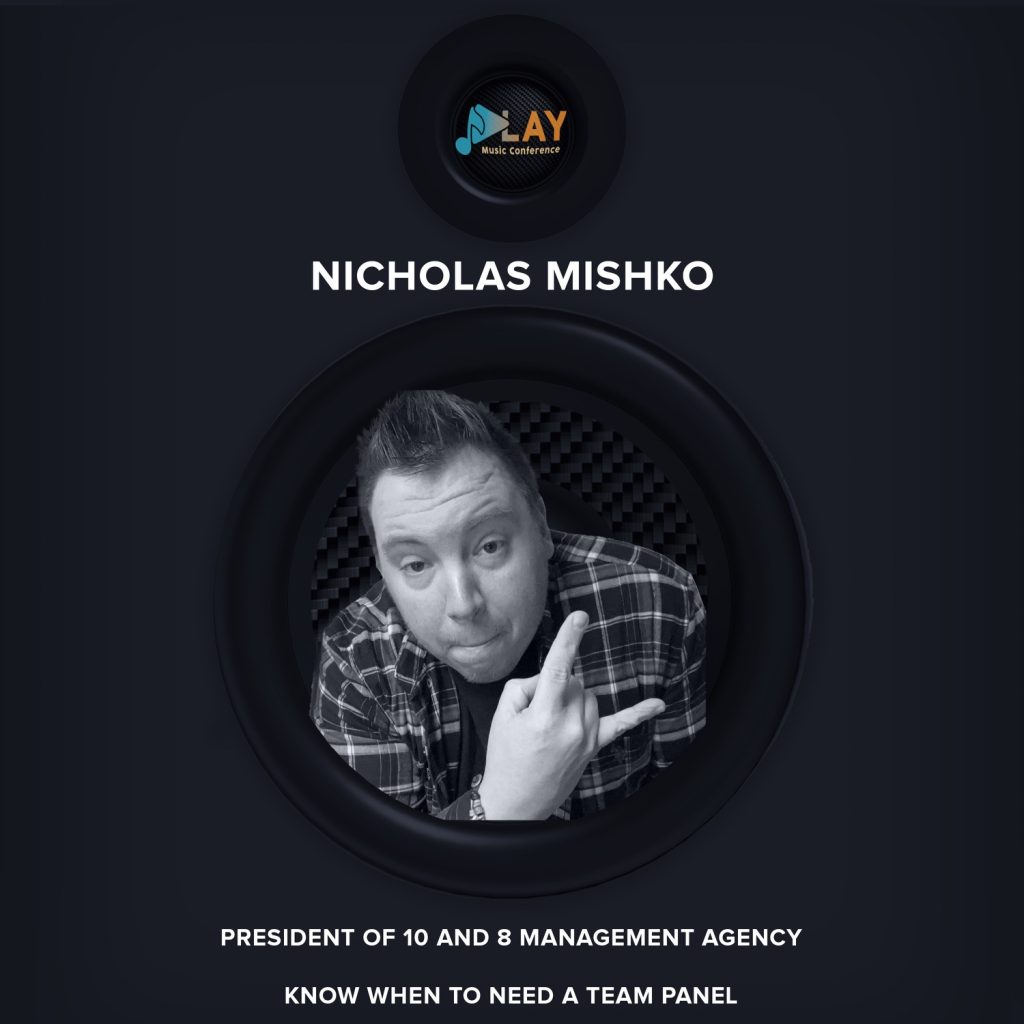 Meet Nicholas Mishko, President of 10 and 8 Management Agency. Prior to establishing 10 and 8 Management, Mishko started his music business career in 2008. His very first real taste of the music industry was an internship at Rock Ridge Music. He did marketing for bands such as Chris Volz, Psychostick, Reel Big Fish and Sister Hazel. That internship sealed his desire to work in the music industry. After Rock Ridge Music, Mishko went on to be hired at the legendary ABKCO Music and Records, Inc. in New York City. This is where he would spend the next four years learning the ins and outs of songwriter and artist royalties. It was truly an experience in what one would call "old school music business." ABKCO Music and Records, Inc. is one of the largest Record Labels/Music Publishers in the world. Their catalog consists of many renowned artists such as The Rolling Stones and the iconic Sam Cooke. After years of royalties, spreadsheets and learning every which way you can license a Rolling Stones song for television, Mishko wanted to deal more directly with artists. He wanted to nurture and grow artists; he wanted to manage. Mishko already had the knowledge of record contracts, royalties and licensing so he felt confident that he could do it. His first client, Butch Parnell, still works with him today. Mishko's roster slowly began to grow and after a few months, he left ABKCO to venture out on his own. In 2007, Mishko officially launched 10 and 8 Management and hasn't looked back since. He went from one client and a laptop to a couple dozen clients, offices and a full team, in seven years. Mishko and his team have had many bands chart on Billboard, various sponsor partnerships, performances at Vans Warped Tour, Sturgis Bike week, Inkcarceration and The NAMM Show. He's negotiated numerous publishing and record deals in his career and in the last 12 months, 10 and 8 Management clients have performed over 1,000 shows. He was also featured in Bobby Owinsky's book: The Music Business Advice Book: 150 Immediately Useful Tips from the Pros.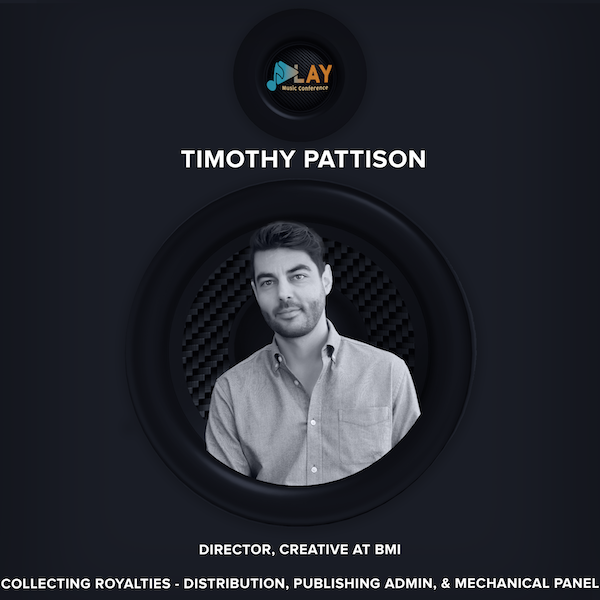 Meet Timothy Pattison, the Director of Creative at Broadcast Music, Inc. (BMI).
Timothy is responsible for scouting and signing new songwriters and publishers, maintaining relationships with existing BMI affiliates worldwide, as well as coordinating various songwriter-focused showcases, seminars and festivals. He is also a frequent guest lecturer at the Clive Davis Institute of Recorded Music.
Prior to BMI, Pattison worked at Fat Possum Records, where he focused on sync licensing.  His previous post was at Spirit Music Group, where he spent eight years, holding several positions including creative director. While at Spirit, Pattison helped develop the company's roster of songwriters, expanded its network within the entertainment industry, spearheaded co-writing opportunities and developed licensing strategies.
Pattison holds a Bachelor of Science in Communication from Ohio University and a Master for Music from New York University.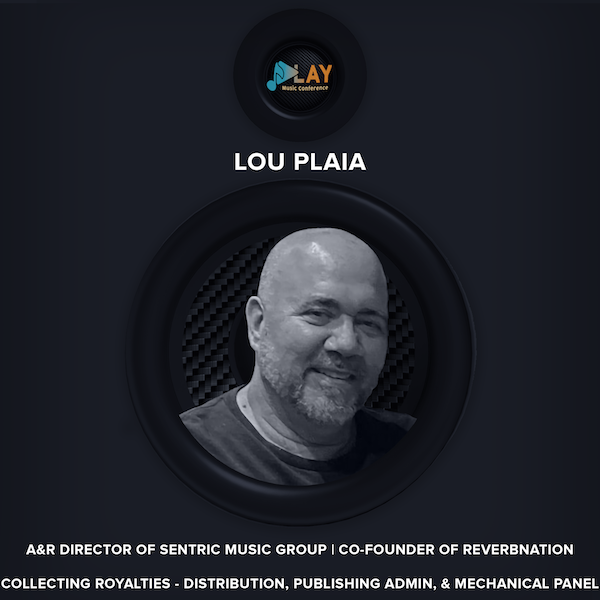 Meet Lou Plaia, the A&R Director of Sentric Music Group and Founder/CEO of Hot Rats Records and Management. 
In early 2022, Lou Plaia joined Sentric Music Group, a global, award-winning independent music publisher, as its A&R Director, North America. Plaia's main role is to add to Sentric's roster via new signings, business opportunities, partnerships and acquisitions. Sentric offers rights management services to over 400,000 songwriters and represents more than 3.8 million works globally.
Plaia also launched Hot Rats Entertainment in January 2022. 
In 2006, Plaia co-founded ReverbNation and "disrupted" the music business by equaling the playing field when they began to offer ALL artists the promotional tools, distribution, publishing administration, and opportunities previously only available to artists who were signed to record labels. Plaia and his partners sold the company in November 2021. 
From 2002-2005, Plaia was the Head of Marketing and Artist Development for Atlantic Records imprint, Lava Records. And from 1990-2002, Plaia was VP of Strategic Marketing at Atlantic Records. In those roles, he worked in some capacity with Kid Rock, Jewel, Hootie & the Blowfish, Stone Temple Pilots, Simple Plan, Brandy, Lil' Kim, Trans-Siberian Orchestra, O.A.R., Blue Man Group,  Skindred, Collective Soul, George Carlin, & many others. 
Plaia has been a guest speaker at SXSW, CMJ, Canadian Music Week, Music Biz (f/k/a NARM), Americana Music Conference, Launch Music Conference, The Future of Music Summit, New Music Seminar, Dubai Sound City, and dozens of other music conferences throughout the world.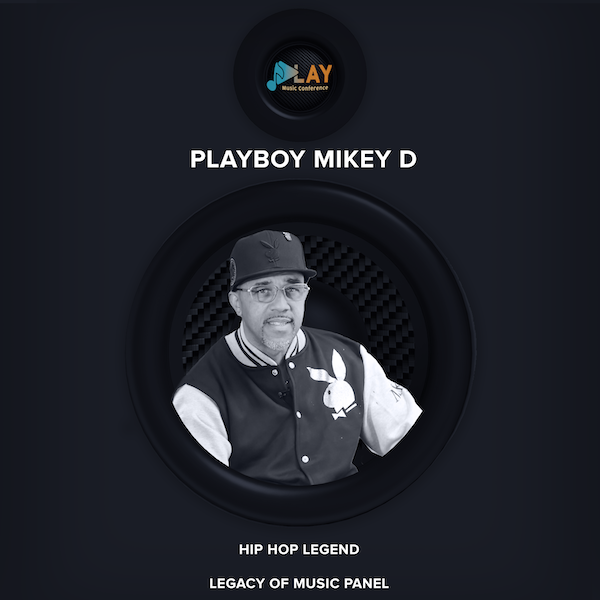 Meet hip hop legend Mikey D.  Mikey first started rapping at a young age at his junior high school, where he was the youngest member to join the legendary Clientele Brothers. 
While in high school, he met future emcee/actor LL Cool J.  LL was known as J-Ski, but Mikey would suggest a new name for his moniker. He would give him a stage name "Ladies Love" but didn't want it in his stage name. He shortened it to just "LL", put it next to the word "Cool" and added "J", which stood for his first name, James.
In 1985, Mikey and his group called the Symbolic Three, got signed to Reality Records, then Mikey and Johnnie Quest met inspiring producer named Paul "Paul C" McKasty and formed Mikey D & the L.A. Posse under Public Records. In 1987, they released "My Telephone", "Dawn", "Bust a Rhyme", "I Get Rough" & "Go For It".
In 1988, Mikey D was the winner of the New Music Seminar Battle for World Supremacy where he battled hip hop legend Melle Mel.
R&B singer Jeff Redd suggested that he sign to Toronto/Queens-based hip hop group Main Source after Large Professor left to pursue a solo career.  He appeared on F*ck What You Think on Wild Pitch Records in 1994. They released a single called "What You Need", which did well in Billboard's Hot Rap Singles.  This song was sampled on Madonna's RIAA Certified Triple-Platinum single "Human Nature."
Mikey was also featured on a song called "Pump Ya Fist Like This" on Large Professor's 2008's third album, Main Source.  In 2020, Mikey released a distribution company called Pass the Torch, where he is the founder and currently operates his own company.
Meet Joe Rapolla, Chair of the Music & Theatre Arts Department at Monmouth University.  Joe oversees all student performing arts programs, directs the Music Industry Program, and founded the university record label, Blue Hawk Records. As department chair, Joe has helped form innovative partnerships with organizations such as Asbury Park-based Lakehouse Recording Studios, the GRAMMY Museum, and the Bruce Springsteen Archive & Center for American Music. These partnerships further the goal of providing students with real-world experiences to complement Monmouth's comprehensive academic offerings and have contributed to Monmouth University's music industry program being named one of Billboard Magazine's lists of Top Music Business Schools.
A recognized music industry innovator, Joe built and led Integrated Marketing departments at Universal and Warner Music Group. He also helped build a Direct-To-Consumer Marketing Agency and a Social Research Agency and ran marketing for the video game division of Def Jam Enterprises. Professor Rapolla has directed programs for top talent, such as Madonna, Bon Jovi, U2, Green Day, Bruce Springsteen, and Sting, and has partnered with the world's leading entertainment, media, and consumer brands and agencies. He has earned multiple Gold Records for his work at the music companies.
Joe is also a performing songwriter and producer. He has released three studio albums, a film soundtrack, and served as producer on multiple projects. He collaborates with writers and artists in NYC and Nashville and continues to perform locally and abroad.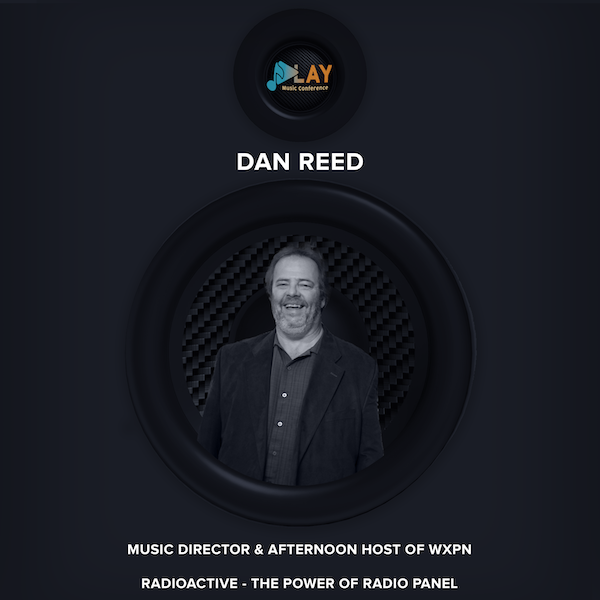 Meet Dan Reed, the Music Director of WXPN FM as well as the afternoon host.  
Danhas been in Philly at WXPN since July 2004. Prior to that, he has worked at WFPK (Louisville), WNCW (Spindale, NC), WNKU (Cincinnati), and WOXY/97X (Oxford/Cincinnati).
He also spent five years in the concert industry as a production manager, booker, and promoter rep.
Meet Walt Reeder Jr., the CEO of Big Bloc Ent.  For more than eighteen years the company maintains the title as one of the largest African American Booking Agencies Nationally and Internationally.  The Philadelphia Based Agency Boasts an Impressive Clientele, from Hip Hop and R&B (Hip Hop Legends and Classic respectively) to Gospel Artists and Comedians as well as Celebrities Hosts and Dee Jay's.
Walt has booked artists like Jay-Z, 50 Cent, Alicia Keys, and Keyshia Cole, as well as Hip Hop and R&B Legends like Doug E Fresh, Slick Rick, Whodini, Teena Marie, The Intruders, Frankie Beverly and Maze, Pattie LaBelle and more. As a result Big Bloc became known as one of the most progressive African American owned Full- Service booking agencies in the country.
For more than ten years Big Bloc Ent., has scheduled Artists to perform throughout the U.S and Overseas including: Canada, Beijing, Rome, England, Dubai, Africa, Bermuda, Jamaica, and Germany.  
During Homecoming season Big Bloc Ent., has helped to create some of the most memorable concerts including Hampton University, Florida A&M University, North Carolina A&T, Cheney University, Langston University, Millersville University, Prairie View A&M University, & Bethune Cookman U.
He also managed comedian Michael Colyar and currently manages Hip Hop Legend DJ Kool ("Let Me Clear My Throat").  
As a mentor Walt Jr has been a panelist for several youth organizations and has taught courses advising young people on the importance of understanding the business aspects of the music industry.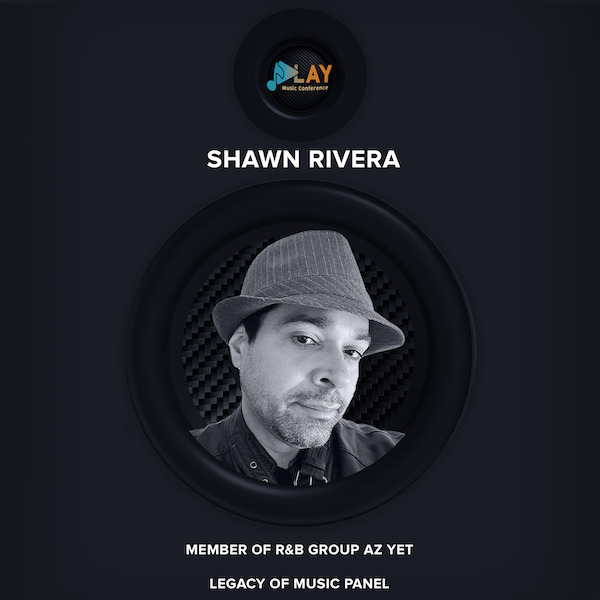 Meet Shawn Rivera, former member of the Grammy Nominated/multi-platinum recording AZ Yet.  
In 1994, Shawn landed a recording contract as vocalist and arranger for R&B quintet, Az Yet. With the group, he would score a Billboard #1 Single, "Last Night," selling over a million copies in 1996.
The song was featured in Eddie Murphy's "The Nutty Professor" film and multi-platinum selling soundtrack. Az Yet's second single, "Hard To Say I'm Sorry," was arranged and co-produced by Rivera, along with musical heavyweights BabyFace and David Foster. The song became the group's biggest hit, selling two million copies and receiving a Grammy Nomination in 1998 for "Best R&B Vocal Performance, Group or Duo."
Shawn has performed as an entertainer and public speaker in over 40 countries and has appeared on numerous national television programs and theater productions as an actor or musician. Shawn continues to write, produce, arrange, and perform with various international artists. Most notably with Award-winning poet, author, and Civil Rights icon, Dr. Maya Angelou. In 2014, the two collaborated on what would become her final album, "Caged Bird Songs," released in a strategic partnership with Oprah Winfrey's OWN Network. Rivera's remix of Maya Angelou's "Human Family (2020)" is currently being used by Smooch Music Inc. to raise money for Black Lives Matter in Los Angeles.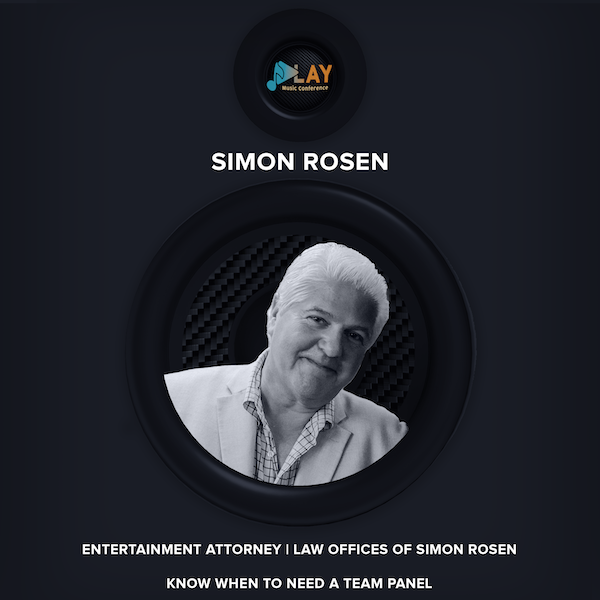 Meet entertainment attorney Simon Rosen.  Simon will be speaking on the "Know When To Need A Team" Panel.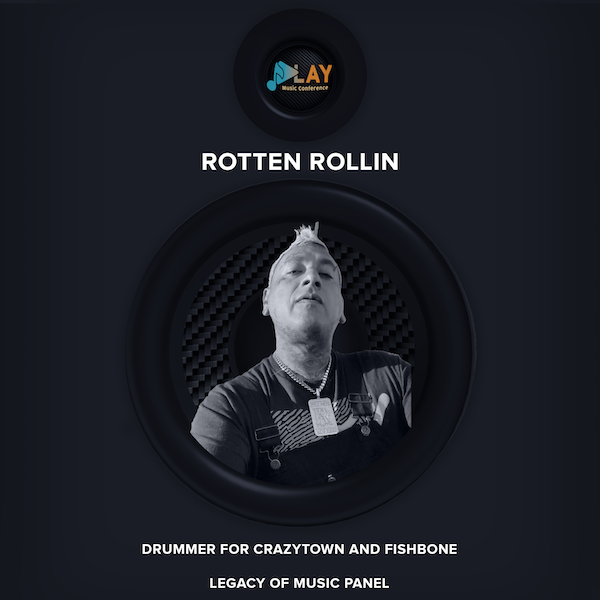 Meet Roland Banks aka Rotten Rollin who has more than 30+ years' experience as a talented musician.  Roland, a versatile drummer, is often being invited to make guest appearances in numerous music collaborations, covering a vast range of music genres from reggae, punk, drum n bass, jazz, nu metal to pop punk and emo.  His multi-cultural and Native American background has helped shape his path and the depth his new music is delving into.
In 2013 Roland rocked at the last Rock the Bells with the Wu Tang Family Young Dirty Bastards, and has performed with Kurupt DPG.
Roland joined Crazy Town X full time in 2017. This saw him travel internationally during the bands 20th anniversary tour which wound up early 2020. During his five years with CXT, Roland collaborated on two new releases the band produced; Life I Chose and Fly Away.  Artists that Roland regularly supports include; Fishbone, Mob Music Collective, Ray Garrison, Raven Gray, Hollywood Apocalypse, Wolfgangsan, Deadghostrotten, while recently working with Conejo and Trulio Disgracias.
Aside from playing drums, the need to find drums to suit his requirements drove Roland to build his own brand and, hence his own drum company, Diamond Kut Drums, was born. Roland hand builds bespoke drum kits to order.
2021, Roland join forces with Sean Scott Hicks of Mob Rock Records, who are based out of Massachusetts. Mob Rock Records offers the opportunity for artists; who don't have what the industry unfortunately deems necessary i.e. "the look", "the analytics", "the radio hit"; the chance to obtain distribution through WHO?MAG Distribution. On top of this, Roland will be appearing in the reality show "The Fixer" a story on the life of Sean Scott Hicks with a feature being "Rotten Rollin's Rotten Life"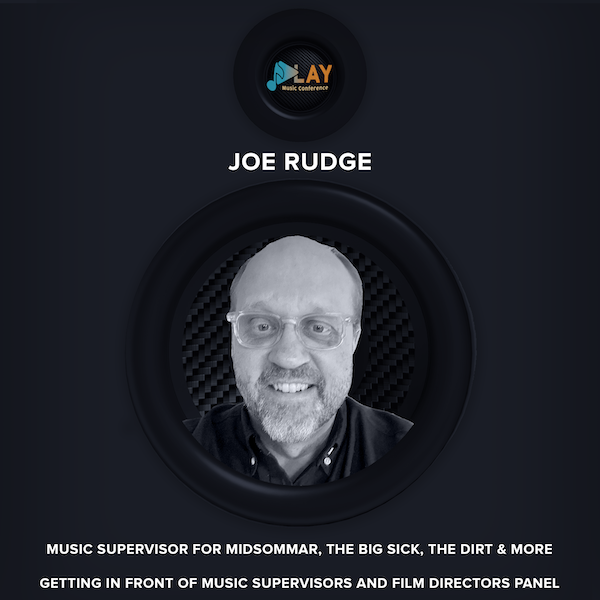 Meet Joe Rudge,  music supervisor for Film and TV.
Joe is best known for his work on Room, The Big Sick, Eighth Grade and Midsommar.  Rudge's father, who was the manager for The Rolling Stones and Lynyrd Skynyrd, brought Joe on tour with him at a young age, which would shape Joe's long and illustrious career in music for film and other visual media.  
In 2005, Joe landed on the music supervisor map with his breakout work on the cult hit, Brick, directed by Rian Johnson. He went on to supervise the music for Blue Valentine, with a much heralded soundtrack. In addition, Joe has worked on award winning documentaries including the Grateful Dead doc entitled Long Strange Trip. The past year, Joe has performed his musical magic on critically acclaimed feature films, Armageddon Time, Marcel The Shell With Shoes On, X and Pearl.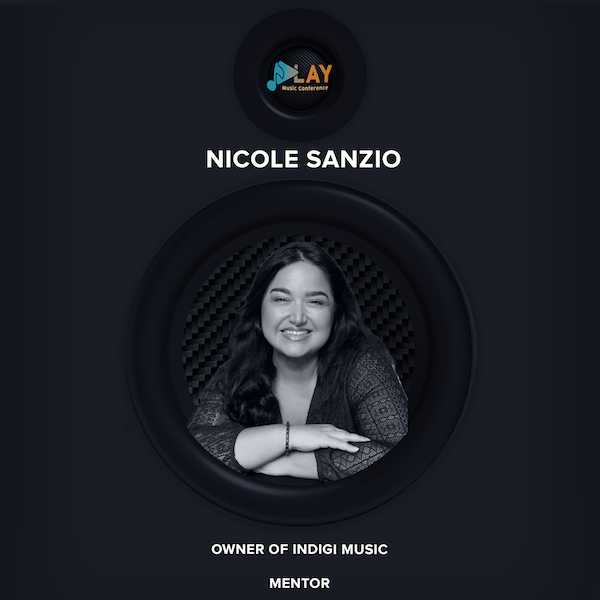 Meet Nicole Sanzio, the Owner and Executive Producer of InDigi Music.
Nicole has helped their Artists, Writers and Composers get music placed music in Film, TV & Video.  Her accomplishments as an independent contractor has made her a sought after expert within the fast-changing industries of licensing/publishing.
Her music placements read like a "what's hot" list in Film & TV programming, among them: MGM's RESPECT (Aretha Franklin biopic starring Jennifer Hudson), Universal Pictures "Despicable Me 2" and "Fast & Furious" (4, 5 and 6), STX Films "Hustlers", Better Things (FX), All American (CW), All American: Homecoming (CW), Queen Sugar (OWN), Ginny & Georgia (Netflix), Last Chance U (Netflix), Showtime's "Ray Donovan" and "Shameless", Empire (Fox), NBC Olympic Games, NBC "Today Show" and "Meet The Press", The Hype (HBO Max), In The Dark (CW), Batwoman (CW), etc. 
Her company has also secured a hefty list of other music placements on AMC, CBS, NBC, TLC, PBS, USA Network, Lifetime, Nickelodeon, MTV, Animal Planet, Netflix, Hulu and Amazon.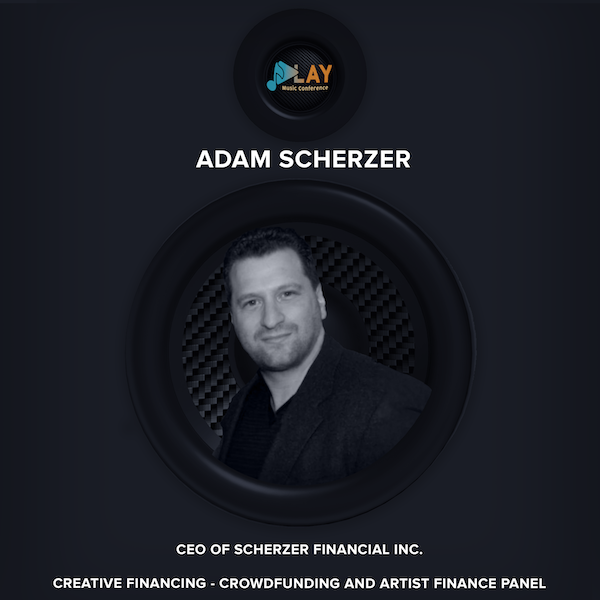 Meet Adam Scherzer.  Adam has spent 25 years in the financial industry.  He started Scherzer Financial Inc. in 2004.  Utilizing his background in the financial and business world, he found a niche in the entertainment world and has two decades of experience in different capacities in the industry.  He managed his first artist in 2000 and co- founded a recording studio which evolved into an independent label, comprising a twelve artist roster, spanning multiple music genres.  In 2003 he became the Business Operations Manager for Allen Iverson's independent label, ABK.  Adam also has experience as a club/concert promoter, as well as a live music venue owner. He's managed/advised actors and professional athletes as well.   His experience also includes consulting on business modeling in addition to sourcing funds from private equity and VC's for various venues in the industry.  Adam is currently the Executive Director of PLUSH Vodka and continues to oversee Scherzer Financial.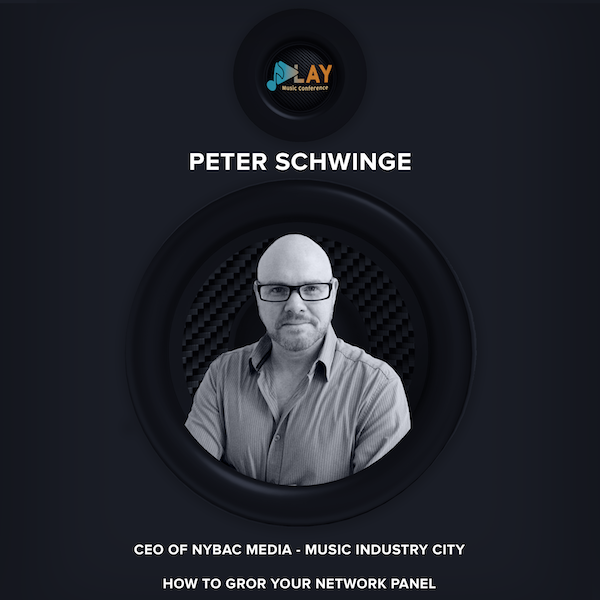 Meet Peter Schwinge.  Peter has 25+ years of experience in Music & Media with 10+ years as a Creative Director, Producer, and Entrepreneur. Aside from that, he was an integral member of the marketing and communications initiatives at the Private Equity firm, Colony Capital and later became Partner and General Manager of the legendary, New Music Seminar. Peter is also the Co-founder and CEO of Nybac Media, a media production firm that operates Music Industry City Networks and Future Music Forum: Barcelona focused on information, innovation, and inspiration for the music industry. Peter combines his extensive broadcasting and media experience with a passion for music and technology.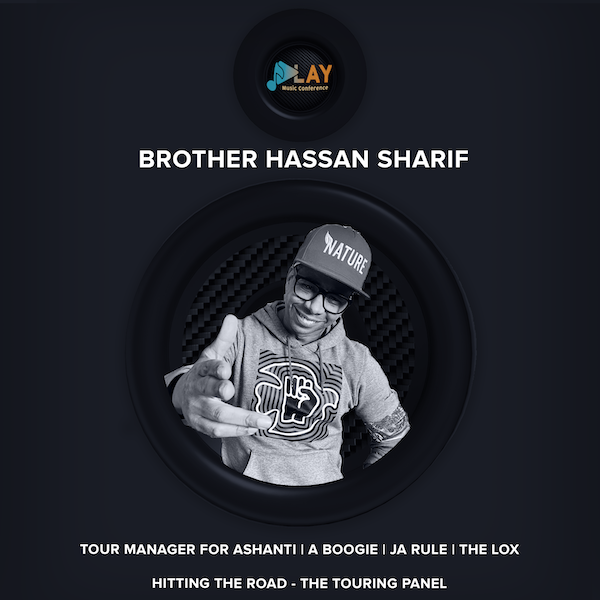 Meet Brother Hassan Sharif, CEO of Sharif Tours.  Hassan is a tour manager, production manager, FOH, and artistic manager. 
Hassan is the tour manager for Ashanti, Ja Rule, St. John, The Lox, Jadakiss, A Boogie with the Hoodie, Ruff Ryders, Akon, The Fugees, The BK Hip Hop Fest, Jazzmeia Horn, Ravi Coltrane, and more.
Hassan has also created a music course at Kean University.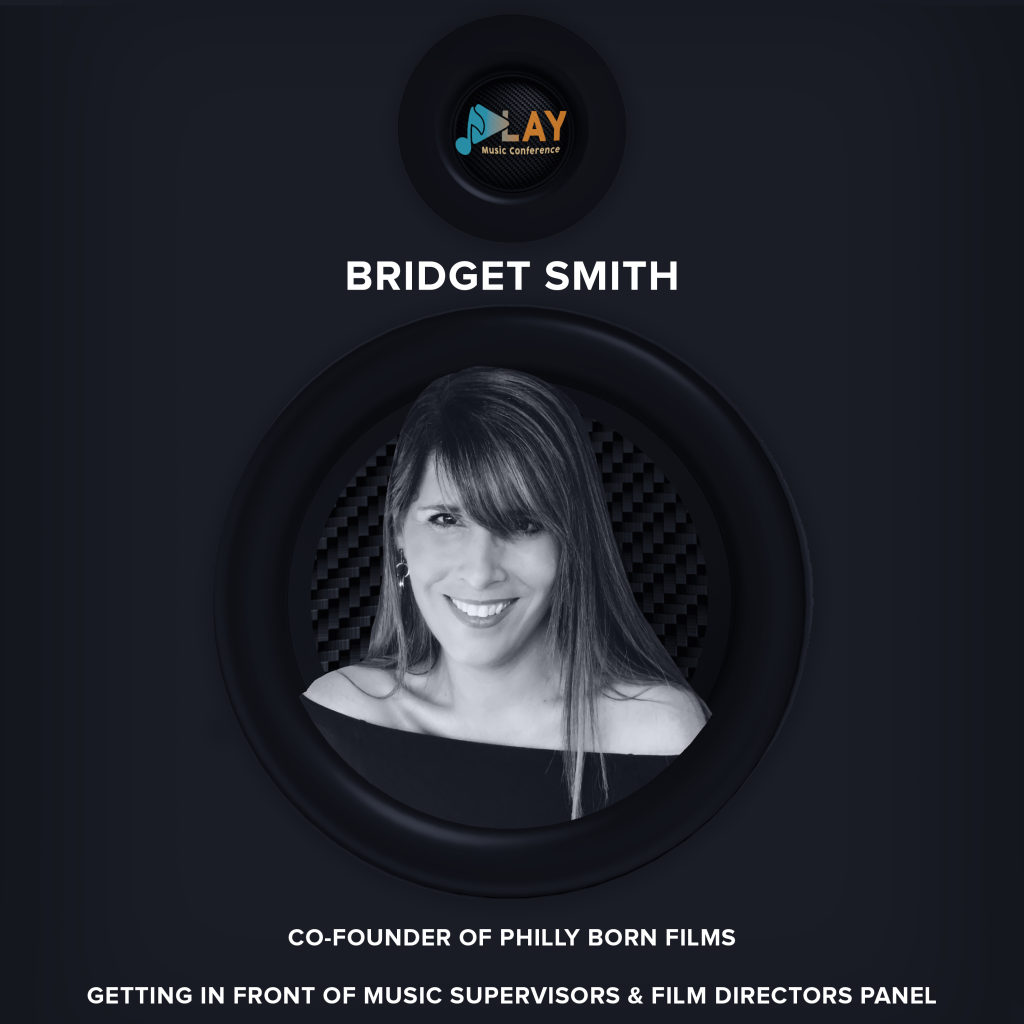 Meet Bridget Smith, film director and co-founder of Philly Born Films.  
Bridget first joined forced with Mike Walsh on the gritty movie "Sno Babies" which was distributed by Better Noise Films.  She also directed six more features including "The Retaliators" which just opened in theaters in October 2022, "7th Secret", "Lucky Jack", Right Before Your Eyes" (where she was nominated for Best Editor at the Queen Palm Film Festival), and two feature films for MarVista Entertainment/Tubi including the recently released "A Party To Die For".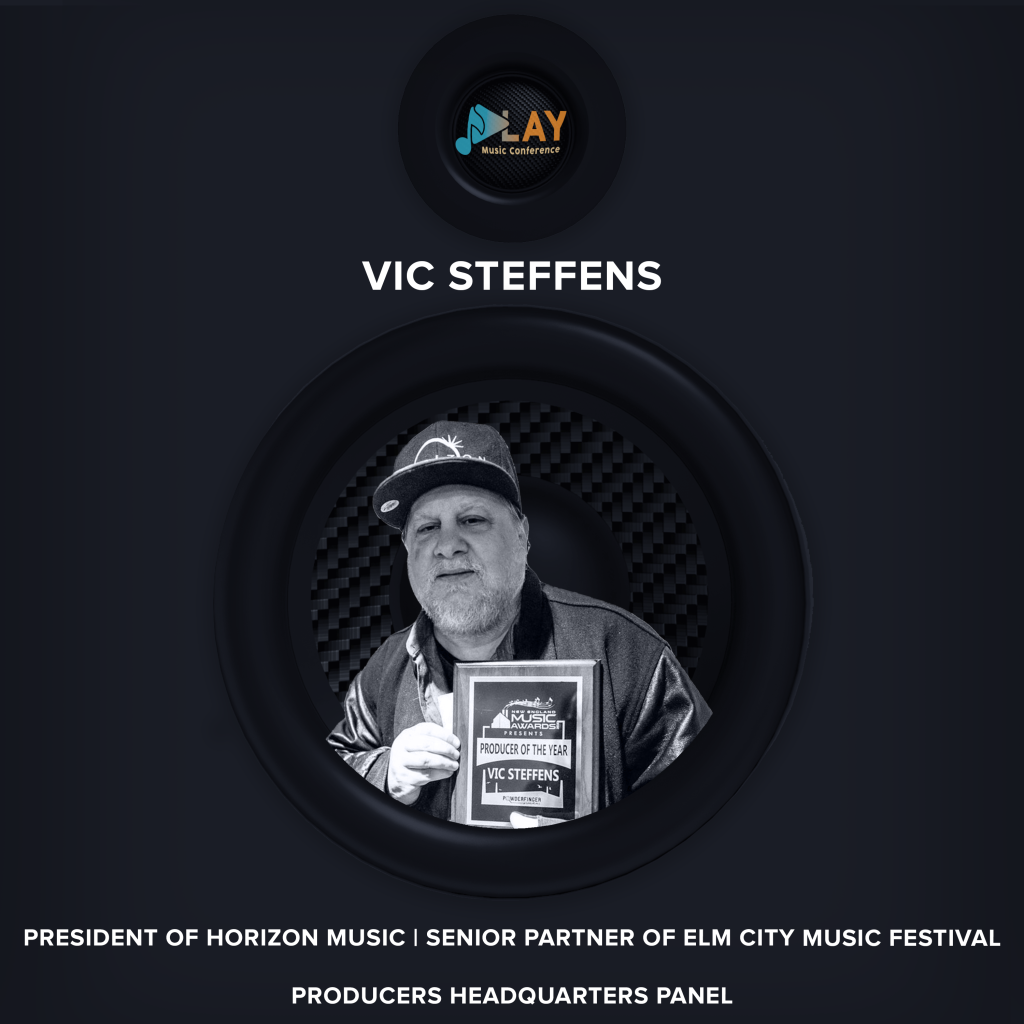 Meet Vic Steffens, the President of Horizon Music and Senior Partner of Elm City Music Festival.  
With over 40 years experience as an owner, engineer, producer, studio musician and label executive, Vic Steffens' entire life has revolved around creativity. He is currently the owner of the Horizon Music Group in West Haven, CT.
Early on, Steffens led several successful New England based groups. This included the incredible Scratch Band which also featured G.E. Smith (Hall and Oats) and his sister Christine Ohlman (SNL). Through the years he amassed numerous session appearances with the likes of the Rolling Stones and Donovan.
As an engineer, Steffens adeptly handled the board working with such amazing artists as Bobby Brown and Sly Stone. His most important contribution to the music industry is his production expertise. Creamery Station, The Breakfast, Frank Viele, and Carole Sylvan are just a few of the influential artists that Steffens has recently produced.
For over 30 year the Horizon Music Group has been a mainstay in New England music scene. HMG is comprised of two entities. The Horizon Recording Studio is a two room, state of the art, recording facility. Even though the studio is equipped to record any genre of music, it specializes in rock, blues, gospel and americana. HMG Recordings is the label division.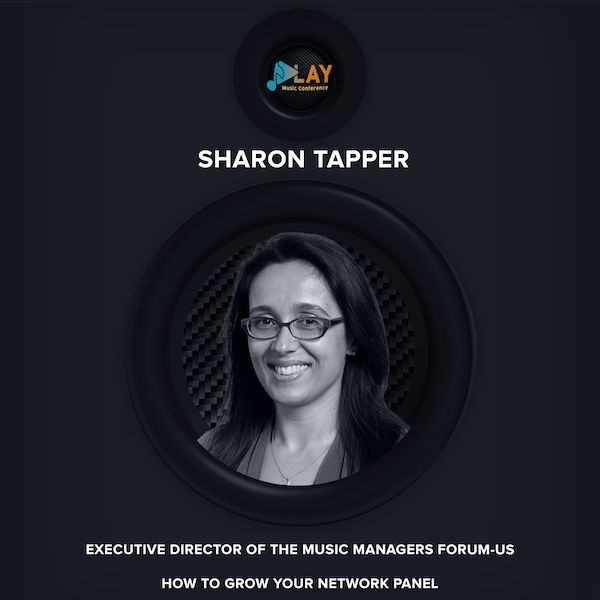 Meet Sharon Tapper. the Executive Director of the Music Managers Forum-US, the leading trade association for artist managers and self-managed artists in the United States.
Serving the music community by providing educational resources, networking opportunities and advocacy efforts on behalf of managers, self-managed artists and the community that supports them. The MMF-US is part of a larger global network, the International Music Managers Forum (IMMF) – an organization that connects more than sixty five Music Manager Forums around the world (inc. Europe, Latin America, Asia, Africa, Australasia).
Prior to joining the MMF-US Tapper worked in London as the Assistant Manager at Sarm West Studios, before relocating to the U.S. where in Los Angeles she worked at both Left Bank Management and Gallin Morey Management. Shortly after moving to New York she transitioned into music publishing becoming the third U.S. employee at Kobalt Music Publishing and their VP Creative for eight years. Following that she was hired to be the SVP Music Publishing at Razor & Tie Music Publishing. Tapper was elected to serve multiple terms as Governor & Secretary of the NY Chapter of the GRAMMYs, serving six consecutive terms and Co-Chair of their Advocacy Committee. She also served four years on the NY Chapter of the Association of Independent Music Publishers (AIMP). For ten years she Co-Funded and ran the New York City Creative Community (NYC3).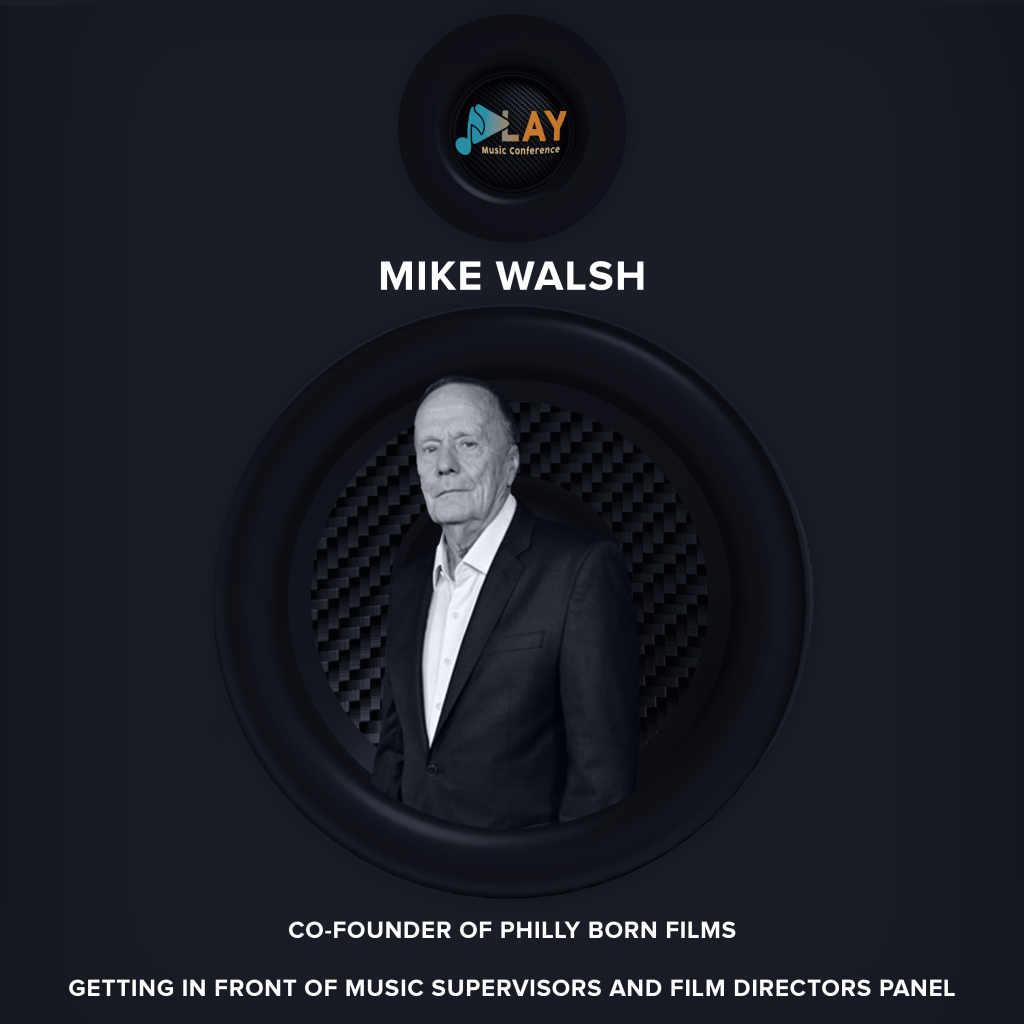 Meet Mike Walsh, co-founder of Philly Born Films.
Mike produced the theatrical feature film "The Retaliators" featuring Marc Menchaca (Ozark), Joe Gatt (Game of Thrones), Tommy Lee (Motley Crue), Five Finger Death Punch, Papa Roach, and more. He also produced "7th Secret" featuring Stacey Dash and Natasha Henstridge. His current film "Once Upon A Philly Christmas" featuring Robert Clohessy is currently screening. Mike will be speaking at the "Getting in Front of Music Supervisors and Film Directors Panel".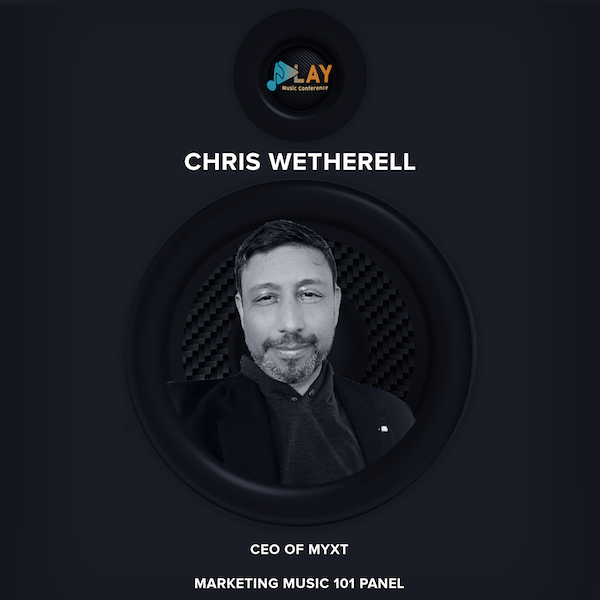 Meet Chris Wetherell, the CEO/Founder of MYXT.
Chris is the owner of MYXT, a software that has been dubbed the Dropbox for Musicians.  He is a software developer and musician from the US best known as the founder of Google Reader and as an influential "ex-Googler" since his departure from the company.
While working at Google in 2005 as a Senior Software Engineer, Wetherell was involved in developing the feed aggregator Google Reader
After leaving Google, Wetherell worked at Twitter as Consulting Project Lead on a new "Retweet" feature, co-founded Thing Labs and worked on Brizzly before co-founding Avocado to produce an intimacy application of the same name and a social spin-off called Pears (Avocado closed in February 2017).  Avocado was invested in by General Catalyst and Lightspeed Venture Partners among others.
Wetherell is also a musician, performing drums and vocals for American rock bands Dealership and Citizens Here and Abroad.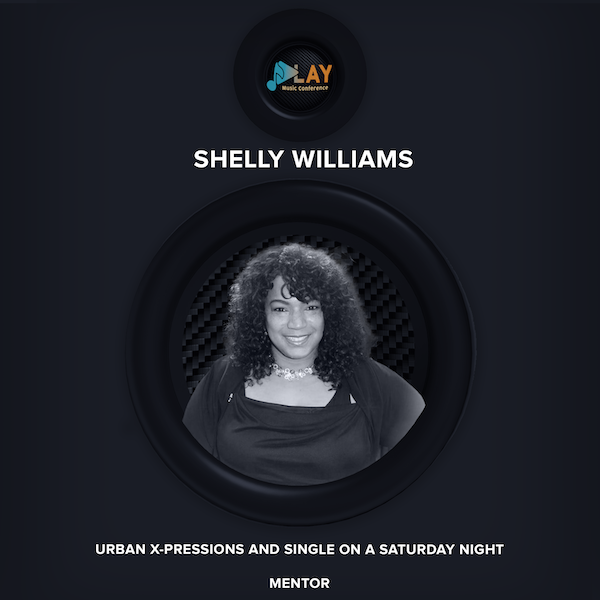 Meet Shelly Williams.
Shelly specializes in Video Marketing for Social Media.  She has worked with Forman Mills on an array of projects throughout the years that honed her creative marketing skills and increased her communication within the community she was serving.
Shelly Williams is President & CEO of X-pressions, Incorporated, which is a nonprofit media training program.  Shelly is most known for hosting the segment "Word On The Street" on Urban X-pressions but what most people don't know she is one of the Executive Producers of Urban X-pressions.
In addition to her television shows, Shelly's ongoing mission is to train youth and adults that have a passion for the entertainment field.   She's created several programs and workshops to prepare and nurture young talent. 
As the producer Shelly Williams is responsible for promoting the program and negotiating with broadcasters.  She was successful in securing broadcast deals with numerous stations for her shows.  The biggest deal secured was with Telemundo, having the only English Speaking Program.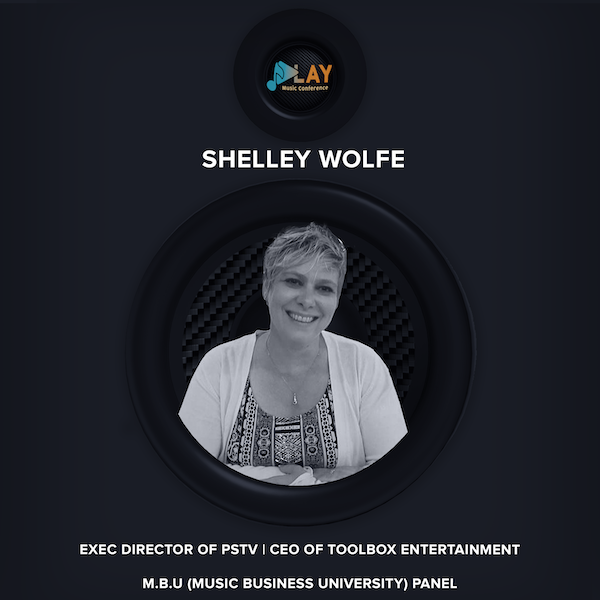 Meet Shelley Wolfe, nationally recognized Executive and Media practitioner. She has spent the last 25 years leading community media stations, including a long history in the entertainment industry (Six Degrees Record, Ryko Distribution) She is a highly recognized agent of collaborative change & disruption with an extensive background in the nonprofit sector & the entertainment industry working to bridge industries through partnerships, technology & media.
Eight years ago, she landed on the Philadelphia scene and built an industry-standard state-of-the-art production and recording studio for students K-12 for the School District of Philadelphia. She is the Executive Director of PSTV (The Education Channel for the School District of Philadelphia). Shelley has and continues to train and mentor hundreds of students a year in-person and online. These students have landed careers in the media and music industry. 
She is also the CEO of Toolbox Entertainment(2007), a global community that provides resources to artists, individuals, and organizations looking to expand their media needs. Toolbox is led by Innovation Design Coaches ready to design a mindful and collaborative approach to your creative needs. that range from designing studios, K-12 media arts pathways, running global campaigns, artist management & development, conference planning, administration, and digital & media literacy programs with a focus on human emotions.
Shelley is known in the community for her outreach, mentoring, leadership, and connecting individuals and businesses with media opportunities to tell their stories. She serves on the Board for Jamar Jones Institute & SIMBY (Stories in My Backyard).